Georgetown Law Dean William M. Treanor Elected to the American Academy of Arts & Sciences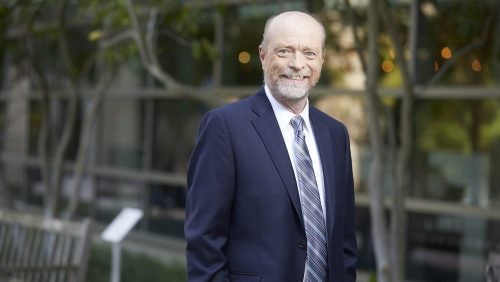 Georgetown University Law Center Dean William M. Treanor has been elected to the American Academy of Arts & Sciences as part of its 2020 class of new members.
Dean Treanor, who was honored with the Law Center's Paul Regis Dean Leadership Chair last fall, is a constitutional law scholar who has focused on constitutional history, as well as an influential leader in legal education. He is currently serving his second five-year term as dean of Georgetown Law, and previously was dean of Fordham Law School.
This year's newly elected Academy members in law and a wide variety of fields across the arts, sciences, and other areas of public life also include Judge M. Margaret McKeown (L'75, H'05) of the U.S. Court of Appeals for the Ninth Circuit. She is a member of the Law Center's Board of Visitors and served as chair from 2017-19.
Founded in 1780 by some of the same leaders who founded the nation – including George Washington, Thomas Jefferson and Benjamin Franklin – the American Academy of Arts & Sciences is an honorary society that recognizes and celebrates the excellence of its members and convenes leaders from across disciplines, professions, and perspectives to address significant challenges.
Current Academy members represent today's innovative thinkers in every field and profession, including more than 250 Nobel and Pulitzer Prize winners. Georgetown University President John J. DeGioia and Provost Robert Groves and Georgetown Law Professors David J. Luban, Louis Michael Seidman and Robin L. West are also members, as is former faculty member Robert Katzmann, Chief Judge of the United States Court of Appeals for the Second Circuit.