Georgetown Law Embraces Distance Learning with Resilience, Innovation, and Generosity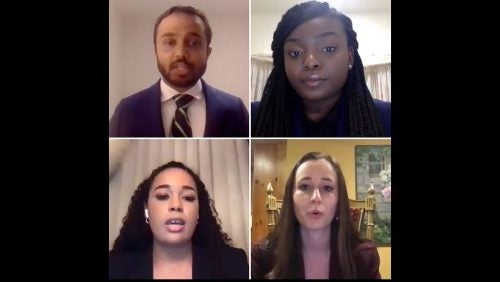 Running the annual Robert J. Beaudry Moot Court Competition is a big job even in the best of years. But when word came last month that Georgetown Law would be pivoting to distance learning, it threatened to become a logistical nightmare.
Lydia Davenport (L'21) and John McGowan (L'21) – co-directors of the competition – didn't miss a beat. With help from fellow students and faculty, they moved the contest online virtually overnight. They coordinated "Zoom room" arguments for hundreds of competitors and judges, wrote detailed technical instructions for participants, trouble-shot glitches, and reconsidered scoring criteria to ensure fairness in the new format.
In the end, the competition went better than they had dreamed. Participants made their cases in virtual "courtrooms," an intimate format that Davenport and McGowan said favored substance over style. Nearly 200 people watched the final round, judged by leading jurists including Chief Judge of the U.S. Court of Appeals for the D.C. Circuit and Adjunct Professor Sri Srinivasan.
Venu Katta (L'22) won the competition and was awarded a commemorative plaque – to be delivered after stay-at-home orders have lifted – and 30 students were selected to join next year's appellate advocacy team. "We were really impressed with the competitors' resilience in these trying times," McGowan said.
Such stories abound as students, faculty, and staff adapt to an unsettling new normal in the midst of the coronavirus pandemic.
'You've got this!!'
The shift to online instruction was announced on March 11, with Dean William M. Treanor recognizing that many were being called upon to contribute "above and beyond" efforts to make the transition. "We are all in this together during these challenging times, and I appreciate everyone working to keep our community safe during this global health event," he wrote to the community.
That same morning, Associate Dean Paul Ohm issued a game plan for moving some 400 courses online over the coming days – a massive undertaking that he quipped was "held together by duct tape and baling wire."
Ohm, who started his career in IT and now shapes the law center's broad tech law curriculum, tweeted that it was as if he'd trained his whole life to lead such an effort. Colleagues cheered him on, tweeting, "Go, Paul, go!" and "YOU'VE got this!!"
Ohm says the transition has succeeded thanks to the tireless and creative work of the Law Center's entire Information Systems Technology department, led by CIO George Pestasis, with assistance from two dozen staff volunteers who helped monitor almost every online class in the early weeks of the crisis.
Indeed, coursework has continued apace, including the Law Center's many experiential offerings, overseen by Associate Dean Kris Henning. Clinics have adapted not only to the virtual environment, but to serve clients and the community in a time of heightened need. Simulations and practica are proceeding online, as are many spring J.D. externships. When adjustments like remote work arrangements weren't feasible, externship staff have worked diligently with partners to develop new student placement opportunities.
"I have been so impressed – both as an administrator and as a teacher – by what our community has achieved," said Treanor. "As I teach my advanced constitutional law seminar and see the faces of each of my students on my computer screen, I'm inspired by their energy and commitment and amazed at what the technology makes possible."
Classrooms aren't the only shuttered spaces at Georgetown Law. Though some students are still living on campus, many spaces are temporarily closed, including the Scott K. Ginsburg Sport & Fitness Center and the Edward Bennett Williams Law Library. On- and off-campus events have been postponed, while others have been held virtually.
Amid the upheaval, students, faculty, and staff are confronting profound challenges brought on by the public health crisis. Some are ill or are caring for sick family members or young children, and some can't go home because their country's borders are closed or because they live in virus hotspots.
Many are struggling to work and study in small spaces, sometimes without the technology needed to best manage a heavy online workload. And others have lost jobs or income and are anxious about expenses, employment prospects, and financial security. Students' already tight budgets are "stretching to the breaking point," said Mary Novak, the Law Center's associate director for Ignatian formation and an adjunct professor of law.
"It's a really hard time for a lot of people for so many different reasons, and a lot of them are very personal," said Cheyenne Freely (L '22), a Student Bar Association (SBA) representative who has worked in recent weeks to connect fellow students to services and supports.
The spirit of cura personalis
In response to the crisis, the Georgetown Law community is moving forward and coming together around the spirit of the Jesuit concept of cura personalis, a Latin phrase for "care for the whole person."
Dean William Treanor and other senior staff are hosting regular online sessions on topics ranging from health and wellness to career advice. The Law Center is organizing online community events and activities, such as coffee hours, yoga classes, guided meditation, religious services, and resources for kids and families. And the Williams Library has worked with casebook publishers to make texts available online while providing research and reference services remotely.
Career counseling offices are holding programs and individual advising sessions on Zoom, creating video recordings and electronic handouts, and developing ways for students to virtually engage with employers. Georgetown Law Center's Counseling and Psychiatric Services (CAPS) and Campus Ministry continue to offer students support and services online, with some limits. And the Offices of Student Life and Financial Aid staff are meeting virtually with students to help them navigate the new reality.
Journals like the next volume of The Georgetown Law Journal are on track for publication. It's "business as usual," said outgoing Editor-in-Chief Grace Paras (L'20). And students are finding community in their virtual classrooms, said Novak.
We're "in this together," said Freely, the SBA representative. "We're all trying to get through the year the best we can while getting the most out of it that we can."
One example: Professor Madhavi Sunder recently invited students in her first-year Property class to attend a lecture at Hogwarts School of Witchcraft and Wizardry – a background available on Zoom. Students attended in elaborate and creative costumes, ranging from Bellatrix Lestrange to Alastor "Mad Eye" Moody. For another lecture, she proposed a contest between Star Wars or Star Trek – and asked students to show their allegiance in costume and choose Zoom backgrounds such as the cockpit of the Millenium Falcon or the bridge of the Enterprise. Sunder was "blown away" by the enthusiasm and joy students brought to class, which she said has "brought us closer together."
A 'Deep Sense of Community'
Students and alumni are also finding new and innovative ways to serve each other and the broader community.
The Asian Pacific American Law Students Association (APALSA) recently hosted an online presentation about racism and xenophobia amid the pandemic, which is disproportionately impacting people of color and fueling discrimination against Asian Americans. Speakers debunked myths around the pandemic, such as the notion that COVID-19 is a "Chinese virus," and offered tips about responding to bias. Dozens of students, faculty, and administrators attended the session, after which leaders put together and shared resource materials.
"We're trying to create events that give a sense of community despite having gone virtual," said APALSA President Jessica Kelly (L '21). Affinity groups like APALSA make the nation's largest law school feel smaller, she said, and help ensure "nobody is slipping through the cracks."
A group of first-year students, meanwhile, created a community action resource guide including opportunities to ask for and offer help in and beyond the Georgetown Law community, in areas including child and pet care, meal delivery, blood donation, and medical supplies. They eventually aim to provide those most affected by the pandemic with direct legal service.
The initiative reflects students' inclination toward service, said Oge Maduike (L'22), who led the effort. "Many of us came to law school because we want to help people, and pulling together the work of this initiative has felt like a small way for us to meet that goal," she said.
Generous support from alumni has also allowed the Law Center to create an emergency fund to address the most serious challenges students are facing due to COVID-19.
At a time when everyone is impacted by this global pandemic, Novak said it is "humbling" to witness students and alumni reaching out to others in greater need: "It really speaks to the deep sense of community and care formed here at Georgetown Law."