Georgetown Law Honors Professor Rick Roe, 45th Anniversary of Street Law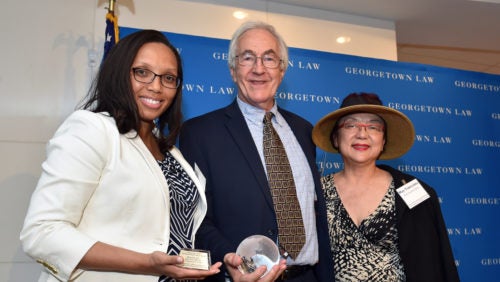 Hundreds of Georgetown Law alumni and friends turned out June 28 to celebrate the 45th anniversary of the Law Center's Street Law clinical program and to honor its longtime director, Professor Rick Roe — whose retirement leaves a legacy of interactive, learner-centered education in the law. The mood was festive but with just enough ceremony to remind those present of the seriousness of Roe's work beneath his ever-cheerful demeanor.
After a short video presentation about the program, alumni gave testimonials of the impact of Street Law — and of Roe — on their lives. In a delightful reunion, Patrick Campbell (C'92), the Georgetown University graduate and lawyer featured in the video who participated in Street Law as a D.C. high school student, met up with Grace Kim (L'88), his former Georgetown Law Street Law teacher of 30 years ago, at the dinner.
One recent high school participant, a standout from Dunbar High School in Northwest Washington, announced to cheers and applause that she will start classes at Virginia State University in the fall — and spoke from the heart about her experience in Street Law. In the clinic, Georgetown Law students go to Washington, D.C., high schools to teach teens about the law and to guide them in a mock trial competition every spring.
"The Street Law program really gave us the opportunity to stand out," said Hevin Bellamy-Jones, whose team won the mock trial tournament this past academic year (Bellamy-Jones won three best attorney awards). She spoke of teammates who were tempted to give up on themselves, and how they slowly came to the realization that the Georgetown Law students were there to help them grow.
"We bumped heads a lot and had many disagreements," Bellamy-Jones said, as heads nodded in the room, "but we stayed together as a team."
Person after person lauded Roe's commitment to working with inner-city teens and also with prisoners, whether teaching them their rights as citizens or working on their literacy skills so they could read to their children on visiting days.
Roe's impact extends well beyond the Washington, D.C., area. Deanna Singh (L'04) began a Street Law program affiliated with Marquette University after she graduated from Georgetown Law.
Singh recalled being told "no" repeatedly as she tried to start the Milwaukee program. Her story echoed two themes of the evening: Roe's optimism and the untold impact of the program on people's lives.
"Every time I needed somebody to say, 'you can do this,' it was Rick [I called,]" said Singh, who later encountered a student at Marquette who said she would not have gone to college but for her Street Law experience in high school.
"You never can fully appreciate the ripple you create," Singh concluded.
Planting the seed
Visiting Associate Professor Charisma Howell (L'11), who will take over the role of Street Law program director, has also seen the "multiplier effect" of the program on the lives of its participants.
"You never know what can come about if you invest in someone," Howell said. "You hope that the seed is planted."
At the end of the evening, Roe took the stage to thank his wife, three sons, and all the people from the many communities that have partnered with the program to make it a reality.
After more than 40 years with the program, Roe, who will continue to teach as an adjunct professor of law, pronounced himself "lucky to have done something beneficial to society" that also "touched me deeply."
Roe shared, once more, the teaching philosophy that has carried him through the years of Street Law — which includes being in the moment, listening to people and valuing them "totally." For it is by valuing the learner, Roe has always believed, that true learning can take place.
"You open the doors and window but you never see your student walk through them," he said. "We don't know. It's back to planting the seed."