Georgetown Law Hosts Trailblazing Women Leaders of IMF and WTO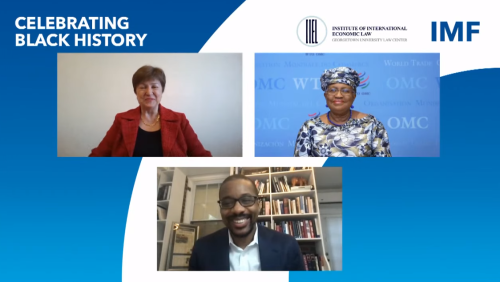 It was a rare opportunity to hear a conversation between the leaders of the International Monetary Fund (IMF) and the World Trade Organization (WTO).

Professor Chris Brummer, faculty director of the Institute of International Economic Law and Agnes N. Williams Research Professor, recently interviewed Kristalina Georgieva, Managing Director of the IMF and Dr. Ngozi Okonjo-Iweala, Director-General of the WTO.
As the event took place on the last day of Black History Month, much of the discussion centered on trade and economic development on the African continent. Okonjo-Iweala, a Nigerian citizen, is both the first woman and the first African to lead the WTO. Among the topics they covered were facilitating trade between African countries and identifying opportunities for African companies to participate in global supply chains.
"We say the 21st century is Africa's century. Even before the pandemic, we have seen well-managed African economies growing at a very high speed and diversifying their economy," said Georgieva.
The wide-ranging conversation touched on other issues and events, from Russia's invasion of Ukraine to the COVID-19 pandemic to the potential of digital currencies. Okonjo-Iweala also spoke with passion about her hopes for her history-making tenure at the WTO.
"The WTO's purpose, as enshrined in its agreement, is to enhance living standards, help create employment and support sustainable development… When people think about the WTO, they never believe this organization is about people. They think it is about trade," said Okonjo-Iweala. "I would like to have a legacy of having been able to contribute to reversing the image, to getting results, to bringing energy, interest and light back to the institution."
Watch the full discussion here: