Georgetown Law Remembers Judge Laurence H. Silberman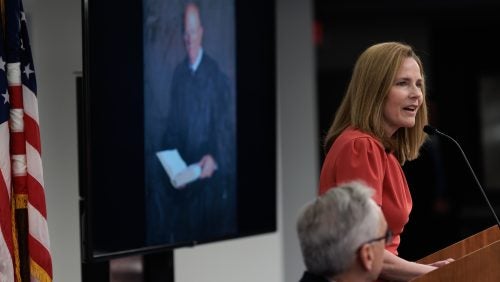 Last week, the Georgetown Center for the Constitution brought together former colleagues, law clerks and members of the Georgetown Law community to remember the life and legacy of Judge Laurence H. Silberman, a longtime member of the U.S. Court of Appeals for the D.C. Circuit who died last month at age 86. For more than three decades, Silberman taught Administrative Law and Labor Law as a Distinguished Visitor from the Judiciary on the Georgetown Law faculty. Four of Silberman's former law clerks, including Associate Justice Amy Coney Barrett of the Supreme Court of the United States, spoke at the event.
Barrett, who clerked for Silberman in 1997-8, remembered him both for his integrity and honor as a public servant and for his loyalty and good humor as a mentor.
"Judge Silberman had the right mix of humility and confidence that enabled him to work with – and love – those whose ideological commitments differed from his own," said Barrett, noting that former Vice President Dick Cheney and current Attorney General Merrick Garland were both among the eulogists at Silberman's funeral.
"I loved him, and I really miss him," concluded Barrett.
Silberman was appointed to the U.S. Court of Appeals in 1985 by President Ronald Reagan, and after taking senior status in 2000, continued to hear cases until shortly before his death. His earlier career included serving as Deputy Attorney General in the Nixon Administration and as Ambassador to Yugoslavia in the Ford Administration. In 2008, President George W. Bush presented him with the Presidential Medal of Freedom, the nation's highest civilian honor.
A panel of three of the judge's past clerks moderated by Randy Barnett, the Patrick Hotung Professor of Constitutional Law and Faculty Director of the Center for the Constitution, reminisced and discussed some of Silberman's most consequential rulings. Judge Carl Nichols of the United States District Court for the District of Columbia, Paul Clement, a former U.S. Solicitor General and Distinguished Lecturer at Georgetown Law and Sarah Harris, a partner at Williams & Connolly, LLP, each shared memories of Silberman as a principled and exacting jurist and a caring, engaging friend.
In his remarks, Georgetown Law Dean William M. Treanor spoke not only of Silberman's prominence in legal circles, but also of how much he enjoyed being a law professor, sharing that whenever they crossed paths on campus, the judge was always eager to tell him about something a student had said in class.
"He was a great man, an extraordinary judge… with a remarkable career in public service," said Treanor. "We were so fortunate to have him as a teacher for our students."
Watch the entire event here: