Georgetown Law, University of Hong Kong Co-Host Conference on Intellectual Property, COVID-19 and Tackling Global Health Inequity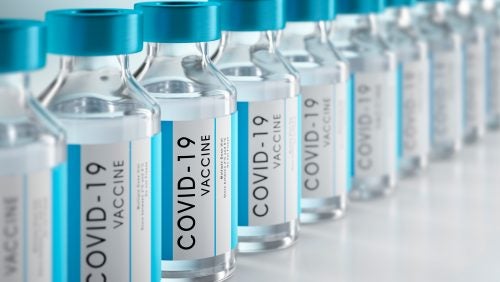 Last Friday, the World Health Organization (WHO) designated an emergent COVID-19 strain as a "variant of concern" and gave it the name "omicron." This news is not only upending international travel and stock markets, but also underscores the need to expedite vaccination in low-income countries.

Since the introduction of effective COVID-19 vaccines at the end of last year, more than 7 billion doses have been administered globally. Yet 70 percent of the supply has gone to high-income nations, while fewer than 4 percent of people in low-income countries have received the vaccine.
On Nov. 5-6, Georgetown Law and the University of Hong Kong Faculty of Law convened a virtual global conference focusing on the central role of intellectual property law in addressing this dramatic disparity. "Intellectual Property, COVID-19, and the Next Pandemic: Diagnosing Problems, Developing Cures" featured renowned experts in IP law and international public health.
"I'm grateful to the speakers gathered here for their global leadership and moral courage to think creatively, so that law may be the means to promote just distribution of lifesaving medicines," said Georgetown Law Dean William M. Treanor in his introductory remarks.
Treanor also thanked the conference co-sponsors at Georgetown Law: the O'Neill Institute for National and Global Health Law, the Center for Asian Law, and the Institute for Technology Law and Policy.
Welcoming the more than 600 registrants worldwide, Dean Hualing Fu of the University of Hong Kong Faculty of Law expressed his institution's firm commitment to academic freedom in an era of uncertainty resulting from Hong Kong's new National Security Law. "We organize and participate in international events like this as much as possible to demonstrate our resilience and our determination," he said.
IP and Global Scale-Up
Setting the stage at the outset of the event, conference organizer Madhavi Sunder — professor and associate dean for international and graduate programs at Georgetown Law and herself an expert in IP law — introduced key issues and questions.
"We celebrated the role of intellectual property in developing vaccines," Sunder said, "But how may IP be an obstacle to equitable distribution of pandemic medicines, and how may it be reformed now and for a future pandemic?"
In October 2020, Sunder noted, South Africa and India introduced a proposal at the World Trade Organization to waive IP rights temporarily for COVID-19 vaccines and therapeutics, under the WTO's Agreement on Trade-Related Aspects of Intellectual Property Rights (TRIPS). Despite U.S. support, the proposal has stalled. Opponents claim it does not address critical supply chain and raw material issues.
While not directly backing the waiver, keynote speaker Edward Kwakwa, assistant director general of the World Intellectual Property Organization (WIPO), affirmed his organization's full support for vaccine equity. "WIPO has declared its commitment to take measures to support equitable access to COVID-19 tools. We include not just vaccines, but also therapeutics and diagnostics," Kwakwa said, pointing to Merck's new antiviral pill as an example.
He added that WIPO's new director general, Daren Tang (LL.M '06), has committed to closer collaboration with his counterparts at both the WHO and WTO, starting with a series of joint workshops in June that began with a focus on COVID-19 vaccines.
Kwakwa's address was followed by two panel sessions, the first featuring a discussion of how to expand global vaccine manufacture. Panelist Amy Kapczynski, professor of law and faculty director of the Global Health Justice Partnership at Yale Law School, explained that mRNA vaccine technology in particular has an excellent profile for global scale-up.
However, Moderna and Pfizer have thus far declined to collaborate with manufacturers in Africa, Asia and Latin America. "These companies, which were very heavily subsidized by the public, have been earning in the tens of billions of dollars of profits," Kapcynski said, explaining that she would like to see the U.S. government use its leverage, especially through the Defense Production Act, for affirmative technology transfer. "This can in fact happen quickly," she said.
Under pandemic conditions, drug companies have been able to extract extraordinary concessions from desperate countries regarding indemnification and compensation. "It's creating a massive global distortion in power between sovereign states and companies," said panelist Matthew Kavanagh, currently a special advisor at the Joint United Nations Programme on HIV/AIDS (UNAIDS) on leave from the O'Neill Institute.
Innovative Solutions
Day two of the conference focused on novel approaches to fostering pharmaceutical manufacture in developing countries, beginning with a keynote address by Harvard Law colleagues William Fisher, WilmerHale Professor of Intellectual Property Law and Ruth Okediji, Jeremiah Smith, Jr. Professor of Law. Both serve as faculty directors of the Berkman Klein Center for Internet and Society.
Fisher outlined the conditions necessary for local manufacture in African nations — legal authority, money, know-how and reliable demand — and then detailed five tactics to achieve these conditions. The first, clearing legal space, would involve a reform of the use of so-called TRIPS flexibilities, a method for less-developed countries to mitigate the impact of patents.
"Many lawmakers in developing countries are unaware of what their options are," Fisher said. Worse still, he added, "developed countries typically punish exercises of these flexibilities." He called for a change in policy within the Office of the U.S. Trade Representative in particular.
Other tactics include apprenticeships and "production triangles" — collaborations among pharmaceutical companies, African manufacturing firms and national governments. Cipla, a major Indian pharmaceutical company, has followed this format in Uganda. Quality assurance is also critical. Fisher, Okediji and other international partners are piloting a project, SAQAN, in Namibia and Malawi to conduct post-marketing surveillance using infrared technology.
Session moderator Haochen Sun, associate professor of law at the University of Hong Kong and a conference organizer, raised the question of whether leading drug companies would be willing to participate in these local manufacturing initiatives.
"It's a crucial and delicate question," Fisher said. "One lever is the more traditional power that developed country governments have to condition the massive aid they provide to pharmaceutical firms," he added, citing the example of holding back patent infringement suits. Developing countries can also use leverage by denying companies' access to their populations for clinical trials.
Participating as a panelist in the following session, Sun presented his ideas for a patent philanthropy initiative, whereby pharmaceutical companies would be required to donate 1 percent of their profits to capacity-building in developing countries. This would include technology transfer, facility manufacture and professional training. He envisioned a major role for the U.S. Patent and Trademark Office in enforcing this initiative.
A Moral Imperative
In a highlight of the conference, Georgetown Law University Professor Lawrence Gostin, faculty director of the O'Neill Institute, gave powerful remarks about the urgency of addressing global vaccine inequity. He argued that we need to vaccinate the world within six months at a 70 percent rate.
"I believe strongly that we can't wait for a year," he said. "This is not only a moral calling, but it's also very much in our national interest. As long as there's unchecked transmission globally, it will seed another variant that could even evade current vaccine technologies."
Gostin insisted on bold action by the United States and other high-income countries, specifically calling on President Biden to use his influence to demand approval of the IP waiver at the WTO. He also called on Biden to use his leverage over Pfizer and Moderna to engage in technology transfer and resources to build up regional manufacturing hubs worldwide. "They owe America, they owe the world, a much greater social duty," he said.
"Donating a dose is great. But empowering countries to make their own vaccines can save a country or a region or the whole world."