Georgetown Law's Center for Asian Law Highlights LGBTQ Rights in Taiwan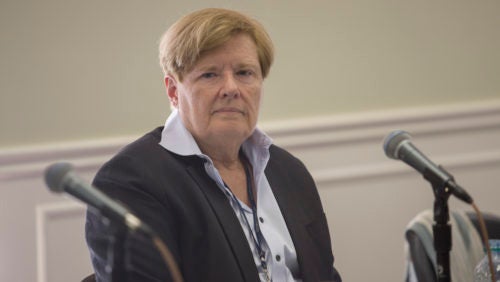 The Center for Asian Law continues to keep the Georgetown Law community informed on key legal and political events in Asia. On October 15, the Center teamed up with Georgetown Law Outlaw, Georgetown Law Asian Pacific American Law Students Association (APALSA), and the Georgetown University LGBTQ Resource Center to present "Freedom to Marry in Taiwan: A Milestone for LGBTQ Rights in Asia." Professor Nan Hunter moderated the discussion, which featured Jennifer Lu and Joyce Teng of the Marriage Equality Coalition Taiwan. Associate Dean James V. Feinerman of Graduate and International Programs introduced the event.
In May 2017, the Judicial Yuan, Taiwan's constitutional court, ruled that same-sex couples have a right to marry under Taiwan's constitution. But it allowed two years to adopt legislation on the matter. Given the political complexity of the matter – LGBTQ rights remain a sensitive subject in Taiwan – the government took the full amount of time allotted to it to introduce legislation in response to the Court's decision.
Acting just days before the two-year deadline, Taiwan's legislature approved a bill legalizing same-sex marriage in May 2019, granting same-sex couples many – though, sadly, still not all – of the rights available to heterosexual couples. Lu and Teng described the history of the movement and the strategies that made it possible for the self-ruled island to become the first place in Asia to legalize same-sex marriage.
As both Lu and Teng pointed out, the historic decision by the constitutional court was decades in the making, and simply would not have been possible but for years of public advocacy and outreach by LGBT rights groups, women's rights groups, and others.
The Judicial Yuan's decision also marks a major step forward for constitutional rights protection in Taiwan. Teng spoke about her efforts to organize amicus briefs by academics, civil society groups, and others, making the case for same-sex marriage. The use of amicus briefs in constitutional litigation is still a new practice in Taiwan. In this case, amicus briefs allowed LGBT rights groups to demonstrate to the Judicial Yuan that support for same-sex marriage extended well beyond the LGBT rights community itself, and to make the argument that Taiwanese society is ready for this historic step forward.
"This decision shows that Taiwan's judicial system is going to be a leader on constitutional rights protection in Asia," said Tom Kellogg, executive director of the Center for Asian Law. "I think we're going to see more innovative human rights decisions coming out of the Judicial Yuan in the years to come."
Still, there is more that needs to be done to ensure full equal rights for members of the LGBT community in Taiwan. Same-sex couples cannot co-adopt, or use artificial reproduction. "[The next step is to] fight for true equality," Lu said. And in Taiwan, one cannot marry a foreigner if that country does not legalize same-sex marriage. "It's still not marriage equality…if [I] can enter the marriage system, why do you treat me differently?"