Georgetown Law's Institute of International Economic Law Hosts Second Annual Fintech Week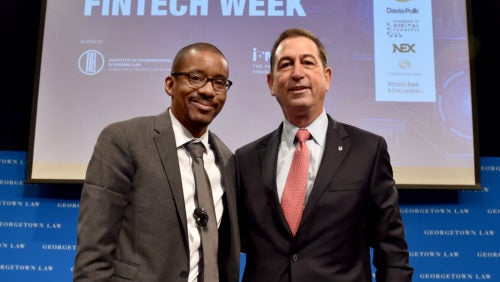 Advances in financial technology are changing market and regulatory ecosystems in ways unimaginable a generation ago. These new developments offer exciting opportunities as well as enormous challenges — and Georgetown Law's Institute of International Economic Law is leading the way in fostering the discussions.
Fintech Week, held at Georgetown Law and in Washington, D.C., November 5 to 8, featured multidisciplinary sessions with many of the world's top fintech experts. In Hart Auditorium, Professor Chris Brummer, IIEL's faculty director, interviewed a number of regulatory agency leaders including William Hinman, director of the U.S. Securities and Exchange Commission's Division of Corporate Finance; Sheila C. Bair, former chair of the U.S. Federal Deposit Insurance Corporation; Craig S. Phillips, counsel to the secretary of the Treasury; Joseph M. Otting, Comptroller of the Currency; Pradeep Belur, chief of staff and chief operating officer at the U.S. Small Business Administration; and J. Christopher Giancarlo, chair of the U.S. Commodity Futures Trading Commission.
Professor Itai Grinberg discussed taxing cryptoassets, and at the International Monetary Fund, Professor Anna Gelpern led a conversation with David Lipton, first deputy managing director of the IMF.
Many of the conversations noted the moment when former Comptroller of the Currency Thomas Curry announced, in the very same Hart Auditorium in 2016, that his office would make special-purpose national bank charters available to financial technology companies offering bank products and services.
"Since then…there's been a number of conversations and questions about how federal regulators should be cooperating, not just with the OCC's Fintech Charter," Brummer noted, in his conversation with Bair looking at appropriate regulatory responses to innovation. "What degree of coordination [among financial regulatory agencies both federally and internationally] would be required to effectively operationalize administrative innovation?"
While acknowledging that Fintech is inherently international, Brummer noted that information sharing by regulators across borders is difficult.
Bair responded that the Financial Stability Oversight Council, at least at the federal level, is a good vehicle to facilitate coordination. The Securities and Exchange Commission and the CFTC, she said, have also done a great job. Cross border information sharing, Bair noted, is not unique to financial services. "I do think we need more regulatory consolidation and streamlining," she said.
Fintech Report
Adjunct Professor Perianne Boring of Georgetown University's McDonough School of Business introduced Craig Phillips, counsel to Treasury Secretary Steven Mnuchin. Phillips is "truly at the center of the [Trump] Administration's consideration for modernizing the financial system" and the key architect of a Fintech report that "publicly acknowledged, for the first time, in an official statement of the U.S. government, the need to create policies to promote the development of Fintech solutions," Boring noted.
Phillips outlined the Administration's approach to financial regulation; the importance of innovation and the implications for fintech; and developments at the Financial Stability Oversight Counsel relating to digital assets.
"Overall, we think the technology has very broad and positive implications…these are important developments that we need to get right in the U.S. for economic leadership, but also there's a competitive threat [with] other countries…" Phillips said. "It might happen that if we don't take the right approach, it might not happen here.
Comptroller of the Currency Joseph Otting lent his thoughts regarding the implementation of the Fintech Charter that his predecessor, Curry, announced at Georgetown in December 2016. At the time, "probably hundreds of [fintech] companies thought they wanted to be a bank," yet they soon learned that they lacked the infrastructure and processes to be a financial institution," he said.
The challenge will be how to assist potential companies. "There are potentials on the horizon, as we look at blockchain and other activities around tracking securities or tracking asset values that also could have applications with the national banking charter."
Digital Revolution
Christopher Giancarlo, chair of the CFTC, spoke of the challenges of big data, automated trade analysis and artificial intelligence. Seventy years after the creation of the world's first electronic stored-program computer in an enormous room at Victoria University of Manchester, England, our smartphones today have 500 million times more storage capacity, he said. And the CFTC has been "no bystander" to the digitization of modern markets.
"Just as our lives are being transformed…the world's trading markets are going through the same revolution, from analog to digital, from human to algorithmic trading, and from standalone centers to interconnected global trading webs," Giancarlo said. "Emerging digital technologies are impacting trading markets in the entire financial landscape — with far ranging implications for capital formation and risk transfer."
Brummer credited Giancarlo with sparking the idea that Georgetown sponsor an annual week on Fintech. But Giancarlo insisted that the credit was Brummer's. "This conference, in such a short period of time, has really become one of the real forums for thought leadership in the Fintech space — in an environment that is crowded…with Fintech conferences, this one has really become a place [with very good] conversation and debate."