Georgetown Law's Student Groups Host "Intersectionality Week"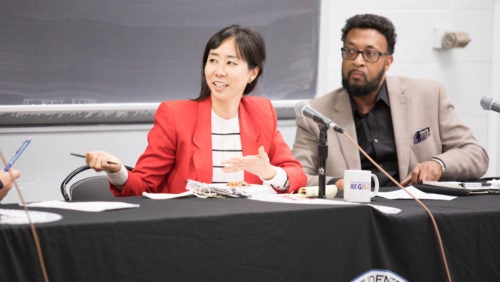 Georgetown Law's student organizations, more than 85 on campus, have always been remarkable. But as 3L Sabrina Bernadel (L'20) made her way through law school, she thought that the current affinity student groups had a definite energy. So this year, Bernadel — president of Georgetown Law's Women of Color Collective — helped bring more than a dozen groups together to host an amazing "Intersectionality Week" November 4 through 8.
The purpose, as Bernadel explained, was to promote a collective of diverse and complex voices by bridging the gap between different communities and creating a space for open and vulnerable dialogue"— through a number of events and discussions.
"Last year we did our first Student of Color Outreach day, when all the groups [came together], and I thought, this is fun, we don't usually do this, we're not all usually in one space," said Bernadel, who hopes to obtain a fellowship to work with the National Women's Law Center next year. "These groups are important for what they do and what spaces they provide for their members. I wondered, what if we brought this idea of Intersectionality to our affinity groups — in a real effort to collaborate with each other, to learn from each other and to show the broader Georgetown Law community our voice here…and how much we want to share who we are with the rest of the community?"
Participating groups included the Asian Pacific American Law Students Association (APALSA), Georgetown Law ASEAN (Association of Southeast Asian Nations) Society, Black Law Students Association (BLSA), First Generation Student Union (FGSU), Jewish Law Students Association, Latin American Law Students Association, Muslim Law Students Association (MLSA), Native American Law Students Association (NALSA), OutLaw, South Asian Law Students Association (SALSA), Women of Color Collective (WoCC), Women's Legal Alliance, and Student Bar Association — with the support of Georgetown Law's Office of the Dean of Students, Office of Equity & Inclusion, Office of the Dean and Office of Communications.
Melody Alemansour (L'20), president of the SBA, said that the week started out with an "affinity mixer": "It was a really nice chance to meet 1Ls, 2Ls, evening students, LL.M. students, to get them excited about the week."
She hopes that students will be inspired to create events like these in their future work environments, whether in government, nonprofits or in a law firm (Alemansour will be going to the D.C. office of a law firm). "If we can show them a model that has worked, I don't see why they wouldn't be able to implement it in other environments."
Teamwork
Events included a Monday "Lunch and Learn" talk with Visiting Professor Eduardo Ferrer (C'02, L'05) as well as a discussion on Title VII by Adjunct Professor Jenny Yang, Adjunct Professor Dori Bernstein (LL.M.'85), Visiting Professor Brishen Rogers and Harper Jean Tobin of the National Center for Transgender Equality.
Tuesday evening saw a "State of the Woman of Color" Attorney Panel — moderated by Dr. Judith Pérez-Caro, Georgetown Law's inaugural director of Equity and Inclusion. Participants included Jaya Saxena of White & Case; Administrative Law Judge Toya Carmichael (L'09) of the D.C. Commission on Human Rights; Pamela Nwaoko (C'10) of Skadden; Nia Ariel Davis Sigona (L'14) of Higher Learning Advocates; Almo Carter of the D.C. Public Defender Service; Marianela Peralta of Allegis Group Solutions; Marilyn Batonga of Baker McKenzie; Pari Mody of Arnold & Porter; Jennifer Li of Georgetown Law's Harrison Institute for Public Law, and Caitlin Cocilova (L'15) of the Washington Legal Clinic for the Homeless. The event has been part of WoCC's fall programming for the past three years.
"We are so lucky that everyone that the Women of Color of Collective invited said 'yes,'" Pérez-Caro said at the outset.
Wednesday featured a panel on "Land Grabs: Displacement & Dispossession in American Property Law" co-hosted by NALSA and BLSA. "It was a smash hit, great turnout," said Malcolm Morse (L'21), who helped plan the event.  "With the intention of sparking student awareness around this issue and the history that created it, BLSA and NALSA invited an esteemed panel of Georgetown Law faculty with expertise in the subject matter: Professor Anthony Cook, Professor K-Sue Park, and attorney Tanner Amdur-Clark. The panelists had an interesting conversation about urban development and how it dispossesses people from their land."
The commodification of land has been a long process that goes back to European settlement in America, Morse noted. "At many points throughout that process, Native Americans and African Americans were dispossessed of their land due, in part, to a combination of economic self-interest and racism. Even today, with the resurgence of urban development and gentrification, dispossession and displacement of minority groups has once again become a major issue. The discussion was lively as the panelists addressed the ways in which the law, language, racism, and material conditions helped create the American land system we have today in conjunction with the realities of today, which negatively impact minority communities now as they did back then.
Morse came to Georgetown Law after doing a master's in urban planning; he's from D.C. and wants to use his law degree to work on infrastructure and urban planning. "To push D.C. forward as a city that not only is growing but is changing in a way that is good, it's become more global, and that growth is going to create new challenges," he said.
Celebration
The week concluded with a keynote by Judith Browne Dianis, executive director at Advancement Project who works with grassroots organizations to promote racial justice.
"It's been an amazing thing to see," Bernadel said of Intersectionality Week, "and an even better thing to be a part of."
Associate Dean Paul Ohm thanked the students on behalf of the faculty and administration. "How impressed we all are that the many affinity groups that came together to plan this week have put together such an interesting and successful series of events…" he said. "It's really something to be celebrated."