Georgetown's Health Justice Alliance Unites Law and Medical Centers to Advance Health Equity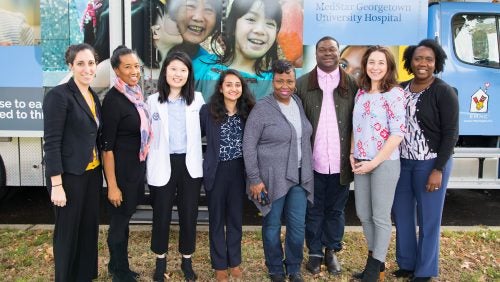 "As educators, we are responsible for teaching students how they can support the health and well-being of all people… Doing so demands that we reenvision both the role that access to justice plays in health equity and the way we train future health care teams."
Five years and one global pandemic after a cross-campus initiative began as an experiment, the Georgetown Health Justice Alliance (HJA) has proven itself as a powerful training ground and engine for health advocacy in the nation's capital and beyond.
In the latest issue of The New England Journal of Medicine, Georgetown University's president and law and medical center deans join HJA's co-founder and faculty director in calling on more universities to adopt medical-legal partnerships (MLPs) that prepare future lawyers, doctors and other health professionals to work together to address the nation's long-standing racial and socioeconomic health disparities.
"Despite the important effect that legal needs have on patients' physical and mental health, most medical education programs don't teach future clinicians how to identify such needs… MLPs can fill these educational gaps and contribute to the pipeline of professionals who are prepared to work together to advance health equity," write the authors, Georgetown President John J. DeGioia, Georgetown Law Dean William M.Treanor, Georgetown University Medical Center Executive Vice President for Health Sciences Edward B. Healton, and Professor of Law, Legal Practice, Vicki Girard.
Medical-legal partnerships bring together practitioners from both fields to address social conditions that are often key determinants of health outcomes. At Georgetown, law students and medical students are now teaming up to help sick and vulnerable clients take on issues like unsafe housing conditions, food insecurity, unmet educational needs and compassionate release from prison during the pandemic.
When Girard first encountered the MLP concept, she was excited about the potential to engage both a medical, nursing and law school within a single university, and quickly began thinking about how to bring the model to Georgetown. In 2016, working with Associate Professor Yael Cannon and the medical school's Dr. Eileen Moore, the Georgetown Health Justice Alliance officially launched. The following year, Cannon opened the Health Justice Alliance's law clinic.
Since then, each year some 24 law students spend a semester working directly with low-income clients who have complex needs that impact their families' health. Six to eight fourth-year medical students join them on rotations to collaborate on developing solutions to the clinic's clients' issues. Under the guidance of law and medical professors, social workers, nurses and more, the law and medical students alike gain a multidimensional and nuanced perspective on some of America's most persistent social challenges, exploring the role law has played in driving racial and socioeconomic health disparities and the potential for law to be leveraged to mitigate them.
Law students often join medical students from the School of Medicine's Health Justice Scholars track in an annual Capitol Hill Advocacy Day. Students from both schools have also testified before public officials — including the DC Council Committee on Health in support of declaring racism a public health crisis — and they contribute directly to research and assessment efforts aimed at expanding the MLP model across MedStar Health and Georgetown.
OUT OF THE CLINIC, INTO THE WORLD
Now, alumni of the Georgetown Health Justice Alliance law clinic are taking the lessons they learned into their post-graduate careers, advancing the initiative's goal of seeding structural change.
"Working with the HJA gave me a glimpse of what real healing can look like, where you address the biological and the societal problems that are keeping someone from having a healthy life," said Robert Hagerty (M'20), now a pediatric resident physician at New York's Mount Sinai Hospital. "I no longer feel like I could practice anywhere without trying to make connections with legal advocates for my patients in need, it would not feel like complete care."
Rhea Shinde (L'21) will soon start a fellowship in a major hospital system's general counsel's office and said her HJA experience taught her that deconstructing professional silos was key to addressing access to healthcare and other social determinants of health. "I look forward to building upon these lessons of collaboration and strength across disciplines in my new role at MedStar Health over the next year, and eventually working to develop a holistic and inclusive approach to health policy reform."
After graduation, Abigail Sweeney (L'21) will build on her HJA student experience as an Equal Justice Works fellow at the Cancer Legal Assistance and Wellbeing (LAW) Project at MedStar Washington Hospital Center. This HJA initiative connects low-income cancer patients with no-cost legal services to address employment, insurance, and other unmet legal needs that interfere with their health. Sweeney's project is to develop a network of pro bono attorneys who will help patients understand their rights and options as they confront complicated treatments and end-of-life planning.
"I'm committed to a public interest career, and the work of promoting health justice and racial justice through this fellowship offers me a meaningful opportunity to start on that path with HJA," she said.
Prashasti Bhatnagar (L'22) foresees a career in movement lawyering and policymaking related to the U.S. immigration and health care system. This past year, she worked with Janae Van Buren (M'21) on a maternal health project while pursuing a Master of Public Health through a dual degree partnership with Johns Hopkins. Working with a Hopkins classmate and HJA's Director of Research, Dr. Deborah Perry, they assessed the unmet legal needs of low-income women delivering at MedStar Washington Hospital Center.
Collaborating across disciplines is needed to look at the whole person, Bhatnagar said. "Especially from a legal perspective, if our goal and obligation is to be a zealous advocate, it is impossible to do that without having a robust, interdisciplinary team."
During her time in the HJA law clinic, Bhatnagar also collaborated with then medical student Janet Shin (M'20) and a social worker to work with client Ella Barnes-Williams, who was struggling to raise her three grandchildren in the wake of her daughter's death. The clinic team guided her through formalizing custody agreements and accessing medical and educational resources for her youngest grandson, who was experiencing learning delays.
Barnes-Williams said the Georgetown team did an "awesome job" taking care of her family, adding, "I don't feel by myself anymore."
HEIGHTENED RELEVANCE IN A PANDEMIC
The COVID-19 pandemic has only magnified the health disparities historically disenfranchised and excluded communities face. The Georgetown Health Justice Alliance Law Clinic has continued to operate throughout, using phone and video calls to help clients resolve critical legal issues affecting family health and well-being that became even more dire in the face of the pandemic: unsafe housing conditions, housing insecurity, health insurance coverage and educational support for children with disabilities.
One issue to emerge with urgency has been food insecurity. With unemployment high, school buildings closed and quarantines restricting the ability to move around the city, the clinic's leaders started to hear that families they served didn't have enough to eat. HJA partners at MedStar Georgetown Division of Community Pediatrics who helped families access emergency food resources started referring them to HJA.
"We realized that while Congress had enacted stronger safety net programs to address growing food insecurity, our clients' legal rights around food stamps and other public benefits weren't being fully maximized and enforced," said Cannon, faculty director for the HJA law clinic. "Our students advised and advocated, and helped clients secure additional food and financial benefits — significantly reducing both the hunger and health risks they faced."
Meanwhile, unsafe housing — always a key concern at the clinic — became even more pressing once people were forced by the pandemic to spend much more time at home than ever before.
In one case, the MedStar Georgetown school health center at Anacostia High School referred a family whose apartment was plagued with mold and rodents, which threatened the entire family's health — particularly a child with asthma. The family's pleas to their building manager to remediate the problems or transfer them to another apartment were going unanswered.
When the law clinic came in and started preparing for an emergency court motion to force the landlord to deal with the issue, suddenly a renovated unit became available. Cannon recalled how thrilled her students were to see photos the family had sent showing them unpacking in their clean, safe new home.
LOOKING AHEAD
HJA's work has obviously been relevant during a global health crisis, and Girard believes it may be even more so post-pandemic as the city's protective measures — such as an eviction moratorium and automatic renewals of food stamps and Medicaid benefits — begin to expire.
"We know that many of the patients we serve will need legal help to make sure they remain housed securely and keep their healthcare benefits," she said.
Although the injustices and health needs facing low-income patients in D.C. during the pandemic have been immense, Girard and Cannon have been gratified to see the impact HJA teams have made together — and by seeing students take their deep commitment to health justice into their legal and medical careers.
"Our students are graduating with the skills and passion to take on structural inequities," Cannon said. "I know they will move our country toward a more holistic approach to health and make a real difference in people's lives."
Read more about the Georgetown Health Justice Alliance's founding and pre-COVID-19 operations in the Spring-Summer 2020 issue of Georgetown Law Magazine.