January 6 Investigators Discuss Domestic Extremist Groups – Then and Now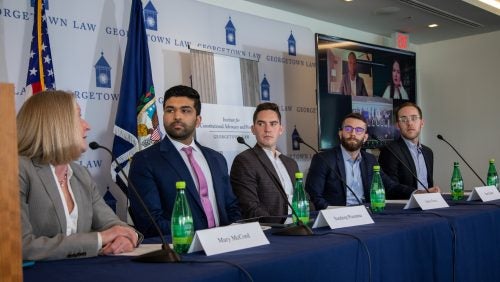 Six former staffers of the House Select Committee to Investigate the January 6th Attack on the United States Capitol reunited at Georgetown Law last week to discuss their work investigating the role domestic extremist groups played – on the day of January 6, 2021, in the planning beforehand and in the two years since.
During a panel discussion, attorney Marcus Childress, digital researcher Meghan Conroy, policy counsel at the Law Center's Institute for Constitutional Advocacy and Protection (ICAP) Jacob Glick, attorney and Adjunct Professor Sandeep Prasanna, attorney Sean Quinn and attorney James Sasso shared what they had learned over more than a year interviewing dozens of participants in the January 6 attack and looking into how groups like the Proud Boys and Oath Keepers organize, recruit and communicate.
Details about the leaders and followers of such groups and their tactics and beliefs were chilling, as were warnings the speakers issued about how dangerous they continue to be.
"On January 6… we saw these people coalescing around Donald Trump and keeping him in power. It's just a matter of time before people unite over a new cause that they are willing to die or kill for," said Conroy, an expert in how extremist groups use social media networks.
"A slew of targets have come under fire, both literal and figurative, since January 6 – we saw groups like the Proud Boys targeting mask mandates and critical race theory in public schools and taking really aggressive action against school boards and local government, and in the last year we have seen a lot of targeting of the queer community," said Glick. "We can take the steps we need to as a civil society, as a government, as a civilization to counter that. And I hope that's what we do."
The event was organized by ICAP, which itself has worked for years to combat political violence and antidemocratic activity. As ICAP's executive director, Visiting Professor Mary McCord, said in her opening remarks, "We have a niche expertise in suing private militias."
Watch the entire discussion on YouTube: