In Law and in Art, LeRoi Johnson (L'74) is 'Living in Color'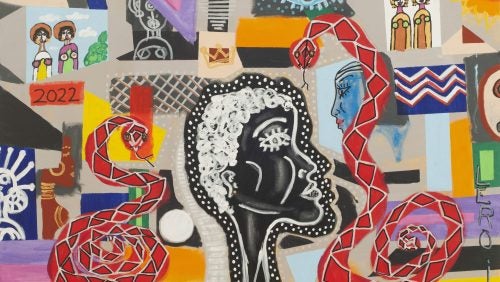 Though he's been a practicing lawyer ever since his graduation from Georgetown Law nearly 50 years ago, painting has been a lifelong passion for LeRoi C. Johnson (L'74). He started creating art when he was five years old, began painting in high school and has continued ever since.

His acrylic paintings have been shown nationally and internationally, including at the Archivo National do Brazil, the Museum of Modern Art in Rio de Janeiro and at Art'n'the Bowl, a fundraising exhibition for the Athletes For Life Foundation held in conjunction with the 2022 Super Bowl in Los Angeles.
In November, an exhibition, LEROI: Living in Color, opened at the Burchfield Penney Art Center at SUNY Buffalo State. It is the first major exhibition of a minority artist's work in the Burchfield's main East Gallery and features over 70 pieces from Johnson's five-decade career.
Johnson's own term for his style of art is "electric primitive." His paintings are colorful, bold, and visionary. Some are figurative, others abstract and geometric. They express spiritual themes drawn from his personal experiences, from his many global influences, from his dreams.
"I paint what I see and what I feel," says Johnson.
Many of his artworks begin with a digital sketch on his iPhone. "I wake up with an idea. I need to recapture the feeling of the dream, and get it out of my system," he says.
A PAINTER AND A LAWYER
In addition to his art being showcased around the world several times a year, Johnson is a practicing lawyer with his own firm in Buffalo, NY, where his work mostly focuses on personal injury cases, entertainment law and civil practice. (His entertainment law expertise comes not only from his own art career, but also from his years serving as manager and attorney for his brother, the late musician Rick James.)
After nearly five decades as a lawyer, Johnson still finds the practice exciting. "I treat every case as if it's my first case," he says. He enjoys doing pro bono work in the local Buffalo community and hopes that someday his legal assistant will take over his practice.
Looking back on his law school days, Johnson says that Georgetown Law in the 1970s was a challenging place for a Black student – but that rising to the challenges made him stronger. He recalls one professor who would call on him in every single class. Johnson decided to turn what was meant as unfair treatment into a positive, using the opportunity to get the teacher to answer all the questions he had about the course.
"You had to step up your game at Georgetown. And I stepped up," says Johnson. "Georgetown prepared me for the practice of law, but it also prepared me for life."
WHAT DOES IT MEAN TO YOU?
Johnson's Living in Color exhibition is, in part, the outcome of a teaching collaboration among the artist and four Buffalo student arts groups. He worked with 80 students in a variety of media: video, installation, prose and digital graphics. Twenty pieces of the students' work, created in interpretive response to Johnson's art, are on display among the artist's own paintings.
This was not Johnson's first foray into working with students. In 1972-73 he was part of the early days of Georgetown's Street Law Program, going into D.C. high schools to introduce legal concepts to youth. Street Law's goal was to inspire young people to pursue higher education and consider law as a career. It is still going strong at the Law Center today, and its model has since been adopted in some 200 law schools worldwide.
Of his more recent collaboration with student artists, Johnson says he described his creative process to them, but never explained the work itself.
"I wanted to help the students go beyond their borders," he says. "I didn't tell them what my art meant to me. I asked them, 'What does it mean to you? Work with that.
"Ultimately, my mission was to leave a legacy for the next generation of young artists, and my intent was to inspire them. But as it turned out, they really inspired me."
The LEROI: Living in Color Exhibition is on display at SUNY Buffalo State College's Burchfield Penney Art Center until March 26, 2023.