Justice Ruth Bader Ginsburg Celebrates Centennial of "First Step" toward Equal Citizenship for Women, Says Work Remains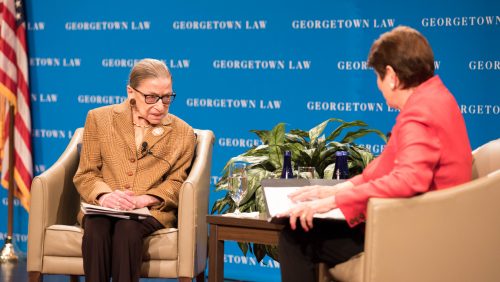 U.S. Supreme Court Justice Ruth Bader Ginsburg joined U.S. Appeals Court Judge M. Margaret McKeown (L'75, H'05) center stage at Georgetown Law this week for a centennial celebration of the 19th Amendment co-hosted by the American Bar Association.
In her welcoming remarks at "Searching for Equality: The 19th Amendment and Beyond," ABA President Judy Martinez described the amendment that guaranteed women the right to vote as a watershed event "that paved the way for the largest expansion of democracy in the history of our nation."
The amendment's legacy will be the focus of a special 2020 issue of The Georgetown Law Journal, said editor-in-chief, Grace Paras, who introduced McKeown. The special issue will feature pieces on the amendment's impact by prominent legal scholars, including Georgetown Law's own Nan Hunter.
Ginsburg was greeted by an enthusiastic standing ovation before sitting down with McKeown, who sits on the Ninth Circuit Court of Appeals, chairs the ABA's Commission on the 19th Amendment and formerly chaired Georgetown Law's Board of Visitors. The two women embarked on a wide-ranging, hour-long discussion that traced a century's worth of women's rights history, starting with Ginsburg's mother's support for women's suffrage.
"When she was 15 and 16, she took part in the parades in New York," Ginsburg said.
"In some ways, the 19th amendment was a miracle," she continued. "The suffragists had to sell votes for women to an all-male audience. That was no easy task."
McKeown explained that suffragists sold cookbooks as part of their campaign to win the vote. "They wanted to show that women could have a role in the kitchen and outside the kitchen."
The conversation became more personal, as Ginsburg recounted how her late husband Marty Ginsburg — who joined Georgetown Law's tax law faculty when Ginsburg's Appeals Court appointment first brought them to Washington — took a leading role in her own family kitchen.
On the 19th Amendment, Ginsburg noted it was only "the first step toward equal citizenship stature for women." Women were still subordinate: they had no right to run for office, serve on juries, or sign for a loan without their husband's permission. The National Women's Party "introduced the Equal Rights Amendment (ERA) in 1923," said Ginsburg, to ensure "equality in all fields of human endeavor." Ginsburg said the country still needs an Equal Rights Amendment, and made some news when she said the states should start the process over, amidst fresh controversy on whether Virginia's recent and long-delayed ratification was valid.
Ginsburg said people often ask her if the Fourteenth Amendment's equal protection clause hasn't brought the country to the same place that the ERA would have. "My answer is, not quite," she said. "Every constitution in the world written since the year 1950 – even Afghanistan's – has the equivalent of an equal rights amendment, and we don't…. Why should the rest of the world have the equivalent of an equality guarantee and the United States does not?"
Judge McKeown turned the discussion to women in the legal field where progress, though promising, is incomplete. When Justice Ginsburg started at Harvard Law School in 1956, there were just nine women in her class, and only one woman on the law review staff. Only three percent of the country's lawyers were female. As for women on the federal bench, "they just weren't there," Ginsburg said.
Today over 50 percent of law students are women, including an increasing number of minority women. Female representation on law journals has soared. This year, for the first time ever, flagship law journals at the top 16 law schools have a female editor-in-chief, including Georgetown Law's Grace Paras. Duke Law recently hosted an event in Washington that honored this milestone that included Paras, Georgetown Law Dean William Treanor and several Appeals Court judges who serve or have served on Georgetown Law's faculty.
The trend continues at Georgetown, where The Georgetown Law Journal's incoming editor-in-chief, Toni Deane, will be the Journal's fourth female leader in a row and its first black editor-in-chief. Still, as Ginsburg remarked, men make up the majority of the Court's clerkship applicants, and fewer than 20 percent of advocates before the Court are women.
Judge McKeown concluded the event with questions from two Georgetown Law students, both Georgetown Law Journal editors who will go on to serve as her clerks after graduating this year. In response to a question from Erin O'Neill, Ginsburg said she viewed the intermediate scrutiny test the Supreme Court currently applies when considering sex discrimination challenges as part of a sliding scale, rather than a rigid standard. Then she turned to a question from Max Crema who asked how the country can work to prevent efforts to disenfranchise vulnerable communities through restrictive voting laws.
"The young people are going to make a difference," said Justice Ginsburg. She also stressed the importance of voters ensuring that they are properly registered.
"Susan B. Anthony never got to the see the 19th Amendment ratified, but she knew it would happen," she noted. "In my long life, I have seen such positive change. Yes, there are things that make us all worried. But I am hopeful there will be leaders on both sides of the aisle who will say, it's time to get together and work for the good of the country. That is my hope, and I would be content if I could see it happen in my lifetime."
Searching for Equality: The 19th Amendment and Beyond

100 years after the 19th Amendment guaranteed women the right to vote in the United States, Justice Ruth Bader Ginsburg of the U.S. Supreme Court and Judge M. Margaret McKeown of the U.S. Court of Appeals for the Ninth Circuit will discuss that watershed moment and the continued fight for equal rights for women that has followed.

Posted by Georgetown Law on Monday, February 10, 2020