One of World's Leading Computer and Network Security Experts Joins Georgetown Faculty
Matt Blaze, an expert in computer and network security and one of the world's leading cryptographers, has joined the university as a computer science and law professor.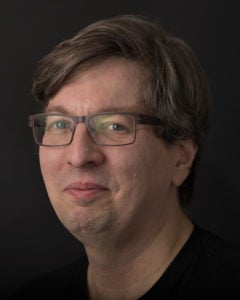 Blaze, on a joint appointment at Georgetown Law and as the Robert L. McDevitt, K.S.G., K.C.H.S. and Catherine H. McDevitt L.C.H.S. Chair in the Department of Computer Science, comes to Georgetown from the University of Pennsylvania, where he was a professor of computer and information science since 2004.
His interests include security technology, public policy, wiretapping and surveillance issues, and he has testified before Congress on the security of electronic voting systems.
Distinguished Scholar
"We are thrilled to welcome such a distinguished scholar as Professor Blaze to our faculty," says Georgetown Law Dean William M. Treanor, who adds that the new appointment will bolster the Law Center's focus on technology. "Technology affects all aspects of legal practice today, and students will benefit from his expertise."
"Lawyers need to be conversant with technology, whether through coding, creating apps for legal nonprofits, addressing the problems caused by cybercrime, solving issues relating to consumer privacy or understanding a software patent," Treanor notes.
In recent years, Georgetown Law has launched a Center on Privacy & Technology as well as an Institute for Technology Law & Policy.
The school now offers more than 50 courses in technology, policy and intellectual property, with students having opportunities to become Tech Law Scholars, build apps to increase access to justice and more.
Innovative Courses
Blaze holds a Ph.D. and M.A. in computer science from Princeton and an M.S. from Columbia. He earned his bachelor of science summa cum laude from City University of New York.
Prior to joining the University of Pennsylvania faculty, he conducted research in cryptology and security at AT&T Bell Laboratories/AT&T research from September 1992 to December 2003 — with an emphasis on systems and architectural aspects of security and trust in large-scale computing and communication systems.
Blaze will be the first computer scientist teaching without a J.D. in a tenured or tenure- track position at an American law school, according to Paul Ohm, associate dean for academic affairs at Georgetown Law and a technology specialist.
"Professor Blaze will teach innovative, interdisciplinary courses at the law school, including Technology of Surveillance and Electronic Voting Technology and Law,'" says Ohm, who teaches popular courses in computer programming for lawyers. "We are thrilled to welcome him to Georgetown."
Interdisciplinary Inquiry
Nitin Vaidya, chair of the computer science department, also welcomes Blaze to one of the fastest growing departments at the university.
The department, in addition to conducting research in traditional areas of the discipline, is developing interdisciplinary and networked courses and programs that connect computer science to other important areas of research such as policy, government and sociology.
"Professor Blaze is a well-recognized researcher and a leader in computer security," Vaidya says. "He has made outstanding technical contributions, and also has had a significant impact on the practice and policies in the computer security area. I am delighted to welcome him to the computer science department at Georgetown."
Dean of Georgetown College Christopher Celenza says the appointment is in keeping with the university's goal of increasing knowledge production by supporting interdisciplinary inquiry.
"We are committed in Georgetown College to building bridges between disciplines and schools to advance our collective understanding of important world problems," Celenza says. "Professor Blaze's impactful work at the crossroads of computer science and law will serve as one of those important bridges. We are fortunate to have him at Georgetown."
National, Global Impact
"The appointment of Blaze adds to Georgetown's reputation as a national and global nexus of issues related to technology and society," says Provost Robert Groves.
As engineering schools and computer science departments focus on giving their students greater ethical and socially responsible foundations for their work, Groves says there is a "further critical component for technologists to understand and learn how to contribute to active discussions in law and public policy."
"At the same time, there is a vital need for policymakers and civil society leaders to learn how to engage with technologists and become more literate about the ways technology is shaping our society."
Today policymakers grapple with data privacy and protection, algorithmic bias, net neutrality and fundamental notions of how technologies can better serve people, he says.
The university regularly hosts high-profile convenings on technology governance and ethics and policy, bringing together national and international public and private sectors.
"Georgetown is a growing hub for many of these conversations, with the ability to bring in government officials, technologists, policymakers and civil society to find common issues, discuss new approaches and propose new ideas," Groves says.