Preventing Another Charlottesville: New Tools for 50 States
Every state has a legal basis to restrict private militia and paramilitary activity at public rallies, new research at Georgetown Law finds
WASHINGTON – Every state has legal provisions on the books that could be used to prohibit the kind of private militia and paramilitary activity that led to widespread intimidation, violence, and chaos at the Aug. 12 "Unite the Right" rally in Charlottesville, Va., nearly six months ago, according to new research by Georgetown Law's Institute for Constitutional Advocacy and Protection (ICAP).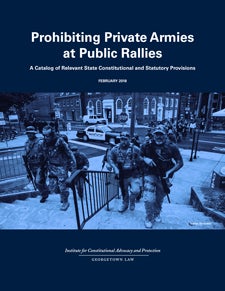 In a new report released today, ICAP builds upon a lawsuit it filed in October against "Unite the Right" organizers and participating private militias and paramilitary groups on behalf of the City of Charlottesville, local businesses, and community organizations. In the suit, ICAP identified provisions of Virginia law that prohibit the paramilitary tactics employed not only by the white nationalists who terrorized community members and provoked violent confrontations with counter-protestors, but also by the private militias who claimed to be the self-designated peacekeepers.
Now ICAP is releasing the results of legal research across all 50 states in an effort to help communities prevent public rallies from devolving into combat zones.
"What we found is that every state has laws on the books that could be used to help ensure that the violence that occurred during the 'Unite the Right' rally never happens again in America," said Mary McCord, senior litigator at ICAP and visiting professor at Georgetown Law. "Local authorities in all 50 states should know that the law empowers them to restrict paramilitary activity during public rallies, while preserving the rights to free expression and peaceful assembly."
ICAP identified four relevant categories of law intended to reinforce the fundamental tenet of civil society that the government must maintain a monopoly on the legitimate use of force for the protection of public safety. These include:
Constitutional Subordination Clauses: 48 states have provisions in their state constitutions that require the subordination of the military to civil authorities.
Unauthorized Private Militia Statutes: 28 states have statutes that prohibit groups of people from organizing as private military units without the authorization of the government. They often prohibit "parading" or "drilling" in public with firearms.
Paramilitary Activity Prohibitions: 25 states have statutes that criminalize certain paramilitary activities, such as assembling with others to train or practice with firearms or techniques capable of causing injury or death, and intending to employ those practices in, or in furtherance of, a civil disorder.
False Assumption Statutes: 12 states have statutes barring the false assumption of the duties of a peace officer or barring the unauthorized wearing of military uniforms or their close imitations.
All 50 states have one or more of these constitutional or statutory provisions, ICAP found:
Some local authorities have already drawn on ICAP's research to prevent violence at rallies. In October, ICAP attorneys consulted with officials in Shelbyville, Murfreesboro, and Rutherford County, Tenn., ahead of planned "White Lives Matter" rallies in those cities. As a result, officials incorporated relevant state law into their event permits and conditions to prohibit items that could be used as weapons and impose other time-limited and geographically limited public safety measures.
"We were very concerned that the 'White Lives Matter' rallies would escalate into the kind of violence that took place during the 'Unite the Right' rally last August," said Adam Tucker, assistant city attorney for Murfreesboro. "Working together with the attorneys at ICAP and officials in Shelbyville and Rutherford County, we drew up conditions and restrictions for the rallies that ensured the preservation of First Amendment rights while protecting public safety."
Last month, ICAP amended its Charlottesville lawsuit to include additional plaintiffs and defendants and new factual allegations. It seeks a court order prohibiting defendants from returning to Virginia and engaging in unauthorized private militia and paramilitary activity. ICAP has notified the court that it seeks a trial ahead of the Aug. 12 anniversary of the "Unite the Right" rally, when organizers have pledged to return.
ICAP has provided its new report to the attorneys general in every state, encouraging them to share it with local officials to use proactively as the basis for lawful restrictions that can minimize the potential for violence at future public rallies, protests, and other similar events. The law firm Paul, Weiss, Rifkind, Wharton & Garrison, LLP, provided research and technical assistance in the preparation of the report.
"In this country, we respect and protect the rights of all to demonstrate for what they believe in," McCord said. "But the Constitution does not give private armed groups the right to engage in paramilitary activity or usurp the role of authorized law enforcement."