Professor Adam Levitin to Congress: "Perverse" Bankruptcy Rule Makes Rich Richer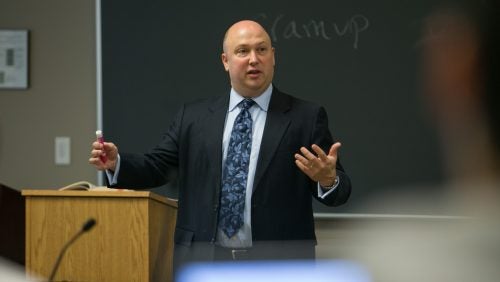 Georgetown Law Professor Adam Levitin told Congress that a "perverse" provision of current bankruptcy law will further enrich the billionaire Sackler family that owns the company most associated with the opioid crisis.
In testimony at a House Judiciary subcommittee hearing on "Confronting Abuses of the Chapter 11 System" last week, Levitin assailed the bankruptcy provision known as third-party release.
If Purdue Pharma's hand-picked bankruptcy judge approves the company's Chapter 11 bankruptcy plan as soon expected, he said, creditors and opioid victims will be forced to release all claims not just against the company, but against its owners.
"The Sacklers will wipe out their opioid liabilities without having to file for bankruptcy themselves," Levitin said. "Opioid victims will never have their day in court."
In 2019, facing an onslaught of lawsuits related to the opioid crisis, Purdue, the maker of the powerful painkiller Oxycontin, filed for bankruptcy. If approved by a New York judge later this month, both the company — and the Sacklers — will be released from tens of billions of dollars in liability.
In his July 28 testimony, Levitin explained that by declaring bankruptcy, Purdue will have to disclose all assets to creditors and the world and make those assets available to satisfy creditor claims. Meanwhile the Sacklers, under third-party release, won't have to disclose anything or surrender their massive wealth, other than minimal assets exempted by the bankruptcy code.
The Sacklers will reap all the benefits of bankruptcy, without having to pay its price, said Levitin, who teaches bankruptcy law, consumer finance and the "Law of Money" seminar and holds an Anne Fleming research professorship at Georgetown Law.
"Despite allegedly receiving billions of dollars in fraudulent transfers from Purdue, the Sacklers will actually emerge from Purdue's bankruptcy richer than they went into it," Levitin testified.
In his written testimony, Levitin provided expanded detail about the often overlooked downsides of third-party release, as well as the bankruptcy regime's more broadly recognized problems of weak appellate review and forum shopping.
Companies are now regularly abusing the bankruptcy system's local case assignment rules to hand pick the judges they believe will rule in their favor, Levitin testified.
"Judge picking has reached such an extreme that last year 57% of the large company bankruptcies filed in the country were filed before just three of the nation's 375 bankruptcy judges," he said.
"One of those three judges is the very judge who is presiding over Purdue's bankruptcy."
Watch Professor Adam Levitin's testimony: