Second Amendment on the Docket: Georgetown Law's Supreme Court Institute Previews NYSRPA v. Bruen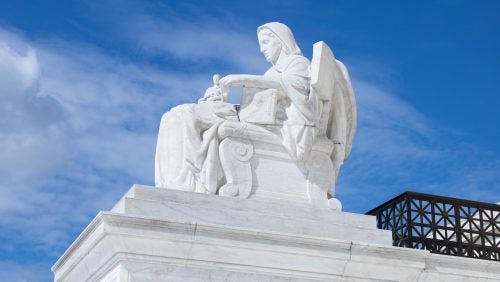 It's been over a decade since the Supreme Court has heard a case focusing on the Second Amendment. But this week, that changes.
Recently, Georgetown Law's Supreme Court Institute held a panel discussion previewing New York State Rifle & Pistol Association, Inc. v. Bruen, a case being argued on November 3 that concerns the constitutionality of New York State's restrictions on the public carry of firearms.
Georgetown Law Dean William M. Treanor, moderator of the event, described the upcoming argument as "unquestionably one of the most significant cases of the Court this term." Four panelists — three of whom have filed amicus briefs on one side or the other — joined Treanor: Professor Robert Leider of George Mason University Antonin Scalia Law School, appellate lawyer Richard Bernstein, Professor Robert Cottrol of The George Washington University Law School, and Visiting Professor Mary McCord (L'90), executive director of Georgetown Law's Institute for Constitutional Advocacy and Protection.
As many analyses of this case have done, the panelists began by discussing — and differing on the significance of — examples from history of laws regulating ownership and public carry of guns.
Then, guided by Treanor, himself a constitutional historian, they moved on to some of the details of the amicus briefs they'd written and their scholarship on related issues, and talked about which justices might be swayed by which arguments.
Watch the full panel discussion below: