Students Create Roadmap to Accountability For Syrian Crimes Against Humanity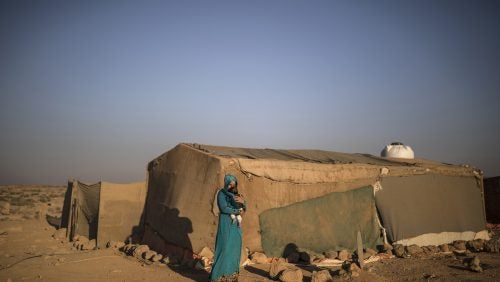 Interviewing victims of the Syrian civil war, what struck Juliana Lord (L'22) was the extent that bombs being dropped on hospitals and other healthcare infrastructure had become a part of day-to-day life.
"One of the interviews I was leading was with a doctor who had been providing medical care in Syria," she said. "The violence had become so normalized, specifically the attacks on hospitals. There was a pattern, you would see the plane in the sky and you would know that you had a certain number of seconds to get away and hope that you wouldn't get hit by it."
Working under the guidance of Melissa Stewart the 2019-2021 Dash-Muse teaching fellow at the Human Rights Institute, and Professor Scott Gilmore, Georgetown Law students in the Human Rights Institute's Human Rights Fact-Finding Practicum spent the fall and spring semesters interviewing victims of the Syrian civil war and analyzing the Bashar al-Assad regime's potential liability under international criminal and human rights law.
A Novel Argument
Now in its 11th year, the Syrian refugee crisis has been extensively studied, as have the Syrian government's attacks on healthcare as a strategy of war. But, according to Stewart, until now, little work had been done to connect the two.
"Our aim with this project was to add to the discussion by making a connection between the attacks and displacement in such a way as to advance the legal arguments forward that we hope will one day lead to accountability," she said.
Russia has consistently used its veto power at the U.N. Security Council to protect the Syrian government, and Syria is not a state party to the Rome Statute of the International Criminal Court (ICC). However, neighboring Jordan, where many Syrian refugees have fled, is.
That opens the door to the new report's jurisdictional arguments to pursue individual criminal accountability under international law — including at the ICC, which recently authorized an investigation into transborder crimes in Myanmar and Bangladesh.
No Choice But to Flee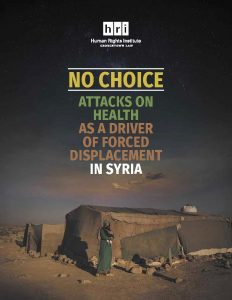 Released in June 2021, the students' report concludes that by systematically attacking healthcare, the Syrian government has committed the crime against humanity of forced deportation. The attacks have caused 70% of healthcare workers to flee the country, thus creating a domino effect. The lack of healthcare workers in the country combined with the damage to hospitals and other healthcare infrastructure are causing intolerable living conditions and driving large numbers of Syrians in need of medical care to flee the country, the report finds.
The class first presented their findings during Georgetown Law's 15th annual Samuel Dash Conference on Human Rights on April 5. The students' research fit into this year's conference theme of "Justice & Accountability for Atrocity Crimes," with other panel discussions focused on recent atrocities in China and Myanmar and the future of the International Criminal Court.
"Our students this year overcame enormous challenges to conduct their investigations entirely online," said Professor from Practice Andrew I. Schoenholtz, the faculty director of the Human Rights Institute.
The fall was spent delving into the Syrian conflict to find a novel legal issue to investigate, as well as learning skills to conduct the investigation in the spring semester. A key skill was trauma-informed interviewing.
"It has to do with asking questions, sensitively and making sure that the person that you're interviewing knows that they're in control, they can end the interview at any time. If they feel like they can't talk about something, we can move on to a different question," Lord said. "There's a lot involved in it, but I think Professor Gilmore and Professor Stewart did a really good job of preparing us to interview people in a sensitive way."
Teamwork Amidst the Pandemic
In the spring, the student researchers initially planned to travel to Greece for fact-finding interviews with Syrian refugees there. While the pandemic made overseas travel impossible, it ended up opening up a wider range of witnesses to interview.
"We were able to identify witnesses who were based in Europe and some in Syria, as well," said Aysha Chowdhry (L'23). "The power of Zoom was helpful in this case, we were able to talk to witnesses all around the world which was very helpful for our research."
Finally, the group had to actually write the 82-page report. Each student was assigned a particular section and then the drafts were extensively edited by their fellow students as well as the professors until it came together into a final product written in one voice.
"We spent hundreds of hours putting the report together. I think the year would have gone very differently if we hadn't had such a good team," Lord said. "It's a lot more in-depth process than I expected, so at the end to be able to really see all of our work come together was meaningful."
"Real Stakes"
The Human Rights Fact Finding Practicum is one of a large variety of practicum courses at Georgetown Law. In all practicum courses, students engage in practical work, either under a professor's supervision, or at a placement at an outside organization. Students also participate in a seminar that focuses on the doctrine, theory, skills, and ethical questions that arise in that practice area. Practicum courses along with clinics and externships can fulfill the experiential learning required of all J.D. candidates at Georgetown Law.
"It was really valuable to engage in work that had real stakes and that would have a real effect out in the world that wasn't just classroom learning," Lord said. "Conducting this investigation and the interviews, I realized that I really loved this kind of work and want to do more of it. I think this has been the most rewarding experience I've had in law school so far."
Watch the students present their findings at the Dash Conference: