Fact-Finding Project
Each year, HRI works with a small team of students on a cutting-edge human rights topic, giving them the opportunity to develop the research methodology, conduct extensive interviews on the subject, draft a comprehensive report on their findings, and engage in related advocacy.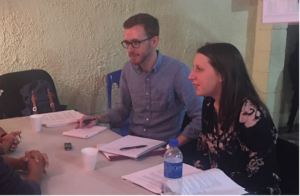 Students selected to join the Fact-Finding Project are supported by a full-year, six-credit practicum taught by expert practitioners. In the fall semester, HRI trains students in the substantive law and policy, as well as fact-finding skills and methodology, interviewing skills, ethics, and security planning. Critically, the ultimate research question is developed by the students with the support of the Adjunct Professor and Dash/Muse Fellow. In January, during Georgetown Law's "Week One," the research team travels either internationally or domestically to conduct extensive interviews with those affected by and knowledgeable about the issue. In the spring semester, HRI publishes a comprehensive report that lays out findings and recommendations, and then engages in extensive advocacy with government officials or other decision-makers.
Past Reports:
In 2017-2018, the HRI Fact-Finding Project investigated cycles of violence and discrimination in against lesbian, gay, bisexual, and transgender (LGBT) individuals in Guyana.
For a screen-reader accessible version of this report, please contact HRI's Dash-Muse Fellow at ab2242@georgetown.edu.