Tiauna Mathieu (L'19): Working Towards Criminal Justice
Tiauna Mathieu (L'19) was inspired to become a lawyer, she says, in a sixth grade law and government class where half of the class served as the prosecution and half served as the defense.
She went to Hampton University — and now Georgetown Law — to study criminal justice. Her mom is a warden in New York City's Riker's Island. Her aunt was a cop.
Her dad, though, spent time in prison.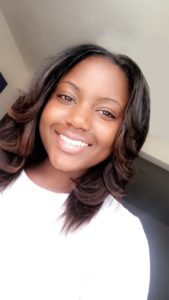 "My parents went completely different paths, and it was all surrounded by the criminal justice system," Mathieu says. "I majored in criminal justice and just started seeing a lot of defects in the system — particularly racial injustice."
Professor John Copacino and Professor from Practice Vida Johnson's year-long Criminal Justice Clinic, which Mathieu is now taking as a 3L, is her favorite law school experience so far.
"I'm not only learning the law, I'm learning how to be a lawyer under great lawyers," she says. "My direct supervisor is Vida Johnson….we have the regular lecture part where we learn the black-letter law, evidence and all of the other criminal procedure rules, and then we also do mock hearings. So after we learn how to do opening arguments in class, we perform them in a future class — closings and motions and arguments. But we are also in court for real. It's just been a great experience."
In December, while many of her classmates were studying for exams, Mathieu was preparing for a trial where her client was accused of false reporting to a Metropolitan police officer (the December 5 trial would be postponed owing to the death of former President George H.W. Bush).
She also worked on a simple assault case (the clinic only does misdemeanor cases).
"I did arraignments for both [clients] where I interviewed them and sought to get them out on bail or released on their own recognizance," she said. "Both of them were released and then I went back for two status hearings."
Her best experience was a win for a client faced with violating conditions of parole, which could have meant three to eight more months behind bars.
"That was really special to me because he just reminded me so much of my dad," Mathieu said. "We would just be laughing together during our meetings…and then right before the actual hearing, I spoke to my dad, who was on parole for years when I was younger, and right before I got off the phone with him he said, 'You are going to get [that client] out, right?' He made me ten times more nervous, but he also put that fire in me, that I needed to present the best argument I could, and so we actually got the recommendation for immediate release that day."
Inspiring
It wasn't Mathieu's first experience working to better the lives of prisoners or ex-prisoners during law school. At an externship with the D.C. Council during Spring 2018, Mathieu learned about voter notification legislation that would inform ex-prisoners whether or not they were eligible to vote. She wanted to help spread the word, so Mathieu began volunteering with the Inspiring Youth Program in a D.C. youth detention facility, teaching mock trial to 14 youths aged 15 to 17, under the supervision of Street Law Acting Director Charisma Howell. The mock trial was held in May.
The biggest challenges? Unlike the typical Street Law high school program — in which Georgetown Law students teach the law to D.C. high schoolers — Mathieu's students would disappear from her class if they were released released from prison or moved to an adult jail. But as with all youth, she also had to translate the mock trial vocabulary into terms that her students would understand.
This year as a 3L, in addition to the clinic, she's been exploring the intersection between gentrification and the criminal justice system in Professor Sheila Foster's Urban Law and Policy class. She's looking at how the gentrification of urban neighborhoods leads to a hyper-focus on minorities — the lifelong residents of those neighborhoods — as they engage in everyday activities. In her spare time, as president for the Christian Legal Society student group, she's been collecting items such as socks, water, and sanitary supplies to distribute to the homeless population around Georgetown Law and Union Station.
Mathieu spent her 2L summer at Hughes Hubbard in New York, working on white collar litigation. She's looking forward to doing pro bono work there — particularly prison advocacy and representation — but she deferred her law firm offer for a year to clerk for Judge Edelman in Superior Court next year.
"I want to do a bunch of things," she says of her career. "I want to have the opportunity to defend people. I want to write policy and legislation. To see what opportunities are out there. I want to [view] the criminal justice system through more than one avenue."