Two Supreme Court Justices – The U.S.'s Justice Breyer and India's Chief Justice Ramana – Compare Notes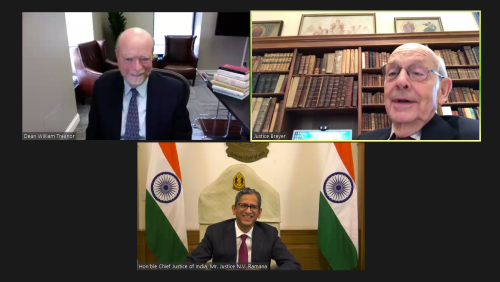 In a recent online event, Georgetown Law hosted a rare opportunity to eavesdrop on a conversation between Supreme Court justices from two different countries. Over the course of a wide-ranging discussion, Associate Justice of the Supreme Court of the United States Stephen Breyer and Chief Justice of the Supreme Court of India, N.V. Ramana, touched on topics from diversity in the judiciary to lessons learned from each other's legal systems.
The event was co-sponsored by the Society for Democratic Rights, an Indian collective founded by two Georgetown Law graduates to promote civil and political rights in that country. Georgetown Law Dean William M. Treanor moderated the conversation, which was part of a series launched in 2020 to facilitate dialogue between constitutional law experts in the U.S. and India. Associate Dean for International and Graduate Programs Madhavi Sunder, the Frank Sherry Professor of Intellectual Property, one of the event's organizers, welcomed the audience and introduced Ramana, Breyer and Treanor.
DIVERSITY ON THE BENCH
Treanor began the discussion with questions about the two justices' views on diversity and inclusivity in the judiciary. He noted that during Ramana's tenure, three women had become justices on the Indian Supreme Court. Ramana responded that he was pleased with those appointments, and that he felt that in a country like India, with multiple languages spoken and hundreds of tribes and social groups, it was important to have diverse representation on the courts.
"Diversity on the bench promotes diversity of opinions," said Ramana. "A judge from a rural background understands rural India better… A judge from a marginalized section understands the issues of the marginalized better… I know we have many miles to go, but a beginning has been made."
Treanor then turned to Breyer, who, after his retirement this summer, will be succeeded by Judge Ketanji Brown Jackson, who has been confirmed by the Senate to become the first Black woman to serve as a U.S. Supreme Court justice. Breyer spoke effusively about Jackson, one of his former law clerks, and said he looked forward to a time when appointing women or minorities to the Court is not seen as unusual.
"[Jackson is] a very decent person, and highly intelligent. She will be great," said Breyer. "When [having women as justices is] totally natural – which I believe one day not too long from now it will be – we will still have problems, but they will be other problems."
LESSONS LEARNED
The two jurists also spoke about the value of having lawyers learn about legal systems elsewhere in the world.
Breyer recalled being impressed by a clinic he saw in Ahmedabad, Gujarat on a visit to India more than two decades ago. It offered women the chance to present problems they were experiencing to a panel of three experts: a lawyer, a psychologist and a social worker.
"Those three women who hear the problem will try to figure out how to help them. It might be going to the police, it might not be. It might be bringing a law case, it might not be." Breyer added that he kept a photo of that scene on his office wall for years, and often described the model to visitors.
Treanor later asked Ramana for his advice for a school like Georgetown Law, which has a large number of foreign-trained lawyers in its student body.
"Learning in a different land, different country, exposing yourself to a different culture or different system of teaching is a good experience for upcoming lawyers particularly," said Ramana. "Every country should increase and sponsor this education. It is holistic learning. Learning is never confined to the classroom."
Ramana then mentioned Vibha Datta Makhija (L'92), one of the event's key organizers, as an example of the benefits that come from studying abroad. After earning an LL.M. at Georgetown Law, she returned to India and became a Senior Advocate at the Supreme Court of India and co-founded the Society for Democratic Rights.
READY TO RETIRE?
Some of the most personal – and amusing – moments of the conversation came as the justices talked about their upcoming retirements. While U.S. Supreme Court justices are given latitude to set their own retirement dates, as Breyer has now done at the age of 83, Ramana will be compelled to step down this August when he turns 65, India's mandatory retirement age for justices. As Ramana put it, "In the Indian judiciary, we know our date of retirement at the time of joining. There are no exceptions."
"That's nothing!" exclaimed Breyer, as Treanor raised the issue of mandatory retirement at 65. The other two men laughed at his umbrage.
Breyer said he would be open to supporting a term limit for U.S. Supreme Court justices, as long as it were for a long term – at least 18 to 20 years.
"You want it long, because you don't want somebody thinking what is his next job going to be," Breyer explained. He added that in his experience, it took several years for a new justice to grow into the job.
Ramana agreed with Breyer that 65 was a young age at which to retire, and said that he looked forward to finding new ways to stay engaged with important issues after he leaves the Court.
"I love to be among the people," said Ramana. "One thing I can say for certain is that retirement from the judiciary does not mean that I will retire from public life."
In thanking the two justices for their participation, Treanor reflected on the significance of such opportunities for dialogue, and for students to witness them.
"We are learning from each other. We are talking to each other, seeing where there are commonalities and differences and thinking about the best way to move forward," said Treanor. "I think I'm particularly interested that we are having this conversation with ourselves, and with the legal community and with the next generation of lawyers. So powerful, and this is historic."
Watch the full conversation below: