U.S. Solicitor General Elizabeth Prelogar Addresses Georgetown Law Journal Banquet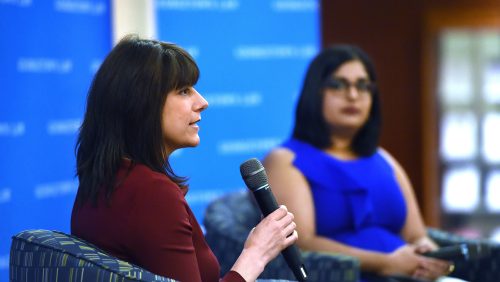 U.S. Solicitor General Elizabeth Prelogar joined current and former members of The Georgetown Law Journal for its 10th annual Alumni Banquet on May 18.
During an onstage conversation with outgoing Editor-in-Chief Maya Gandhi, SFS'19, L'23, Prelogar shared insights into her own experience as the United States' chief advocate before the Supreme Court and reflected on the progress still to be made in achieving gender equality in the Supreme Court Bar.
"The arc of full equality is not always an unbroken line. There can be two steps forward and one step back," said Prelogar. "There is no doubt that we are achieving progress."
Some 200 guests, including alumni representing the editorial staff of 20 volumes of the Journal, attended the celebration dinner on campus. Founded in 1912, The Georgetown Law Journal is the oldest of the Law Center's 12 student-run law journals. Every year, some 120 students serve on the staff. Dean William M. Treanor and Alexis Marvel, L'24, who will lead the Journal in the next academic year, welcomed the attendees, highlighting the Journal's recent work on topics ranging from terrorism prosecutions to copyright protections.
A Passion for Public Service
The Solicitor General of the United States, the fourth-ranking official at the Department of Justice, supervises Supreme Court litigation on behalf of the United States. In early 2021, General Prelogar, who previously served as an Assistant to the Solicitor General during the Obama administration, was named Principal Deputy Solicitor General by President Joe Biden and served as Acting Solicitor General until she was formally nominated and confirmed later that year. Prelogar is only the second woman to serve as U.S. Solicitor General.
Prelogar spoke passionately about public service. "It never gets old to stand up at the lectern in the Supreme Court of the United States and to think, 'I am here on behalf of the United States of America,'" she said.
Asked how she prepares her own arguments before the Supreme Court, Prelogar answered that she tries to think of every possible question that could be asked, practices in front of the internal moot courts organized by her office, and, of course, tests her introduction on her 9- and 12-year-old sons.
The Importance of Legal Academia
Prelogar, who was an articles editor for the Harvard Law Review during her own law student days, spoke highly of the work law journals do to advance legal issues in the real world, adding that in her current role she regularly relies on scholarship published in academic journals. Articles in law journals don't languish after publication; rather, they are "pressure-tested" by legal professionals who incorporate their arguments into their own cases, she remarked.
"It's not uncommon to see scholarship cited in briefs by the United States. It's not uncommon to see [scholarship] cited in Supreme Court decisions," said Prelogar.
Women and the Supreme Court Bar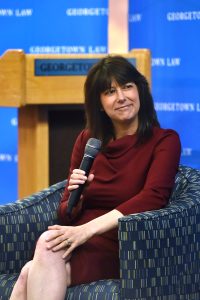 Gandhi and Prelogar's conversation also touched on women's representation among Supreme Court advocates.. Gandhi pointed out that although over 50% of current law students nationwide are women, men still argue far more cases before the Supreme Court than women do. In the Court's term that concluded this spring, 118 arguments were presented by men and 35 by women – and of those 35, 21 were by Prelogar herself or by women on her staff.
Gandhi highlighted that, including herself and Marvel, the seven most recent Editors-in-Chief of The Georgetown Law Journal have been women.
Gandhi asked Prelogar about something she said while representing the United States before the Supreme Court last fall in the affirmative action cases Students for Fair Admissions v. The University of North Carolina and Students for Fair Admissions v. President & Fellows of Harvard College. As an example of how important it is to support diversity measures like affirmative action, General Prelogar made the point that the lack of visibility of women in the Supreme Court Bar can discourage women from pursuing an appellate advocacy career.
"It would be reasonable for a woman to… wonder, is that a path that's open to me, to be a Supreme Court advocate? Are private clients willing to hire women to argue their Supreme Court cases? When there is that kind of gross disparity in representation, it can matter and it's common sense," said Prelogar to the Justices.
At the Journal banquet, Prelogar connected this statement to her time clerking for Justice Ruth Bader Ginsburg. Even though there is work still to do in achieving equality for women, she noted, it is still important to recognize the progress already made.
"If you think about it, it's really relatively recent history. [Ginsburg] was litigating these cases in the 70s and 80s where there were egregious sex classifications written in the law throughout the country," said Prelogar.
Prelogar added that she is a realist but also an optimist: that she is hopeful representation will only improve for women lawyers, and that it is incumbent upon every individual to make space for diversity.
"Speaking with Solicitor General Prelogar was the honor of a lifetime, and an especially inspiring note on which to end my time at law school," said Gandhi, who will soon join the office of the General Counsel at the New York Times. "To have a career so focused on public service — and to do so while remaining so grounded, and at a time when women are still so underrepresented in her field — is truly astounding. I can only hope that the Journal, and my own career, can mirror the Solicitor General's emphasis on using the law for the good of the public."