1L 101 Workshops
1L 101 Workshops demystify the law school experience and help incoming students navigate those facets of their education that are unique to the law school environment.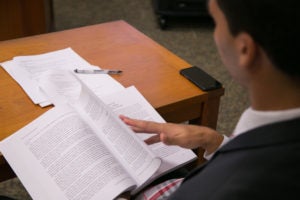 Previous 1L 101 Workshops
Materials and recordings of previous 1L 101 workshops is available in the 1L 101 Archive. Please log in with your Law Center credentials to access them.
Recent 1L 101 Workshops
1L 101: Case Reading, Briefing and More
Orientation, August 24 and 25, 2017
Outlining
Day Sections, Wednesday, October 4, 2017
Evening Section, Tuesday, October 10, 2017
Exam Preparation
Day Sections, Wednesday, November 1, 2017
Evening Section, Thursday, October 26, 2017
Exam Strategies
Day Sections, Wednesday, November 8, 2017
Evening Section, Tuesday, November 7, 2017
1L 101 First Year Choices
January 21, 2018