2019
Arctic Summer: Law & Policy Implications of a Melting Arctic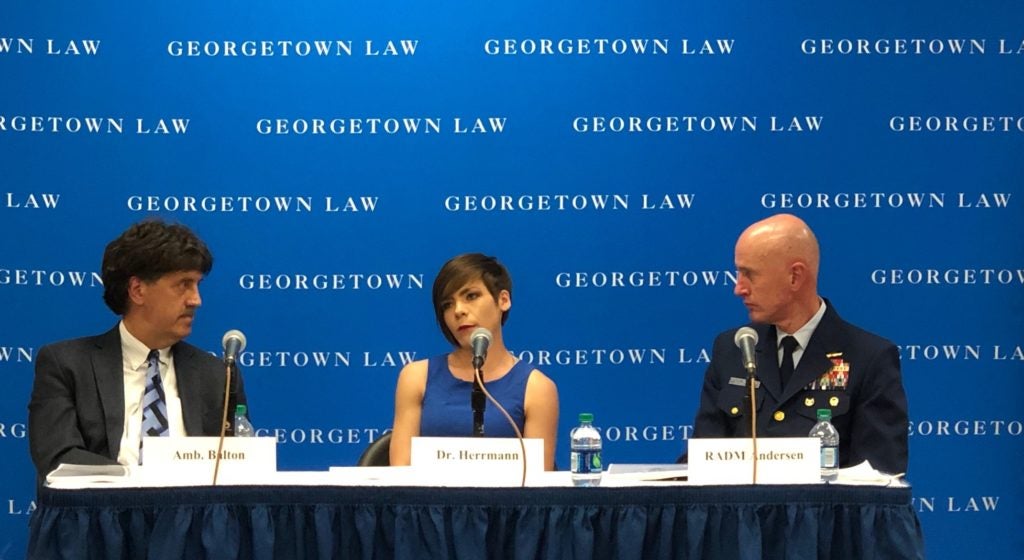 In spring 2019, the GLS Class of 2020 hosted a distinguished panel on the law and policy implications of a melting Arctic. The panel featured Rear Admiral Andersen, the Judge Advocate General of the Coast Guard; Ambassador David Balton of the Wilson Center and formerly of the State Department; and Dr. Victoria Herrmann of the Arctic Institute.
The panel served as a capstone to the GLS Class of 2020's 200-page report, Arctic Summer: Law & Policy Implications of a Melting Arctic, which covers environmental law, international organizations, economics and trade law, and national security law in the context of the evolving Arctic. View a flyer of the event.
Members of the Global Law Scholars class: Antoine Albert, Blake Atherton, Stephen Brady, Mary Bultemeier, Perpetua Chery, Hsin-Li Chien, Parag Dharmavarapu, Alden Fletcher, Matthew Harden, Brian Johnson, Samantha Kaplan, Aileen Kim, Sang Koo, Laurie Morgan, Helene Orhnon-Breyton, Justin Prindle, Katherine Rumer, Karuna Srivastav, Alexandra White.
2018
Foreign Electoral Interference and International Law
View a video of our 2018 event, Foreign Electoral Interference and International Law, which was held on March 7, 2018. It was the capstone event for the GLS 2L's year-long research project on the history and methods of foreign electoral intervention.
Members of the Global Law Scholars class: Ephraim Abreu, Derrick Anderson, Cedrick Asiavugwa, Yoon (Emily) Choi, Negin Fatahi, Jessica Flakne, Katrina Kleck, Junsuk Lee, Allison Lewis, Sebastian Marotta, Haldor Mercado, Ava Munsen, Molly Newell, Ashley Nicolas, Eric Olsen, Cameron Peek, Erin Sielaff, Edward Skolnick, Emely Toro, Hannah Wheeler, Suzanne Zakaria.
2017
The Arms Race in Space
The Global Law Scholars and the Center on National Security and the Law held an event with renowned non-proliferation expert Ambassador Thomas Graham, Jr. He was be joined by Professor David Koplow, a friend and former colleague, for an informal interview on the past, present, and future of arms control. Following their discussion, Ambassador Graham and Professor Koplow responded to student questions.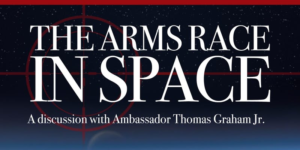 Ambassador Graham, was involved in every major arms-control and nonproliferation agreement between 1970 and 1997, and worked under six consecutive U.S. Presidents, beginning with Richard Nixon. Graham headed the U.S. delegation to permanently extend the Non-Proliferation Treaty, lectures at top law schools around the country, and has authored numerous books and articles on non-proliferation. He is currently Executive Chairman of Lightbridge Ltd., which develops proliferation resistant fuel technology and provides advisory services for existing and emerging nuclear programs. He also serves on the United Arab Emirates International Advisory Board.
Professor Koplow, an expert in arms control in his own right, has held various positions at the Department of Defense, including Special Counsel for Arms Control to the General Counsel, Deputy General Counsel for International Affairs, and Attorney-Advisor and Special Assistant to the Director of the U.S. Arms Control and Disarmament Agency. Professor Koplow teaches on International Law, Arms Control, and Non-Proliferation and Terrorism at Georgetown Law. He has written extensively on arms control and the law of war.
Members of the Global Law Scholars class: Caitlin Costello, Aure Demoulin, Gary Dreyzin, Alex Dunn, Thomas L. Forman II, Kate Fung, Jeff Gary, Jeremy Goldstein, Somin Lee, Gerar Mazarakis, Sabrina McCubbin, Nico Nalbantian, Harry Phillips, Katherine Seitert, Navy Thompson, Abigail West, Hannah Wheeler, Brian Williams.
2016
1,001 Issuers' Compliance with the Dodd-Frank Conflict Minerals Rule
In an effort to understand the potential of securities law as a means of promoting socially responsible sourcing by companies, the Global Law Scholars Class of 2016 reviewed the disclosures of all 1,001 issuers obligated to file a report on Conflict Minerals in their supply chain with the U.S. Securities and Exchange Commission (SEC) in 2013.
Based on consultation with issuers, law firms, and responsible minerals sourcing advocates, indicators were developed to assess whether companies were following (1) the letter of the Dodd Frank Act's Conflict Mineral Rule, by reporting on their due diligence and facilities used for processing tin, tantalum, tungsten, and gold in their supply chain; as well as (2) the spirit of the Rule, by committing to develop a conflict minerals policy, updating contractual conditions with their suppliers, or engaging in other efforts to clean up their supply chains.
While about one-third of the companies met all measured letter of the law requirements, only four percent scored perfectly on our measured spirit of the law indicators. Factors that correlated with stronger letter and spirit of the law scores for companies include internet visibility, financial health, industry location, participation in the Conflict-Free Sourcing Initiative, and funding from socially responsible investors.
Members of the Global Law Scholars class: Alice Barrett, Nicholas Brock, Ena Cefo, Ivana Djak, Jacqueline Johnston, Reed Koenig, Sarah Lohschelder, Mina Miljevic, Zana Operta, Beth Palkovic, Jae-Hyong Shim, Kathy Shin, Hannelore Sklar, Delia Solomon, James Strawbridge, Weiwei He