International Women's Human Rights Clinic
Overview
The International Women's Human Rights Clinic (IWHR Clinic) was established at Georgetown University Law Center in 1998. The IWHR Clinic advances women's human rights globally through partnerships with local women's human rights non-governmental organizations ("NGOs"), as well as through research and scholarship.
Under the guidance of Founder and Director Professor Susan Deller Ross and a Teaching Fellow, IWHR Clinic students spend a semester developing human rights advocacy skills while working on an international women's human rights project with partner NGOs or advocates. Students work closely with local lawyers to develop policy, strategy, and proposed legislation, court papers, or human rights reports to address an important gap in women's rights.
The IWHR Clinic does not have a prescribed set of topic areas on which students and fellows work. Rather, local lawyers and IWHR Clinic faculty collaboratively choose projects that are responsive to partner NGOs' priorities and offer Clinic students and fellows the best opportunity to be directly involved in the research, development, and advocacy of women's human rights.
Although projects and host countries vary from semester to semester, all emphasize the application of international, regional, and national women's human rights standards in the domestic context and all require extensive comparative analysis with such standards in other countries. The IWHR Clinic provides students with intensive training in writing, researching international and comparative law, interviewing, advocacy, and oral presentation skills.
In the Fall semester, students work on constitutional and human rights test-case litigation in a national court or submissions to international human rights monitoring bodies, such as the UN Human Rights Committee or the Committee on the Elimination of Discrimination against Women. In the Spring semester, students participate in a fact-finding trip, and draft human rights reports and legislation. The IWHR Clinic also works with regional and international bodies on country- or theme-specific submissions.
Sample of Our Projects
IWHR Clinic students have proposed legislative solutions and initiated impact litigation to challenge existing laws, such as laws that deprive women of access to and control over land and property, laws that increase vulnerability of girls and women to HIV, and laws that undermine the rights of those living with HIV/AIDS. Students have challenged laws that give husbands the lion's share of marital property and of property inherited through intestate succession or that deprive women of their share of the matrimonial property upon divorce. Students have tackled discriminatory labor laws that prevent women from working at night or in mines, require them to retire earlier than men, and prohibit work without a husband's consent.
Past semester projects have addressed women's human rights violations relating to domestic violence, sexual harassment and assault, female genital mutilation, "honor" killings, abortion, girls' education, pregnancy and maternal health, HIV/AIDS, trafficking, polygamy, domestic servitude, bride price, forced marriage, child marriage, marital rape, and guardianship laws.
Students and faculty working with partners have produced:
Legal briefs mounting constitutional and treaty-based human rights challenges to sex discriminatory laws;
Human rights reports documenting abuses against women's human rights;
Proposed legislation to bring discriminatory laws into conformity with regional and international human rights treaties; and
Submissions to international UN human rights monitoring bodies highlighting the state's violation of its treaty obligations to protect and promote women's human rights.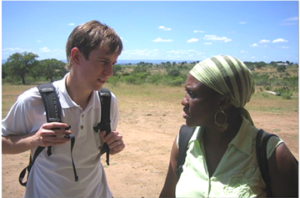 Student Advocate Nicolas Mitchell with local attorney supervisor, Sibonelo Mdluli, of Women and Law in Southern Africa – Swaziland, preparing to interview participants at a rural community gathering. His team was exploring the laws and practices that denied women access to communal land and private property.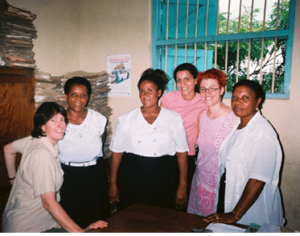 Student Advocate Adriana worked on a human rights report and draft legislation to combat female genital cutting/mutilation in Uganda.
Uganda subsequently enacted the Prohibition of Female Genital Act, 2010.
WHERE WE'VE WORKED
Our Clinic students have fought for women's rights around the world. To date, Clinic students have challenged sex discriminatory laws in these countries: