Investigative Internship Program
Georgetown University requires students, faculty, staff and visitors to be fully vaccinated against COVID-19 and, effective January 21, 2022, to have received a COVID-19 vaccine booster shot, or to have an approved medical or religious exemption. This rule applies to all interns participating in the Investigative Internship Program.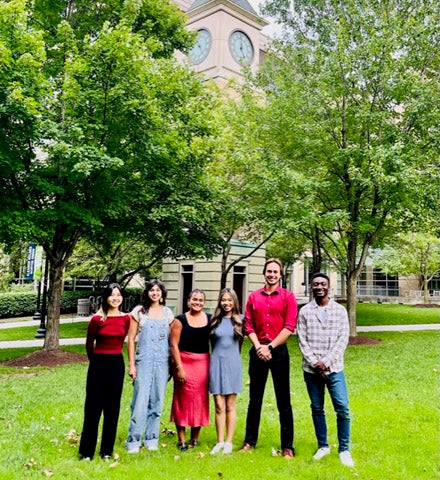 Summer 2023 Investigative Interns
History of the Investigative Internship Program
Recognizing the need for high quality representation for indigent criminal defendants, Georgetown's Criminal Justice Clinic was founded in 1971. The goal was to ensure that persons charged with criminal offenses have access to top-notch legal services, so we provide them with energetic, innovative, and dedicated attorneys. The Investigative Internship Program was founded in 1985 and continues to be an integral part of our success, now working with three clinics: the Criminal Defense & Prisoner Advocacy Clinic, the Criminal Justice Clinic, and the Juvenile Justice Clinic. Our investigators work closely with Clinic attorneys in all aspects of pre-trial preparation, and, in exchange, we offer an interesting and challenging hands-on educational experience and a collegial working environment.
Investigative Internship Program
A. Duties of the Investigative Intern
A thorough investigation of a criminal case is a prerequisite to a good defense. A defense investigator's job is to ascertain the strengths and weaknesses of the prosecution's case and to provide a basis for the defense theory. In the District of Columbia, the prosecutor is not required to disclose information that is critical to the case or will not provide it in a format or time period that is useful. Pre-trial defense investigation is therefore essential to properly advise the client, make strategic decisions about the case, and prepare for trial.
Interns conduct all field investigations in pairs and are involved in all aspects of case preparation, including providing strategic recommendations. Attorneys are encouraged to include their interns in consultations, plea negotiations, client meetings, and strategy sessions. Investigative responsibilities include: locating and interviewing witnesses in the field and correctional facilities; drafting statements and memoranda for use in court hearings and at trial; conducting comprehensive criminal background checks; locating, collecting, reviewing, and summarizing all written records and documentation relevant to the case; photographing, measuring and diagramming crime scenes; creating demonstrative evidence for trial; and reviewing police body-worn camera footage and other surveillance footage.
Interns are also responsible for assisting the attorney in last-minute trial preparation and resolving issues that arise while the attorney is in trial. Interns coordinate defense witnesses, making sure they are properly subpoenaed and have reliable transportation to and from the courthouse. Investigators will also testify in some cases.
In addition to pre-trial criminal defense investigation, our interns also assist with post-conviction cases where clients are filing for compassionate release or are eligible for resentencing under the Incarceration Reduction Amendment Act (IRAA), The Second Look Amendment Act (SLAA), and the Compassionate Release statute.
B. Structure of the Internship Program
Each fall, spring, and summer semester, the Investigative Internship Program has 6-8 positions available. All undergraduate students, recent graduates and graduate students are eligible. (More information on qualifications can be found in the section covering the selection process.)
C. Duration of the Internship
All interns are required to commit to a minimum of 15 weeks during the spring and fall terms or 12 weeks during the summer term. Because many students who participate in the program are undergraduate students enrolled in a college on a semester schedule, the commencement and conclusion dates are consistent with those schedules. Interns may sometimes be permitted to take off days over the course of the term, but applicants should not make plans that create significant conflicts during the internship.
The beginning and ending dates for each term are noted below. Interns must be available full-time during the first week of the internship to attend the mandatory training sessions. Applicants who can extend their stay at the Clinic past the listed end dates should note it on the materials they submit.
Interns who are participating in "Semester in Washington" programs:
Exemptions for the time commitment can be made if you are involved in a program that has a predetermined length and your housing provisions are dependent upon those provided by the program. The ability to make exemptions will depend upon the current needs of the Clinic. Contact the Investigations Supervisor if you would like to request an exemption.
D. Time Requirements
Investigative interns must be able to commit to a minimum of 3 full days per week although a full-time commitment is preferred. The Clinic has found that it is difficult for interns to fully realize the benefits of the internship if their schedules are too limited, and it would be nearly impossible for the interns to complete the investigative work on their cases in less than 3 days/week. Interns with fewer time constraints are given preference.
Training Week Conflicts:
Interns must be available full time the first week of the internship to attend the mandatory training sessions.
After the first week of training, interns should expect that they will have some work that will need to be accomplished during non-business hours. For instance, some witnesses are only available during evening or weekend hours, and days leading up to a trial are generally longer due to last-minute preparation. As a result, interns should expect that they will be working some odd hours and plan accordingly. Interns are not expected to work during times that they are scheduled for class, work, seminars, or other required activities. However, interns must allow for some flexibility outside of those requirements.
Regardless of whether an intern is scheduled to work full-time during the term, every intern is required to complete the entire first-week training session.
E. Training Program
Interns must be available full time the first week of the internship, to attend the mandatory training sessions conducted by the Director of the Investigative Internship and the faculty and fellows of the three clinics. Training covers the essential aspects of criminal defense investigation through lectures, discussions, and interactive exercises.
Regardless of whether an intern is scheduled to work full-time during the term, every intern is required to complete the entire first-week training session.
F. Work Location
The three criminal clinics are located within the Law Center's main building. The D.C. courthouse, federal district courthouse, police headquarters, mayor's office, and the prosecutor's office are all within walking distance. For students without access to a car, the Law Center is accessible by public transportation.
Although the interns will spend time in their attorneys' offices, there are also two investigative intern offices, which include desktop computers for use in online research and memo writing. Most of the investigative work, however, is accomplished in the field. Interns will travel throughout neighborhoods in D.C., Maryland, and Virginia, and to local courthouses and police stations. The training week emphasizes how to remain safe while in the field.
G. Access to Transportation
Interns who use their cars for investigation must maintain their own automobile insurance as the Clinic funds do not allow for separate coverage. Investigators who use their cars for this internship are reimbursed for work-related mileage and are given free, full-time parking privileges (including overnight) in the garage at the Law Center. While it is beneficial to have full-time access to a vehicle, it is not required.
H. Dress
The atmosphere in the Clinic offices is informal, and sensible casual clothing such as jeans, t-shirts, and sneakers are encouraged for field investigation. Interns should be prepared to dress in court-appropriate attire if they are required to testify in court.
I. Housing
The Clinic does not provide intern housing, but information on local resources is available upon request. Interns may also request that their names be released to other interns seeking housing if a shared housing situation is desired.
J. Tour-Lecture Series
The Clinic strives to provide investigative interns with an educational and rewarding experience. Therefore, to broaden the interns' exposure to the criminal legal system, several tours and lectures are offered each term. Past tours have included the Medical Examiner's Office, where interns have had the opportunity to view an autopsy; the Supreme Court and the U.S. Capitol; the Mobile Crime Unit of the Metropolitan Police Department, which collects physical evidence at crime scenes; St. Elizabeths Hospital, which provides residential treatment to more than 200 men and women with serious mental illnesses; and the DC Jail and F.B.I. buildings.
Previous interns have also participated in "ride-alongs" with the Metropolitan Police Department and DC Fire and EMS, and interns are encouraged to "court watch" criminal hearings or trials in their free time.
For those interested in attending law school, they will be given a meeting with Georgetown Law's Director of Admissions and have free access to the law library.
Certain tours are subject to availability and may not be available every term.
K. Financing the Internship
The Investigative Internship Program is an unpaid internship. The Clinic does not have funding to pay investigative interns, but participants are reimbursed for on-the-job mileage and work-related expenses. For interns inside the Washington Metropolitan area, the costs are minimal. For interns who are traveling to D.C., for this internship, the cost of the internship will be living expenses. Housing is generally the greatest expense, but as indicated above, assistance in identifying less expensive housing is provided.
The Clinic does not want a potential applicant's limited finances to prevent participation, so applicants are encouraged to seek outside funding. Some non-profit foundations and many schools now offer financial assistance to students who participate in unpaid public interest internships.
L. Receiving Academic Credit for the Internship
Many investigative interns are undergraduate students who are receiving academic credit for the internship. The amount of credit that is awarded varies between schools and departments. It is the responsibility of the intern to identify the college and departmental requirements for receiving credit and to select and make arrangements with a faculty sponsor, if appropriate. The Investigations Supervisor will submit any documentation needed to facilitate credit arrangements between interns and their home schools.
Clinic interns are not enrolled at Georgetown University and do not receive academic credit from the Law Center. Any credit awarded must be granted by the school in which a student is enrolled.
M. Health and Safety Guidelines
The Investigative Internship Program requires interns to spend a great deal of time conducting field work, and it is important that all interns be aware of the potential risks that accompany the work. The work of an investigative intern involves direct contact with witnesses and defendants in the field. Participants will be conducting interviews of witnesses in their homes and in the streets, and interns may be going door to door looking for potential witnesses. It is also important that interns understand the expectations of the clinics and abide by all safety guidelines and
Interns should recognize that criminal defense investigation in the District of Columbia, as in any metropolitan area, involves some risks. Given these risks, the Investigative Internship Program provides instruction in safety protocols and conflict resolution during the initial training week. Interns are taught strategies for avoiding or minimizing risks and are provided guidelines for resolving difficult situations, should they arise. Of course, we cannot control the actions of others, no matter the training and supervision. We urge applicants to consider all risks and determine whether they will be comfortable navigating these risks before making the decision to apply.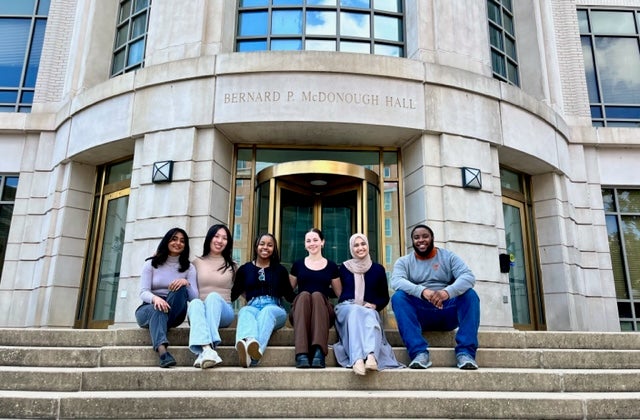 Spring 2023 Investigative Interns
Investigative Internship Application
A. Who Should Apply?
For anyone contemplating a career in law, criminal justice, or investigative reporting, this internship is an excellent opportunity for hands-on learning and experience. Interns have an opportunity to learn about the law by being involved in all aspects of its practice. Also, interns are surrounded by law students, post-graduate fellows, and clinic professors who are willing to speak candidly about life as a law student and lawyer. The clinics are committed to ensuring that investigative interns receive an educational and rewarding experience. As a result, interns leave with a fuller understanding of the legal system and specifically of the criminal legal process. They also can make informed decisions about whether this work is appropriate for them and have a source for recommendations and job advice when they leave.
This internship, however, is not right for everyone. First, our clinics are litigation clinics with all the tight deadlines and long hours involved in trial work. Interns will certainly have time for interests outside the office, but those who mind working odd and sometimes long hours will not enjoy the pace of this work. Second, some people find criminal law too emotional and criminal defense incompatible with their values. The clinics represent poor individuals charged with a variety of criminal offenses, and some are uncomfortable with the defense role in the adversary process. Third, the crux of this internship is investigative field work. Interns need to travel throughout the city to accomplish their investigations. Those areas will often include places that are reputed to be "tough." If a potential applicant is very uncomfortable with the notion of working in urban communities, this may not be the right internship. However, some trepidation about working in unfamiliar communities is to be expected. Therefore, we provide intensive training and interns investigate in pairs.
So why should you apply? The best interns usually want to learn about the law by actually working in it. By the end of this internship, every intern should have an opinion about our adversarial system of justice that is well-grounded in fact and experience. This position is also a chance to perform an important public service. The indigent clients who come through the clinics have no funds to pay for investigators, yet cases are often won or lost on the strength of our investigation. If you believe that the quality of legal representation should not be determined by the income of the accused, you have a place in this program.
Our interns play a vital role in the defense team and are treated as professionals with real responsibility. Interns are exposed to a wide range of criminal cases and make a significant contribution to improving the way that justice is administered. This is also a small program, so the investigations supervisor, attorneys, and clinic professors are able to devote individualized attention to investigative interns. As a teaching clinic, we emphasize the importance of developing an understanding of clients' experiences, the relationship between the defense role and the legal system, and the ways that current trends in the law affect the criminal legal system.
In conclusion, if you are interested in a deep, substantive experience in the field of criminal law, we invite you to apply. The experience you will receive, the skills you will develop, and the professional growth you will gain guarantee that this will be a rewarding experience.
B. Program Dates: 2024
| Term | Starting Date | Ending Date (minimum) |
| --- | --- | --- |
| Spring 2024 | January 8, 2024 | May 10, 2024 |
| Summer 2024 | May 28, 2024 | August 9, 2024 |
* Training weeks that begin with a Monday holiday do not commence until Tuesday as indicated. On those weeks, training concludes the following Monday.
C. Online Application Form
Complete and submit the online Investigative Internship Program application.
D. Application Deadlines and Notification Dates
The application deadline for each term is noted below. It is important to note, however, that decisions are made on a rolling basis. This means that some of the spots are often filled before the deadline date, so it is advisable to apply early. Occasionally, positions may still be available after application deadline, and you should contact the Investigations Supervisor to inquire about availability. Applicants will receive a decision on their application no later than the notification date listed in the chart below.
In the event that an application deadline falls on a non-business day, applications will be accepted until 5:00 p.m. of the first business day following the deadline date. If the deadline falls on a business day, applications are due by 5:00 p.m. that day. If positions are filled or a candidate does not learn of the internship until after the deadline has passed, referrals are sometimes available to similar programs. Contact the Investigations Supervisor for more information.
| Term | Application Deadline | Notification Deadline |
| --- | --- | --- |
| Spring 2024 | October 11, 2023 | November 17, 2023 |
| Summer 2024 | March 15, 2024 | April 12, 2024 |
E. Selection Process
1. Minimum Qualifications:
The internship is open to students at accredited four-year colleges, college graduates, or graduate students. With respect to undergraduate students, juniors and seniors are preferred, but first-year students and sophomores are sometimes accepted. Participants from a variety of academic majors are generally accepted, and all majors are eligible. Previous exposure to or experience in the fields of law, criminal justice, or public service is helpful but is not required.
Applicants should be able to demonstrate that they can devote a sufficient amount of time to this internship. (See time requirements for explanation.) The program needs interns who can make their investigative responsibilities a significant priority. Interns must also be able to demonstrate strong communication skills in the application process. The ability to easily communicate with persons of differing backgrounds, values, and cultures, and to document work in written form that is appropriate for use in court, is crucial to investigative work.
Other Supplemental Application Materials:
Some applicants choose to submit additional materials with their applications. Applicants are welcome to submit additional materials. Some examples include:
publications, such as articles written for a paper
writing samples (other than essays)
projects/proposals developed for a previous job
descriptions/copies of awards that have been won
Regardless of the additional materials submitted, all normal requirements of the application still apply. For instance, a separate writing sample cannot be substituted for responses to the essays.
2. Process of Selecting Interns
Each applicant will be evaluated based upon the quality of the application, the strength of input from references, and the overall quality of past work and academic performance. Applicants who feel that they are lacking in a specific area should not be discouraged from applying – the strength of applicants is assessed by looking at qualifications collectively. No prerequisite course work or prior related experience is necessary, but some understanding of the criminal justice system is helpful.
The Investigations Supervisor will only conduct video interviews with applicants who have been selected to move forward in the process, so a video interview is not guaranteed, and applicants should submit everything they wish to be considered either with the application or in a supplemental email. Letters of recommendation and IIP recommendation forms are not required but are sometimes helpful. If an applicant wishes to submit such letters, they may be included in the application packet or emailed separately. For full consideration, any additional materials should be submitted by the application deadline.
Testimonials
Working as an investigative intern at Georgetown Law has been a most invaluable experience and the absolute best use of my gap year before law school. As someone with no prior experience working in the legal field, this internship was a great place to begin my venture into law. I now have a basic but clear understanding of criminal law and criminal justice in D.C. I have also grown to better understand my own interests in law during the course of this internship.
At this internship, both the work itself and the direct contact with attorneys and clients present opportunities for learning and for personal growth. You are doing work that truly matters. While some assignments may be challenging at first, there is a lot of support from the supervisors that helps you overcome that steep learning curve. You are very likely to gain some of the most meaningful experiences of your life during this internship. I would recommend this internship to anyone interested in pursuing law. – Shanyuan, Fall 2022 and Spring 2023
After two semesters as an intern at Georgetown Law's Criminal Justice Clinic, I cannot speak more highly of the Investigative Internship Program. This is an experiential learning opportunity like no other. I applied to this program because I wanted to better understand indigent defense work. I wanted to challenge my preconceptions and to see the criminal justice system from a perspective that I was realizing I could not grasp without experience. I stayed on after a semester because I knew there was much more to learn but also because I had ended up learning a lot about myself. This is an excellent opportunity for those interested in criminal defense work and criminal law, and it is also an unparalleled opportunity for expanding critical skills like researching, interviewing, and analyzing, etc. Interns are given many opportunities to learn but are simultaneously entrusted with significant and meaningful responsibilities. I relied on the excellent training we receive, and I had unwavering support from my peers and supervisors. In an internship where my work was dynamic and no day was the same, that has been the most consistent thread throughout my time at Georgetown: the people. Whether it was the investigations director, my attorney supervisors, our clients, or my fellow interns, the people at Georgetown make this program an amazing experience. This program is excellent for those interested in law, investigations, or related work, but I think its greatest and most unique gift is that it allows you to learn about these fields through a truly human experience. – Adarsh, Spring 2022
I would recommend this internship to other students because it provides a unique opportunity to get hands-on experience in criminal defense investigation and all that goes into public defense work. The internship is really rewarding, and nothing can compare to the feeling of joy you get when you see someone get a second chance at life after being in prison for such a long time. I would strongly encourage anyone with a passion for helping others to look into applying. – Nehemiah, Spring 2021
I have always had a passion for service, which is what led me to public interest law and this internship. My time in the Criminal Defense and Prisoner Advocacy Clinic has drastically changed my outlook on public defense. I felt a deep connection with our clients and the hands-on experience that this internship provided. I now know that I want to continue doing this work, especially in the places where strong public defense is so desperately needed. The sense of community and support that I felt at Georgetown, even while operating remotely, was unmatched. This experience is one that will shape my legal career going forward, and I am incredibly grateful that I got the opportunity to be a part of the program. – Prishnee, Fall 2020
Being part of this internship has been an incredibly valuable experience for me. The attorneys and supervisors are so knowledgeable and were always happy to help us navigate the tasks we were assigned. I will always cherish the experience of working with clients and their families to try bringing a little more justice back into our justice system. Through each case and each new task, I felt like I was adding to my skill set and my knowledge of the system. I would highly recommend this program not only to those interested in law school, but for anyone who wants to pursue a career in the legal system. – Zahra, Summer 2020
Honestly, this internship at first was a little bit intimidating. I was never the most outgoing person, so the idea of conducting field work and interviewing strangers every day definitely made me nervous. But, with the training and constant support that we were given, this internship was truly a great experience. I could not have chosen a better place to spend my spring semester, or better people to work for. I was genuinely happy to go into work each day and enjoyed my time meeting with clients and just about everything else this internship entailed. The work that is being done is truly amazing, and after interning here I know for a fact that this is the work I want to spend my life doing. – Diego, Spring 2020
Interning at Georgetown was a pivotal moment in my decision to pursue a career in public defense. The staff are passionate and inspiring, and working with attorneys to craft, investigate, and litigate real cases provided unparalleled insight into the criminal justice system. I cannot recommend this internship enough, especially for students interested in public interest law. – Graham, Summer 2019
I had an amazing experience in this internship program. I learned a lot about not only the justice system but myself. My supervisors constantly pushed me out of my comfort zone and were there to offer support and guidance as we completed investigative tasks. Overall, I'd recommend this program to anyone who is interested in a career in the legal field. I loved every minute of it, plus I got to spend a ton of time in the field and explore all of D.C. – something I would've never been able to do in another internship! – Guadalupe, Spring 2019