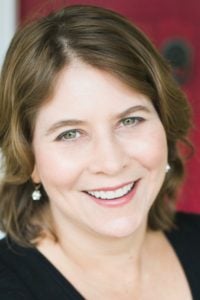 Associate Dean for Centers and Institutes; The Scott K. Ginsburg Professor of Law and Policy
Rosa Brooks
A.B., Harvard; M.St., Oxford; J.D., Yale
Areas of Expertise:
Connect With Rosa Brooks
Phone
Assistant
Melanie Hudgens
Office
McDonough Hall 532
Rosa Brooks teaches courses on international law, national security, constitutional law and criminal justice. She joined the Law Center faculty in 2007, after serving as an associate professor at the University of Virginia School of Law. From 2016-2018, Brooks served at the Law Center's Associate Dean for Graduate Programs. Brooks is also an Adjunct Senior Scholar at West Point's Modern War Institute and a Senior Fellow at New America.
Brooks has combined teaching and scholarship with stints in government service and a successful career in journalism. From 2009-2011, Brooks served as Counselor to Under Secretary of Defense for Policy Michele Flournoy and founded the Defense Department's Office for Rule of Law and International Humanitarian Policy. In July 2011, she received the Secretary of Defense Medal for Outstanding Public Service. From 1999-2000, she served as a senior advisor at the US Department of State.
Brooks previously wrote weekly opinion columns for Foreign Policy and the Los Angeles Times, and her articles and essays have appeared in the New York Times, the Wall Street Journal, the Washington Post and dozens of other national and international publications. Her most recent book, How Everything Became War and the Military Became Everything, was a New York Times Notable Book of 2016; it was shortlisted for the Lionel Gelber Prize and named one of the five best books of the year by the Council on Foreign Relations. Brooks is also the author of Can Might Make Rights? The Rule of Law After Military Interventions (with Jane Stromseth and David Wippman), published in 2006, and A Garden of Paper Flowers (Picador, 1994).
In 2006-2007, Brooks was Special Counsel to the President at the Open Society Institute in New York. Brooks has also served as a consultant for Human Rights Watch, a fellow at the Carr Center at Harvard's Kennedy School of Government, a board member of Amnesty International USA, a Term Member of the Council on Foreign Relations, a lecturer at Yale Law School, a member of the Executive Council of the American Society of International Law and a member of the World Economic Forum's Global Agenda Council on Fragile States. She currently serves on the advisory board of the Open Society Foundation's US Programs, the advisory board of National Security Action and the board of the Harper's Magazine Foundation.
Brooks received her A.B. from Harvard in history and literature, followed by a master's degree from Oxford in social anthropology and a law degree from Yale.
Books
Rosa Brooks,
Tangled Up in Blue: Policing the American City
(New York: Penguin Press 2021).
[
BOOK
]
Contributions to Law Reviews and Other Scholarly Journals
Rosa Brooks,
War, Conflict and the Military
,
Survival
, Feb. 2021, at 189-195 (reviewing
Erik Edstrom, Un-American: A Soldier's Reckoning of Our Longest War
(2020),
Mike Martin, Why We Fight
(2018) &
Joshua O. Reno, Military Waste: The Unexpected Consequences of Permanent War Readiness
(2020)).
Rosa Brooks,
War, Conflict and the Military
,
Survival,
Feb. 2020, at 204-212 (reviewing
At War: The Military and American Culture in the Twentieth Century and Beyond
(David Kieran & Edwin A. Martin eds., 2018),
Marian Eide & Michael Gibler, After Combat: True War Stories from Iraq and Afghanistan
(2018),
Andreas Krieg & Jean-Marc Rickli, Surrogate Warfare: The Transformation of War in the Twenty-First Century
(2019),
Austin Carson, Secret Wars: Covert Conflict in International Politics
(2018) &
Anthony King, Command: The Twenty-First-Century General
(2019)).
Rosa Brooks,
War, Conflict and the Military
,
Survival,
Jan. 2019, at 205-213 (reviewing
Harlan K. Ullman, Anatomy of Failure: Why America Loses Every War It Starts
(2017),
In/visible War: The Culture of War in Twenty-First-Century America
(Jon Simons & John Louis Lucaites eds., 2017),
Robert H. Latiff, Future War: Preparing for the New Global Battlefield
(2017),
Thomas H. Johnson, Taliban Narratives: The Use and Power of Stories in the Afghanistan Conflict
(2018) &
Rob Johnson, True to Their Salt: Indigenous Personnel in Western Armed Forces
(2017)).