Avril Haines (L'01) Tapped to Serve as Director of National Intelligence in the Biden Administration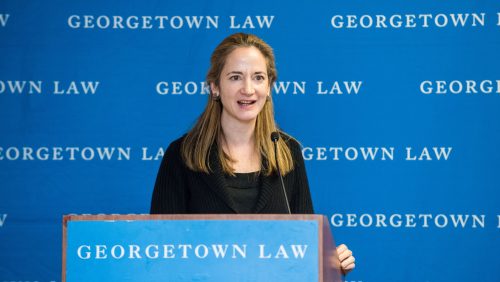 This week, the Biden-Harris presidential transition team announced its plans to nominate Georgetown Law alumna Avril Haines (L'01) as Director of National Intelligence when the new administration takes office early next year.
If confirmed by the Senate, she will be the first woman to serve in the country's most senior intelligence position.
Haines has built a distinguished career in national security, having held senior roles during the Obama presidency as Deputy National Security Advisor, Deputy CIA Director and Deputy Counsel for National Security Affairs in the Office of White House Counsel.
In between graduating from Georgetown Law and joining the Obama administration, she clerked for Judge Danny Julian Boggs of the United States Court of Appeals for the Sixth Circuit and worked for the Hague Conference on Private International Law, the Department of State and the Senate Committee on Foreign Relations.
Since leaving government service, Haines has held roles at several academic institutions and think tanks, including as a senior research scholar at Columbia University, a nonresident senior fellow at the Brookings Institution and a senior fellow at the Johns Hopkins University Applied Physics Laboratory.
Haines has maintained her ties to the Georgetown Law community, visiting campus most recently in November 2019 for a panel discussion on ethics and accountability in intelligence operations. The event was co-sponsored by Georgetown Law's Center on Ethics and the Legal Profession and Center on National Security and the Law, along with the University of Oxford, Delft University of Technology, Netherlands and Charles Sturt University, Australia.
In a 2017 interview for Georgetown Law, Haines spoke of how important it is for the United States to stay engaged with the international community and encouraged fellow Georgetown students to go into public service careers.
"You may not be the next Mother Teresa or Mandela, or figure that changes the world… But frankly, all of the little pieces that you affect in the context of public service are what make history for the next generation," said Haines.
Haines has also participated in many other campus events, including the 2017 Georgetown Law Women's Forum, at which she spoke on a panel and received an Alumnae Award. Additionally, she has interacted with students on multiple occasions, including during visits to classes taught by Professor from Practice Mary DeRosa and at informational career interviews.
The position of Director of National Intelligence came out of the work of the national commission that studied the events leading up to the September 11, 2001 terrorist attacks. The 9/11 Commission recommended creating a Cabinet-level role to improve coordination between the many intelligence agencies and operations throughout the U.S. government. The first Director of National Intelligence, John Negroponte, was confirmed in 2005. The current Director is John Ratcliffe, who has held the position since May of this year.