Beyond Viral Videos: Event Probes Research to Address Biased Policing of Youth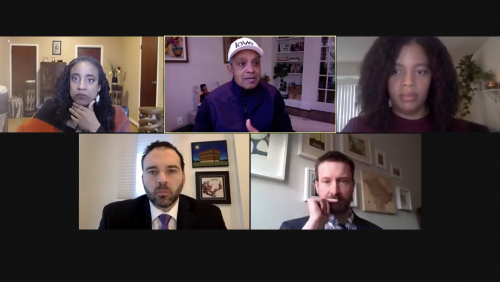 Days after a video of police pepper spraying and handcuffing a 9-year-old Black girl went viral, Blume Professor of Law Kristin Henning posed a fundamental question.
"How do we cultivate a society in which we treat all kids like kids?"
Nearly 1,000 students, lawyers, psychologists, juvenile justice officials, advocates and others had virtually tuned in for answers at a compelling, Feb. 5 cross-campus event on "The Dehumanization of Children of Color: Rethinking Policing and Policy."
In a scene-setting dialogue, Henning explored bias and the psychology of policing children of color with pioneering researcher Phillip Atiba Goff, a Yale professor of African American studies and psychology who founded its Center for Policing Equity.
Henning presented him with vignettes about the young clients she represents as director of Georgetown Law's Juvenile Justice Clinic and Initiative, which co-hosted the event with Georgetown University's Department of Psychology.
She started with Andre, a 15-year-old Black boy who was walking down a Washington, D.C., street with a friend:
There was no report of crime. The boys weren't doing anything out of the ordinary. They weren't loud, they weren't smoking, they weren't drinking, yet the police drove up next to them and asked them if they heard any gunshots.
When the boys said, no, the police officers asked them to 'Show me your waist.' Both boys compiled by lifting their shirts, but the officers still weren't satisfied and asked the boys for permission to search them at which point Andre and his friend said, yes.
Four uniformed officers jumped out of their car, forced the boys against the wall and frisked them.
Henning told Goff that as a defense attorney, she's always baffled when children agree to be searched by the police, and so she asked Andre why he had.
"His response said it all," she recounted. "He looked up and said, 'Wouldn't you? They were gonna frisk us, anyway. And if we ran, they were just gonna shoot us in the back.'"
Unpacking the Research
Henning asked Goff to help unpack such disturbing encounters, noting that communities of color and juvenile defenders know these are far more pervasive than periodic viral videos might indicate. High-profile incidents have included a South Carolina sheriff's deputy dragging Shakara Murphy from her classroom seat and slamming her to the floor, and Cleveland police shooting and killing 12-year-old Tamir Rice as he played with a toy gun that had been reported as "probably fake."
Goff cited his own well-known research — "the nearest and most injurious to my own heart" — that shows that starting around the age of 15, Black boys are perceived as "aged out of childhood and adolescence and into adulthood." He also pointed to similar research about Black girls, conducted by Georgetown Law's Center on Poverty and Inequality.
The officers may very well have seen Andre and his friend as men, Goff said, and also associated their race with criminality and danger. That's common, and not limited to police, he noted. But he also emphasized that America has never made a "clean break" with the origins of policing, which included regulating the movement of enslaved people and enforcing explicitly racist laws.
"It's easy to make … officers into bad people, but the reality is that we have all on some level consented to law enforcement continuing in that mission," Goff said. "It's a large part of how so many young Black men, women, boys and girls get caught up in those kinds of situations."
From Research to Action
After further exploring the research with Goff, Henning moderated an expert roundtable on how such findings can best drive and shape reform. D.C. Attorney General Karl Racine and D.C. Council member Charles Allen discussed recent juvenile justice reform efforts in the city. Black Swan Academy founder Samantha P. Davis spoke about her nonprofit's support of youth-led advocacy to get police out of schools. And Michael Umpierre, director of Georgetown University's Center for Juvenile Justice Reform called for holistic investments in youth.
"That path to improving public safety is not through the traditional correctional model that we have implemented historically in our system, one that features punishment, and control, and surveillance, and fear," Umpierre said. "Instead, the research is quite clear that the path to positive outcomes is by implementing a truly developmental and therapeutic model."
The symposium was part of a continued collaboration between the Department of Psychology's Community Research Group and the Juvenile Justice Clinic & Initiative. It serves as a salient example of a cross-disciplinary partnership that "helps put research into action and helps action inform research," Georgetown Psychology Professor and Chair Jennifer Woolard said in opening the event.
"Our university has a commitment to justice and the common good, to creating and communicating knowledge and to being active participants in civic life," Woolard said. "Today's symposium exemplifies those commitments as we discuss one of the most pressing problems facing our society today."
Watch the full event below: