Black Law Students and Faculty Assess the 'State of Black Georgetown' at Cross-Campus Event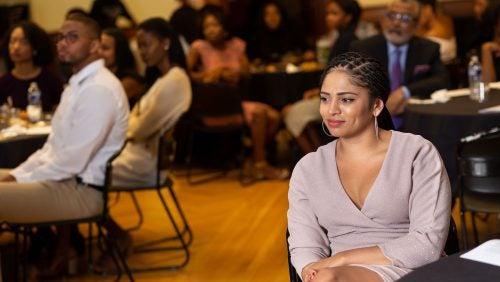 It's an exciting time to be black at Georgetown.
That's according to Georgetown Law's Professor Jamillah Bowman Williams, who shared her views last week during a wide-ranging discussion about black life at the university.
A "double Hoya," Williams speaks from twin perspectives. She earned her bachelor's degree two decades ago on the university's main campus and now teaches and conducts research at the Law Center. Black life as a professor is, in some ways, like it was for her as a student, she said. She was then – and is now – part of a close-knit, supportive, and engaged community working for positive change.
One difference between then and now? She now has the benefit of hindsight. "We're making progress, for sure," she said.
The cross-campus event at the Law Center's Hart Auditorium featured discussions with black students, faculty and an administrator in the university's law, medical, business, and undergraduate schools. It was the first of its kind – and one of more than a dozen events held by the Black Law Students Association (BLSA) to mark Black History Month. Events included a kickoff brunch on Feb. 1 and a culmination dinner on Feb. 29, and, in between, visits to the National Museum of African American History and Culture; a screening of True Justice, an HBO documentary about a pioneering civil rights lawyer; a discussion on spirituality and social justice; and more.
The "State of Black Georgetown" event aimed to build community among black students across campuses and spark what BLSA board member Zha'Mari Hurley (L'21) called a "family conversation" about black life across campus. It featured six speakers from the Law Center and five from other Georgetown schools.
Georgetown's BLSA chapter — which will celebrate 50 years this spring — now has 230 members, making it one of the largest in the country. The Law Center faculty includes 14 full-time black professors and visitors, and a handful of candidates are weighing offers, Williams said. In addition to serving as role models, black professors often pursue unique research agendas and take on valuable mentoring roles, said Williams, whose own work focuses on the effectiveness of antidiscrimination law. "That connection helps."
Faculty members like Professor Paul Butler, author of Chokehold: Policing Black Men, and Associate Dean Kristin Henning, who moderated the event's student panel, are on the cutting edge of racial justice in the criminal justice system. Henning leads the school's Juvenile Justice Initiative, which recently launched and expanded a number of racial justice projects to help defenders advocate for youth of color in the juvenile legal system.
When it comes to student life, the Law Center recently launched the RISE program to support students from historically underrepresented backgrounds in the legal profession. Additionally, the school's director of equity and inclusion, Judith Pérez-Caro, advocates for underrepresented students and develops programs at the intersection of social justice and diversity.
"It's a great time to be black at Georgetown Law," Deon McCray, a first year law student who attended the event, said during the question-and-answer period.
'Concrete Steps'
There are "concrete steps being taken to improve our representation and our voice here," said Williams. And change is taking place on the larger university campus as well, she said.
In 2015, Georgetown President John DeGioia launched a Working Group on Slavery, Memory, and Reconciliation to start a dialogue on the university's historical ties to the institution of slavery. The following year, the school created an independent department of African American Studies – a goal Williams fought for as a student two decades ago. Currently, the university is hiring leaders for a new cross-campus Racial Justice Institute, to include a new member of the Law Center faculty.
But, there are still important areas where students hope to see progress on campus. As BLSA President, Janae Staicer (L'20) has put much of her energy into efforts to increase inclusion of black students in some elite areas where they remain underrepresented. She said these include The Georgetown Law Journal and the Moot Court Program, and as well as the prestigious Law Fellow Program and clerkships with state and federal judges. Next year, BLSA board member Toni Deane (L'21) will serve as the Journal's first black editor-in-chief.
Another priority for BLSA has been building bridges across the diverse community groups at the Law Center, including substantial outreach around last month's Black History Month events that paid off when it came to attendance from the wider student body.
During the "State of Black Georgetown" event, Staicer and other students discussed how non-black students and professors often have trouble relating to black students' life experiences and engaging on important issues in the community, but they look to them when conversations turn to issues of race. It's like "being highly visible and invisible at the same time," she said.
Black students are also often expected to educate peers and professors alike about structural racism and sometimes must point out bias in the classroom, Staicer and others also said, calling it an unfair burden.
To move forward, Staicer urged BLSA members to mentor each other and use their advocacy tools to make change, and she called on the administration to support greater diversity, especially in elite spaces. Professor Henning encouraged "cross collaboration" among black student associations and Associate Dean Elizabeth Patterson, who oversees Georgetown Law's centers and institutes, also encouraged students and faculty to make connections and build relationships within the Law Center and across campuses, telling the audience: "There's power in community."