Center for Transnational Legal Studies Hosts Summer Roundtable on 'Constitutional Democracy Around the Globe'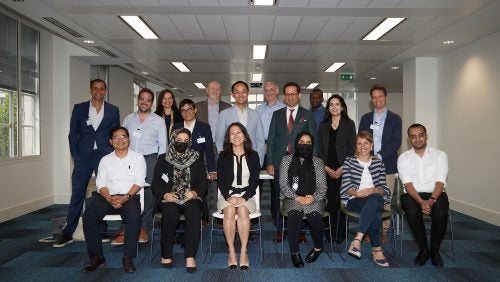 This July, legal scholars and practitioners from across the world converged on London to think collaboratively about a crucial and very timely topic: the state and future of constitutional democracy.
The event's host, The Center for Transnational Legal Studies (CTLS), is a unique global partnership between Georgetown Law and more than a dozen other leading law schools. It is not only a place where law students can spend a semester abroad, learning from experts in comparative and international law, but also a hub for intellectual interaction and scholarship, fueled by events like the new Georgetown CTLS Summer Roundtable series.
On the morning of July 11, Georgetown Law Professor Yvonne Tew, who recently became the CTLS Faculty Director, welcomed the day's participants and explained the event's format, intended to foster lively, inclusive, solutions-oriented conversations around the theme "Constitutional Democracy Around the Globe: Contemporary Challenges & Future Directions."
All participants also served as panelists, and in order to preserve time for a true roundtable exchange, the speakers kept their opening remarks on each topic to a maximum of seven minutes. The participants also exchanged brief "think pieces" in advance of the event, so they could start formulating questions and ideas.
The four session topics, "Judging in Times of Crisis," "Free Expression, Misinformation and Democracy," "Democratic Fragility in Asia" and "Constitutional Responses to Illiberal Politics" all sparked generative discussions among the experts in the room.
A panelist in the second session, Jacob Mchangama, free speech expert and founder of the Danish think tank Justitia, later Tweeted, "Was honored to participate at this roundtable with a group of first rate legal scholars and some very brave judges… Apart from my brief prepared remarks, I spent most of the day simply listening and learning." (The "brave judges" to whom he referred are two pioneering Afghan women judges who spent a semester as visiting scholars at CTLS after leaving Afghanistan last year – and who spoke on the event's first panel.)
In another Tweet, panelist David Law of the University of Virginia congratulated the organizers on a successful event, saying it had "put CTLS London on the scholarly map."
After hours of stimulating discussions, participants headed to a pub on the river Thames, where the unseasonably warm evening allowed them to enjoy drinks al fresco with views of the London Eye. The day ended with a vibrant group dinner at one of the city's celebrated Indian fusion restaurants.
Tew said she was already looking forward to future versions of this event and to seeing CTLS go from strength to strength as a global intellectual hub. "These summer roundtables launch a new initiative for CTLS to be a gathering place every summer for top scholars, judges and practitioners to come together and consider the most pressing challenges of our time," she said.
2022 Georgetown CTLS Summer Roundtable participants included: Antonia Baraggia (University of Milan), Judge Basira (CTLS/former judge, Afghanistan), Yasmin Dawood (University of Toronto), Matthew Erie (University of Oxford), Jamal Greene (Co-Chair of the Oversight Board and Columbia Law School), Samuel Issacharoff (New York University School of Law), Madhav Khosla (Columbia Law School), David Law (University of Virginia), Martin Loughlin (London School of Economics), Jacob Mchangama (Justitia), Yaniv Roznai (Reichman University, Israel), Bui Ngoc Son (University of Oxford), Judge Sosan (CTLS/former judge, Afghanistan), Yvonne Tew (Georgetown Law), Mila Versteeg (University of Virginia), Can Yeginsu (Deputy Chair of the High Level Panel of Legal Experts), Katherine Young (Boston College School of Law) and Sokphea Young (University College London).