Center on Privacy & Technology: Making News, Impacting Policy on Facial Recognition Technology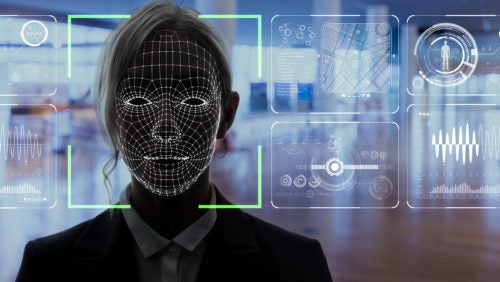 Two months after the publication of its groundbreaking reports on the questionable use of police facial recognition technology in U.S. cities, Georgetown Law's Center on Privacy & Technology is back in the news.
Records obtained by the Center — relating to the use by the Federal Bureau of Investigation (FBI) and U.S. Immigration & Customs Enforcement (ICE) of driver's license photos in facial recognition searches — were provided to the Washington Post. The July 7 story by Drew Harwell, "FBI, ICE find state driver's license photos are a gold mine for facial recognition searches," reported that "agents are scanning millions of Americans' faces without their knowledge or consent." Another story by Catie Edmondson, "ICE Used Facial Recognition to Mine State Driver's License Databases," appeared in the New York Times the same day.
The news is spreading to other outlets, including National Public Radio.
Visiting Professor Alvaro Bedoya, the Center's founding director, and Professor Laura Moy, the current executive director, credited Senior Associate Clare Garvie (L'15) and Associate Harrison Rudolph (L'16), who have been working on issues surrounding facial recognition for years. Bedoya also credited Katie Evans, the Center's director of Communications & Operations.
"We have uncovered new documents showing that Immigration and Customs Enforcement (ICE) has requested face recognition searches of driver's license databases in three states: Utah, Vermont, and Washington," Rudolph wrote on a July 8 blog post. He notes that 1) other states and the District of Columbia, which also allow undocumented residents to obtain driver's licenses, may also be affected; 2) that none of the impacted states notify applicants that ICE may be requesting photos for facial recognition purposes; 3) that all drivers in a state are affected; and 4) that the searches are conducted in the absence of clear state laws or occasionally, in spite of state laws. "If you live in Utah, Washington, or Vermont, and are wondering how these searches may affect you," he writes, "the key question is not 'Am I an undocumented immigrant?' but rather 'Does an opaque and likely biased algorithm think I look like an undocumented immigrant?'"
Garvie wrote that on one day in July 2016, Utah's Department of Public Safety ran 22 searches of its face recognition database for the FBI and another 15 for ICE.
"We don't know who these agencies were looking for, but we do have an idea about who they could find," she wrote, adding that Utah's face recognition database includes mugshots, driver's licenses, ID cards — and the driver privilege cards legally provided to undocumented immigrants residing in the state. "We know this was not an isolated occurrence; nor is it unique to Utah. FOIA documents that our Center has received show that Utah, Washington and Vermont have all complied with ICE requests to search their face recognition databases which included the information of undocumented immigrants."
While the practice has since ended in Vermont and Washington, it may represent a broader trend across the country, she notes. "There are myriad reasons for states to extend the right to legally drive to undocumented immigrants. But this information must remain private; to turn around and allow ICE to use this information is an unacceptable betrayal of trust."