Fall 2020: On Campus During COVID-19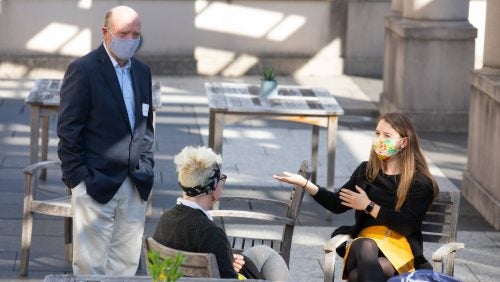 While Georgetown Law's Fall 2020 semester was one of learning and working online, there were several opportunities for some students to come to campus.
First-year and incoming transfer students got a glimpse of the campus and met classmates, professors and administrators — including Dean William M. Treanor — at outdoor social events. A limited number of students who needed quiet space to attend Zoom classes or study were granted access to classrooms and the library.
International students holding F-1 visas took part in an in-person class held under a tent on the green outside of the Edward Bennett Williams Law Library. Three professors, Kevin Arlyck, John Hasnas and Douglas Rutzen, piloted teaching in a hybrid model, with some students attending in the classroom and others online.
Classes have now ended for the semester, but again, a limited number of students have been able to access space on campus to take their final exams.
"It brought me such joy to see some of our students back on campus," said Treanor. "I also want to thank the entire Georgetown Law community for being so creative, patient and resilient through the challenges this year has brought. Our experience organizing and implementing these programs in the fall will be essential as we plan for a limited return to campus in the spring."
All of these activities were implemented in close collaboration with the University's Public Health Working Group and adhered to D.C. and federal government safety guidelines.