Georgetown Law Center on National Security to Support War Crimes Investigations in Ukraine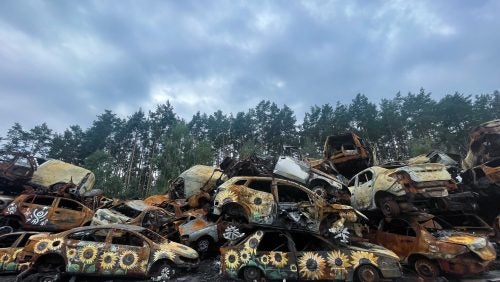 The Georgetown Law Center on National Security (CNS) has been selected to coordinate international efforts to support the Ukrainian government in its investigation and prosecution of war crimes committed during the Russian invasion of their country.
With an initial $10 million grant from the Department of State, CNS will serve as the lead implementing organization of the Atrocity Crimes Advisory Group (ACA), originally announced by the United States, the United Kingdom and European Union in May as a mechanism to coordinate their assistance to Ukrainian justice efforts.
The ACA will bring together global teams of war crimes prosecutors, investigators, military strategists, strategic communicators and other international experts to help Ukrainian officials build their criminal cases in Ukrainian courts. The ACA model is a departure from previous international war crimes prosecution efforts since it aims to deliver real-time, flexible, holistic support now – not years later – so that the Ukrainian people can see justice delivered close to home.
"Just as the Allies at the end of the Second World War advanced the imperative of justice and ushered in a new era of accountability for the worst imaginable crimes, it now falls to us to ensure that those responsible for war crimes and other atrocities in Ukraine be held to account. Georgetown has a crucial role to play in getting us there." said U.S. Ambassador for Global Criminal Justice Beth Van Schaack.
CNS will also provide broader support to Ukrainian civil society and other stakeholders through its Innovation Council for International Justice. By creating a "justice hub," CNS will be able to help facilitate and coordinate a full range of advisory assistance to advance justice processes that are both comprehensive and fair.
"The scale of war crimes committed in Ukraine is horrific and ongoing, and the work of securing justice for the victims is urgent. We have to do our part to show the world that the 'law matters'," said Anna Cave, Executive Director of the Center for National Security and co-principal investigator on the Ukraine Justice Project.
Former U.S. Ambassador for War Crimes Issues Clint Williamson will serve as the project's co-principal investigator at Georgetown and has been serving as the ACA Lead Coordinator since May. "Georgetown brings significant new capabilities and expertise to a once-in-a-generation challenge and will allow us to bring our efforts to scale," Williamson underscored.
Several Georgetown Law faculty will advise the project, including Mitt Regan, McDevitt Professor of Jurisprudence and Co-Director of the Center on National Security, who will serve as Faculty Coordinator. A team of law students with criminal justice and human rights expertise, including some with Ukrainian and Russian language capabilities, has already begun supporting the project, and more are expected to join in future.
"The prosecution of war crimes in Ukraine is one of the most vital international justice challenges of our time," said Georgetown Law Dean William M. Treanor. "I am proud that Georgetown Law students and faculty will be engaging in this consequential work."
Founded in 2010, the Center on National Security, which is directed by Professor Laura Donohue, houses the top national security law and policy program in the country. Through its Innovation Incubators, the Center serves as a locus for developing and implementing creative and forward-looking solutions to complex problems at the intersection of security and society.
---
Georgetown University Law Center is a global leader in legal education based in the heart of the U.S. capital. As the nation's largest law school, Georgetown Law offers students an unmatched breadth and depth of academic opportunities taught by a world-class faculty of celebrated theorists and leading legal practitioners. Second to none in experiential education, the Law Center's numerous clinics are deeply woven into the Washington, D.C., landscape. More than 20 centers and institutes forge cutting-edge research and policy resources across fields including health, the environment, human rights, technology, national security and international economics. Georgetown Law equips students to succeed in a rapidly evolving legal environment and to make a profound difference in the world, guided by the school's motto, "Law is but the means, justice is the end."