Georgetown Law, Department of Justice Co-Host "Cybercrime 2020: Revisiting the Future of Online Crime and Investigations"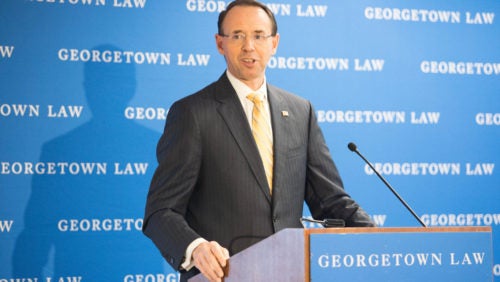 When Deputy Attorney General Rod J. Rosenstein first became a prosecutor nearly 30 years ago, a criminal investigation of a business might have entailed executing a search warrant, going into a building, and carting out boxes of documents to review as potential evidence. Today, such records are stored in digital formats, possibly in foreign countries, generated by employees (and potential perpetrators) who might not even be on site.
"The challenges that we face today, the magnitude is exponentially larger," Rosenstein said.
Those challenges and their magnitude was the theme of "Cybercrime 2020: Revisiting the Future of Online Crime and Investigations," an all-day conference co-sponsored by Georgetown Law and the Department of Justice on November 29.
Cybercrime, Rosenstein said, is a priority for the DOJ. A Cyber-Digital Task Force established by former Attorney General Jeff Sessions released a comprehensive report in July describing the challenges of cybercrime, including the need to develop strategies to detect, deter and disrupt threats; inform victims and the public about dangers; and maintain a skilled workforce.
The symposium, he said, took a similar approach.
"By posing the right questions about technology, we can focus on getting the right answers," Rosenstein said. "How do technological innovations facilitate crime and create new law enforcement challenges? Do our laws adequately address the new obstacles? And how do we, collectively, the public and private sectors — better anticipate and address the unprecedented challenges that new technologies create?"
Deputy Attorney General Rod Rosenstein delivers the keynote at a cybercrime symposium hosted by Georgetown Law's Center on National Security and the Law and the Department of Justice's Computer Crime and Intellectual Property Section.

Posted by Georgetown Law on Thursday, November 29, 2018
Back to the future
In December 2014, Georgetown Law and the U.S. Department of Justice co-sponsored the first "Cybercrime 2020" symposium — to examine where technology was headed, how it could be exploited, and what law enforcement could do to address developing threats while balancing privacy and civil liberties.
The November 2018 version of "Cybercrime 2020: Revisiting the Future of Online Crime and Investigations" reexamined the predictions of the 2014 symposium and explored how newly emerging cybercrime trends and technology-focused rulings by courts are reshaping investigative techniques.
The recent conference began with an introduction by Professor Laura Donohue, faculty director of the Center on National Security and the Law; Nadia Asancheyev, the Center's executive director, was also instrumental in organizing the conference.
"The questions that we face raise from…the adequacy of prosecutorial tools or investigatory techniques to more profound questions that go the heart of our society," Donohue said. Issues include damage to computing systems, ransomware, data theft, revenge porn, cyberstalking, attacks on critical infrastructure and more.
"In a world…where Tweets are automatically generated that advance certain ideas, support campaigns and influence public perceptions…it's no longer possible to tell what is real and what is constructed," Donohue said. "So what do we do in a world in which there is no clear truth?"
Principal Deputy Assistant Attorney General John P. Cronan (C'98) said the future of cybercrime and issues of how technology is shaping our country's future remain vitally important and timely: "How can we keep pace with the perpetually evolving challenges posed by the malicious use of technology?"
Up to the task          
Leaders in technology, academia, law, private industry and government explored how courts and policymakers in the United States and abroad may respond to advances in technology — and whether U.S. law enforcement's existing capabilities are up to the task.
Peter Singer, strategist and senior fellow at New America, spoke with Leonard Bailey, head of the cybersecurity unit at the DOJ's Computer Crime section, about LikeWar: The Weaponization of Social Media (Eamon Dolan/Houghton Mifflin Harcourt, October 2018). Singer's book looks at the ways that social media is changing politics and war — with terror groups using the same tactics as Hollywood celebrities to win followers — with truth being buried under "likes and lies."
"The Internet and in particular, social media, was a space for research, a space for fun, a space for profit, but it has also become…like a war zone in determining the outcomes of everything from politics to actual wars to crime," Singer said. "It's become like a battlefield."
In his luncheon keynote, Deputy Attorney General Rosenstein said that technology is advancing at a speed and volume that exceeds the capacity of many to comprehend the risks, let alone protect against them. "We need technology companies and communications providers to accept responsibility for developing routine business practices that account for all the ways their products may be misused," he said. "And we need government agencies to develop investigative capabilities that keep up with enforcement challenges."
Rosenstein urged steps including prioritizing security as much as novelty and convenience; coordinating law enforcement with the private sector; and recognizing a "moral imperative" to "thwart harmful, destructive activities enabled by technology."
"Our generation benefits from amazing technological developments…," he said. "But the people who create and market new tools often do not consider all the implications for public safety…that's not their job to consider. It should be somebody's job. At the Department of Justice, we accept that as part of our job."
Carpenter
Panels throughout the day explored how tomorrow's cyber criminals exploit new technologies, from drones to cryptocurrencies; current and future laws to address cyber threats; investigative tools; and more. Donohue and Associate Dean Paul Ohm led a panel looking at the future of the Fourth Amendment after the Supreme Court's decision in U.S. v. Carpenter, holding that the government's acquisition of a criminal defendant's historical cell phone records was a Fourth Amendment search requiring a warrant. So what does Carpenter mean for something like Amazon Echo?
"Lurking behind [all the threats identified at the conference] is the ability to get information from companies or from service providers and other entities that have access to this information," Donohue said. "The obvious elephant in the room is Carpenter."
Cronan, Bailey, Rosenstein and others thanked Donohue and Georgetown Law for co-hosting the event with the DOJ. Working with Georgetown, Cronan said, "has been an absolute pleasure…and as a fellow Hoya, I would not have expected anything less."
"Jointly sponsoring thoughtful public forums is an excellent way to highlight important legal issues and spur an exchange of ideas among representatives of the government, private sector and academia," Rosenstein said. "None of us has all the answers, and each of us may bring different perspectives about the nature of our problems and the need for answers."