Georgetown Law Hosts Oral Arguments of the U.S. Court of Appeals for the D.C. Circuit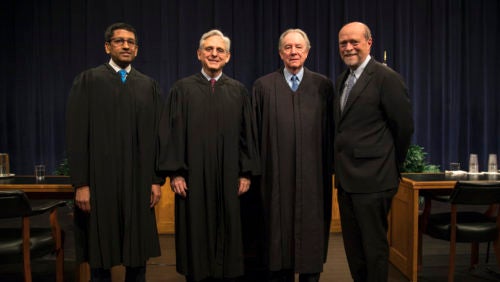 Section 3 first year students Natalie Tverdynin (L'21), Jeremy Penn (L'21) and Akshay Nelakurti (L'21) had some unexpected free time on the morning of March 21. So the three friends went to hear oral arguments of the U.S. Court of Appeals for the District of Columbia Circuit — with Chief Judge Merrick B. Garland (H'18), Judge Sri Srinivasan and Judge A. Raymond Randolph.
The students didn't have far to go. For one day only, judges and advocates traveled to Georgetown Law's Hart Auditorium, to hear and present real cases before a law student audience. These three students, though, didn't have to attend — they chose to, after getting the invite from Dean William M. Treanor.
"This was an incredible experience, to witness oral arguments for the D.C. Circuit," said Penn.
Whether they read the briefs beforehand or not, the 1L students found it easy to keep up with the two cases, a criminal law matter and a National Labor Relations Board case. After all, they have been taking civil procedure (Legal Process and Society) with Professor Larry Solum, administrative law (Government Processes) with Professor Jonathan Molot, Legal Justice with Professor David Luban and constitutional criminal procedure (Democracy and Coercion) with Professor Allegra McLeod. Section 3 uses a unique first-year curriculum exploring modern legal issues in an innovative way (with unusual class names.)
"Without extensive prior knowledge of the cases, we were able to understand the criminal law elements in the first case because of Professor McLeod's Democracy and Coercion class…to understand the distinction drawn by Chief Judge Garland of the argument about seizure from the argument withdrawing the guilty plea at issue today," Tverdynin said.
And by the way, Section 3 just completed oral arguments in their Legal Practice: Law and Analysis course, taught by Professor Kristen Tiscione.
"It was a great experience to absorb how the professionals [are arguing] — compared with our own experiences doing oral argument," said Nelakurti.
Riding the Circuit
As Chief Judge Garland explained, traveling judges were a part of this country's proud history beginning in 1789, when there were just three judicial circuits for the entire country and even Supreme Court justices had to "ride circuit."
But the jurists, including the first Chief Justice John Jay, complained of the burden; Jay would resign as Chief Justice in 1795. "Apparently, serving on the Supreme Court is not [all that] it is cracked up to be," Garland quipped, to laughter from the audience.
In modern times, the D.C. Circuit has adopted "circuit riding" among six Washington-area law schools, to educate students about the court. The practice began at Georgetown Law on November 12, 2013; six years later, the court, completing "the circuit," returned to the Law Center for the start of its second cycle.
"Circuit riding brings the work of our court out from the corners of our courthouse and into the community that we serve," explained Garland — who was awarded an honorary degree by Georgetown Law at Commencement 2018. "It is an opportunity for a wider public, and especially for law students, to see how the judiciary works."
The D.C. Circuit heard two cases in Hart Auditorium. First, there was United States v. Brown, a criminal case involving the sending of child pornography videos. The appellant, represented by Allen H. Orenberg, challenged the district court's denial of a motion to withdraw his guilty plea. Orenberg asserted that his client's long history of mental health issues rendered him incapable of knowingly and voluntarily entering the plea.
The court also heard UPS Ground Freight v. NLRB, a labor case where UPS, represented by Kurt J. Larkin, challenged a series of rulings made by the National Labor Relations Board, a Board regional director and hearing officer surrounding employee election campaigning. Larkin argued for UPS that the regional director and hearing officer arbitrarily applied many of the NLRB's procedural regulations.
Attorneys representing the United States (Michael J. Romano) and the NLRB (Eric Weitz) also argued in the case. Co-counsel at the event included Andrea Hertzfeld and Chrisellen Kolb for the United States. While everyone did an excellent job, and Srinivasan is an adjunct professor, we're hopeful that Judge Nina Pillard, a former Georgetown Law professor, and some Georgetown Law alumni will participate when the D.C. Circuit returns in 2025.
Getting Ideas
As for the students, Tverdynin is planning to take the Federal Legislation Clinic with Professor Alvaro Bedoya. She's interested in technology, one of Bedoya's areas of expertise.
"I remember Judge Garland saying there needed to be a physical device in order to identify that the child pornography image belonged to this appellant," she said. "I noticed a possible gap in the law — is it part of the law today that an iCloud account is what can identify a person, rather than a physical device? How would [judges] be notified of that point? That's something I want to go into, technology policy."
Technology is changing so quickly that case law cannot keep up, noted Penn, who is also interested in legislative and policy work.
"As someone who enjoys seeing how policy plays out in the real world, getting to witness things like these oral arguments gives me ideas on how to go back and change policy," Penn said. "If I see how policy is acting out and playing out in the court system, I can say, how do we need to tweak it, how do we need to update it, how do we need to restructure it?"