Georgetown Law Professors Eloise Pasachoff, Joshua Teitelbaum Named 2019 Williams Research Professors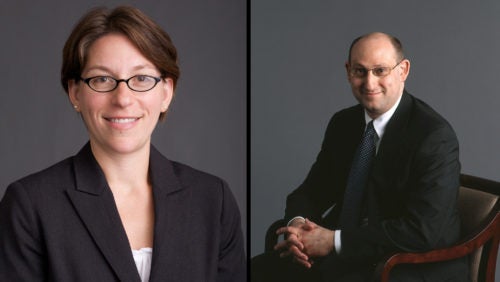 Georgetown Law Professor Eloise Pasachoff and Professor Joshua Teitelbaum have been named the 2019 Williams Research Professors. The Williams Professorships, established through the generosity of Agnes N. Williams (L'54), recognize and support the scholarly activities of Georgetown Law faculty.
"We are pleased to honor Eloise and Josh with the 2019 Williams Professorships," said Dean William M. Treanor. Since joining the faculty in 2009, Teitelbaum has made a significant impact in the field of law and economics; Pasachoff, who joined the faculty in 2011, has had an equally significant impact in administrative law and education law, he noted. "This is a most fitting way to celebrate and support our recently tenured faculty, and to recognize the importance of their contributions."
Two Williams Research Professors are appointed to three-year terms each year. Previous appointments include Professors Laura Donohue and Adam Levitin in 2018, and Professors Chris Brummer and Gregory Klass in 2017. The inaugural holders, Professors Kristin Henning and John Mikhail, were named in 2016.
Professor Eloise Pasachoff
Professor Eloise Pasachoff focuses her teaching and writing in the areas of administrative law and education law. In 2017, she was honored with the American Bar Association's Award for Scholarship in Administrative Law for her article, "The President's Budget as a Source of Agency Policy Control," 125 Yale L.J. 2182 (2016). Georgetown Law also honored her with the Frank F. Flegal Excellence in Teaching Award.
She is the co-author of the forthcoming book chapter "The Law and Policy of Federal Education Funding" in The Oxford Handbook of U.S. K-12 Education Law and author of the forthcoming chapter "Unnecessary and Insufficient: Doctrine, Politics, and the Limits of an Education Amendment" in The Road to Progress: The Case for a U.S. Education Amendment. An earlier article, "Special Education, Poverty, and the Limits of Private Enforcement," 86 Notre Dame L. Rev. 1413 (2011) won the Education Law Association's Steven S. Goldberg Award for Distinguished Scholarship.
Pasachoff has been active in the Association of American Law Schools, serving as chair of the Education Law Section and on the scholarship committee, and speaking at the AALS Workshop for New Law School Teachers. She is a member of the American Law Institute and serves on the Academic Advisory Board of the Supreme Court Fellows program.
Prior to joining the Georgetown Law faculty in 2011, Pasachoff served as a law clerk to Justice Sonia Sotomayor of the U.S. Supreme Court, Chief Judge Robert A. Katzmann of the U.S. Court of Appeals for the Second Circuit, and Judge Jed S. Rakoff of the U.S. District Court for the Southern District of New York. She also taught legal research and writing as a Climenko Fellow at Harvard Law School and practiced law at WilmerHale in New York City. She received her A.B. with honors from Harvard College, her M.A. from Yale, her M.P.A. from Harvard's Kennedy School of Government, and her J.D. with honors from Harvard Law School.
Professor Joshua Teitelbaum
Professor Joshua Teitelbaum, who served as associate dean for research and academic programs from 2015 to 2017, joined the Georgetown Law Faculty in 2009. He is also an affiliate faculty member in Georgetown University's Department of Economics and a research fellow at the Georgetown Center for Economic Research.
Teitelbaum's research interests lie primarily in decision theory and related fields in microeconomics, such as game theory and information economics, and their intersections with law and regulation. He is co-editor of the Research Handbook on Behavioral Law and Economics and author or co-author of numerous journal articles and working papers. He was awarded a National Science Foundation grant for the study An Empirical Investigation into the Nature of Risk Preferences.
Teitelbaum currently serves as associate editor of the Supreme Court Economic Review and the International Review of Law and Economics. He is active with the American Law and Economics Association and the Association of American Law Schools, chairing the Insurance Section and serving on the Executive Committee.
He earned his B.A. with honors from Williams College and his J.D. with honors from Harvard Law School; he also holds an M.A. and Ph.D. in Economics from Cornell University. Before coming to Georgetown, he clerked for Judge Richard M. Berman of the U.S. District Court for the Southern District of New York and practiced corporate and securities law at Cahill Gordon & Reindel in New York.