Georgetown Law Welcomes Five New Faculty Members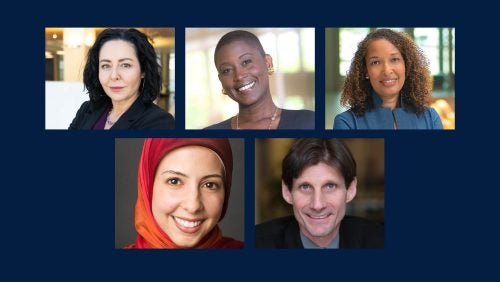 As the 2023-24 academic year begins, we are pleased to introduce the newest members of our faculty.
Five highly respected scholars and teachers joined the Law Center community over the summer, bringing with them a wealth of expertise in health law, international economic law, civil justice, intellectual property, corporate governance and much more. Another faculty member, Library Director Austin Martin Williams, was named a Professor of Law last semester.
"I couldn't be happier about the outstanding legal minds who are new to our faculty this year," said Dean William M. Treanor. "They are not only leading thinkers and researchers in their fields, but are also truly collegial individuals, dedicated to our collective mission of preparing future generations of lawyers."
Learn more about our new professors below:
Kristelia García, Professor of Law
Kristelia García says her path to legal academia was "circuitous." After earning a B.A. in Economics at Columbia University and a J.D. at Yale Law School, she started working in mergers and acquisitions for a New York firm. But as a longtime music fan who'd been a college DJ and even managed some friends' bands, she soon moved on to Los Angeles and entertainment law.
Working in entertainment law in the early 2000s, as online music platforms began to emerge and proliferate, "was like the Wild West," García recalls. Dealmaking for companies such as MySpace Music and Universal Music Group was fun and creative for awhile, but once she found herself mostly handling "cookie-cutter" term sheets, she began to think about exploring academia. García found an on-ramp through a fellowship teaching intellectual property law at the George Washington University Law School and in 2014, joined the University of Colorado Law School as an associate professor and faculty director of the Silicon Flatirons Center for Law, Technology, and Entrepreneurship. She's come to appreciate the process of legal scholarship, and feels her time in the private sector gives her a unique perspective from which to analyze the intersection of copyright, law and economics.
García says she's excited to be joining Georgetown Law for more reasons than its strong reputation in intellectual property and tech law. For one, its location gives her a front-row seat to lawmaking in action. "I've already gone to a couple of hearings on AI [artificial intelligence]," she says. "I'm looking forward to getting a chance to talk with policymakers and be around students who want to go into policy." And then there's the music scene! The nation's capital has a lot more concert venues than Boulder does. "Outside of work, that's the other big draw," she says.
Michele Bratcher Goodwin, Linda D. & Timothy J. O'Neill Professor of Constitutional Law and Global Health Policy
As an undergraduate at the University of Wisconsin, studying anthropology, sociology and African languages and literature, Michele Bratcher Goodwin frequently heard from her professors that they could see her in academia, probably as a law professor. While she was doing field research on African migration into Europe, she kept noticing girls and young women who were obviously being trafficked into the sex trade. She felt driven to understand the bigger picture around why this was happening and what could be done to stop it.
"The way in which I approach my work, and much of the way in which I approach my life, is that I see interconnections between people, ideas, and circumstances that may not always seem visible or legible," she says.
At Boston College Law School, she was a research assistant to John J. Paris, S.J., a Jesuit priest and leading professor of bioethics. The experience inspired her to blaze her own trail into scholarship that combines constitutional law, health law, bioethics, reproductive justice and more. She returned to Wisconsin for her LL.M. and S.J.D. degrees, eventually becoming a Gilder-Lehrman Post-Doctoral Fellow at Yale University, the Everett Fraser Professor at the University of Minnesota and most recently, a Chancellor's Professor at the University of California, Irvine, where she was founding director of the Center for Biotechnology and Global Health Policy. Goodwin is a prolific author of law review articles and books, most recently "Policing The Womb: Invisible Women and the Criminalization of Motherhood," published in 2020. She is also a frequent commentator and source in popular media and hosts her own podcast, "On the Issues with Michele Goodwin," produced by Ms. Magazine
Now on the Georgetown Law faculty, Goodwin is taking a leadership role at the O'Neill Institute for National & Global Health Law, where she joins Professor Lawrence Gostin as co-faculty director. She's already singing the praises of her new colleagues at the Institute, describing them as "a staff that's committed to the urgent work needed in these critical times, who roll up their sleeves every day and tackle major global health challenges."
"Joining the Georgetown community and moving to D.C. is really quite special," she continues. "Almost to the person, at Georgetown Law my colleagues have devoted crucial aspects of their careers and important parts of their lives to thinking about how the work they do impacts the world. I feel very at home with that. And I'm very excited about it."
Goodwin joins the faculty along with her husband, Professor Gregory Shaffer, who says of her, "Being partners with Michele Goodwin is incredibly inspiring. We both are committed to social justice, and feed off of each other's passions for it. She makes the world a better place with everything she does, from teaching and mentorship to scholarship and her formidable media presence."
Llezlie Green, Professor of Law
One of the things Georgetown Law is most known for is the size and strength of its clinical program. This spring, the list of clinics will grow by one more, with the addition of the Civil Justice Clinic. Under the leadership of Professor Llezlie Green, its students will represent low-wage workers trying to recoup back pay from their employers.
Green's participation in a human rights clinic was one of the highlights of her own time as a student at Columbia Law School. Not only did she love being able to work directly with clients, she started to consider clinical teaching as a potential career. "I looked at my professor and thought, 'Hmm, This is something I can imagine doing.' That was the first spark," she recalls.
It wasn't the first time Green had thought about entering academia. A first-generation college student at Dartmouth, Green went straight from college into a graduate program in political science – and decided pretty quickly that was not the field for her after all. She found her way instead to law school. After graduating, she was an associate in a large firm, clerked for a U.S. District Judge and joined the Civil Rights and Employment Practice at Cohen Milstein Sellers and Toll. Her law school teaching then began through a practitioner-in-residence program at American University Washington College of Law, where she became Director of the Civil Advocacy Clinic and Associate Dean for Experiential Education. She also taught Employment & Labor Law and a Critical Race Theory seminar and delved into scholarship that explores issues of race, subordination and worker exploitation. Her work has appeared in such journals as the California Law Review and the Harvard Civil Rights-Civil Liberties Law Review.
Now she is settling in at Georgetown, drawn by the opportunity to start an entirely new clinic and to work in collaboration not only with 19 other clinic directors, but also with faculty and staff in other parts of the Law Center, such as at the Workers' Rights Institute. This semester, she's taking time to think deeply about the skills, values and insights she wants her students to gain through their time in the clinic. She hopes they'll learn how to engage in client-centered lawyering and navigate both in-person and online court proceedings effectively – and that they'll see the bigger picture about the challenges low-income and marginalized people face in the legal system.
"It is a privilege to stand in this space, knowing that your decisions and your actions and all of the knowledge that you've accumulated over the years can actually impact someone's life," she says. "For much of law school, you think of yourself as the person who's in training, helping other lawyers. But when you get to clinic, suddenly you are the lawyer. I remember how transformative that was for me."
Aisha Saad, Associate Professor of Law
Aisha Saad brings a wide range of experiences and influences into her work teaching torts, environmental law and corporate governance. There's her family's home country of Egypt, where she was born and where she returned as a young adult to help launch a master's degree program in sustainable development at the American University in Cairo. There's her love of nature, which started with childhood hiking trips in North Carolina and led her to major in environmental health science at the University of North Carolina at Chapel Hill. And then there's the 2000 film "Erin Brockovich," based on a true story of an everyday woman fighting for justice on behalf of a community affected by polluted groundwater. Saad saw the movie on a plane when she was 12, and remembers it as the first thing that brought to life the possibilities of wielding law as a tool for social justice.
"Over time, as I got more exposure to the lived stories of the legal cases I was studying, I realized the disparate impact of corporate development on poor and marginalized communities and that story kept coming back into my mind – the small guy who can take on the big company," she says.
After college, Saad went to Oxford University on a Rhodes scholarship, staying to complete a doctorate in Geography, an interdisciplinary program that combines elements of natural and social science. Her dissertation was on corporate social responsibility, using the example of one of the largest industrial accidents in history, the 1984 Union Carbide gas leak in Bhopal, India, which claimed thousands of lives and has had environmental and health repercussions in that region ever since. Following her graduation from Yale Law School, Saad completed successive law school fellowships at Yale, Harvard and the University of Chicago. Now, joining the faculty at Georgetown Law, she feels she has found something like the interdisciplinary, international atmosphere she so appreciated at Oxford.
"It's exciting to find colleagues who are interested in pretty much every question that I examine and students who will come to pretty much every seminar that I'll design," she says. "Georgetown's really unique in embracing the core of what drew me to law – theory combined with practice. It seems like a natural home."
Gregory Shaffer, Scott K. Ginsburg Professor of International Law
Gregory Shaffer remembers being curious about the world as a boy in Ohio. He had a world map on his bedroom wall and tried to memorize the names of all the countries on it. "There just seemed to be a larger space outside of my world in Cincinnati, and I was interested," he says.
He headed east to college at Dartmouth and west to law school at Stanford, where his favorite class was in international trade. "It brought together law, politics, economics and development. It seemed very important," he recalls. After law school, he worked for two law firms in Paris, at a time when the European Union was taking shape and the former Soviet bloc countries were beginning to join international markets. Upon returning to the United States, what he'd just seen up close in Europe became what he taught about in his first academic jobs.
Most recently, Shaffer was the Chancellor's Professor of Law and Political Science at the University of California, Irvine. Previously, he was Melvin C. Steen Professor of Law at the University of Minnesota Law School, inaugural Wing-Tat Lee Chair at Loyola University Chicago School of Law and Professor at the University of Wisconsin Law School. He is President of the American Society of International Law and has published ten books, with four more in the works (on transnational fiduciary law, the rule of law, the impact of China's rise on international law and a primer on international economic law).
Having just moved to Washington, D.C., he's looking forward to being able to collaborate with experts in government and at international organizations, as well as with his many new colleagues on the Georgetown Law faculty. "It's incredibly exciting to be part of a broader mission within a law school that is committed to fostering the understanding of international law. Georgetown, because of its strengths, attracts students who hope to enter this field. To be able to teach those students as part of this faculty is unmatched in any other university in the world," he says.
Shaffer joins the faculty with his wife, Professor Michele Bratcher Goodwin, who says of him, "I have such tremendous respect for Gregory Shaffer as a partner and colleague, for his deep intellectual curiosity and for his sincere commitment to supporting student populations that tend to be overlooked and spending the time to mentor that is otherwise invisible to others."