JTIP Summer Academy Trains 'an Army' of Juvenile Defenders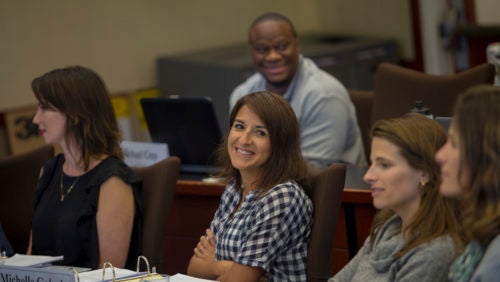 It was opening night at the Juvenile Training Immersion Program's Summer Academy at Georgetown Law, and two of its co-founders asked the lawyers in attendance to define their careers in a word. "Determined," one said. "Disruptive." "A voice."
When the tables were turned, Associate Dean Kristin Henning (LL.M. '97) chose "courageous." Mary Ann Scali, executive director at the National Juvenile Defender Center, said her word has long been "passionate."
"But I'll probably change it this year, to 'warrior,'" Scali said. "We have so much to fight against. We need an army of lawyers."
Training that army is JTIP's mission, and the Summer Academy is its only nationwide, hands-on program for front-line defenders.
Each year, 42 lawyers from across the country move into Georgetown's dorms and spend 10-hour days learning in interactive classes and honing their skills in small-group workshops. The 2018 Academy was held June 10-16.
"It's an amazing opportunity to spend a week with like-minded professionals, to learn about the latest research and to hear what they're doing in other states – what's worked, what hasn't," said New Jersey Assistant Deputy Public Defender Kristina Kersey (L'02). Kersey attended the Academy in 2016 and was so inspired that she became a certified instructor and returned this year as one of its 12 faculty members.
The Academy is a collaboration between the NJDC and Georgetown Law's Juvenile Justice Clinic, which Henning directs. Henning said it grew out of a "whispered side conversation" between herself, Scali and then-NJDC Executive Director Patricia Puritz at an NJDC board meeting in 2011, when the board was discussing plans for JTIP's standardized curriculum and training resources.
"We thought, we should have a summer camp, too!" Henning said. "With Georgetown Law's commitment to experiential learning, I knew that [it] was the perfect location to host the Academy."
The Academy launched in 2014, making this its fifth year. Juvenile defenders at any stage of their careers can apply; each year's class represents a diverse mix of race, gender, sexual orientation, geography and experience.
The week starts with sessions on adolescent development and the impact of juvenile detention.
"The impact can be lifelong," Scali said. "Youth caught up in the juvenile court system can be kicked out of school, their family can lose housing, they can be denied professional licenses years down the road. It can do more harm than good."
Other sessions cover arrest, pre-trial detention, investigation, the adjudication process and post-adjudication issues. Henning said the sessions on the Fourth Amendment, race and implicit bias always generate intense discussion.
"We often hear how difficult it is to bring up bias in front of a judge," she said. "We help defenders develop different ways to frame the issue. We ask them to identify their own implicit biases. We arm them with the latest studies."
Doing what works
Professor Eduardo Ferrer (MSB'02, L'05), policy director of Georgetown Law's Juvenile Justice Initiative, said the goal is to empower defenders to "push back on the need for any significant system involvement" but, failing that, to use sound social-science research to tailor interventions that "do no harm, and to do what works."
The Academy recently added two concurrent sessions: one on investigative use of social media, led by Sarah Young of the Criminal Defense and Prisoner Advocacy Clinic; the other, on special areas of concern for rural juvenile defenders, presented by Lauren Dollar (L'13), staff attorney for the NJDC's Mid-Atlantic Regional Defenders Center.
Henning says they have tried this year to "weave more racial justice analysis into our discussions and be more attentive to how our clients' sexual orientation impacts their experience in the system."
"Although we focus on training defenders to be excellent litigators," Henning said, "we also challenge them to think about systemic reform and policy."