'Know Your Why,' Pelosi Advises 1L Students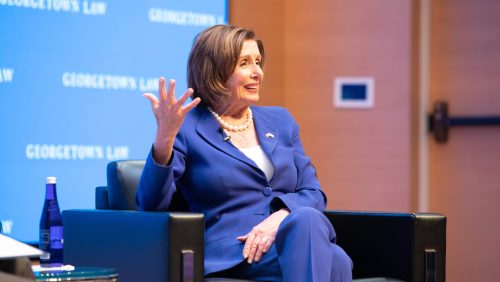 Alternating between inspirational advice and anecdotes from a career in the trenches of Capitol Hill, U.S. Representative Nancy Pelosi, H'02 (D-Calif.), Speaker Emerita of the U.S. House of Representatives, delivered Georgetown Law's 2023 Ruth Bader Ginsburg Lecture on October 26 to an audience of 1L students in the newly renovated Hart Auditorium.
"You are the here and now, but you're also what comes next," said Pelosi to the students in an "Oprah-style" interview conducted by Dean William M. Treanor. "So, how are you making your contribution?"
It was the first Ruth Bader Ginsburg Lecture held since 2019 – the late Supreme Court Justice, whose husband, Martin Ginsburg, was a member of the Law Center's faculty, was a frequent campus speaker during her years in Washington. As Treanor explained, he felt it fitting to invite Pelosi, the first woman elected as Speaker, as a guest in the lecture series named for a jurist remembered for advocating for women's rights and gender equality.
"Justice Ginsburg meant so much to us. She was such a pathbreaker and such a fighter, and I can't think of a more powerful and perfect way to continue that tradition," said Treanor.
Over a wide-ranging conversation that touched on Congressional procedures, Supreme Court ethics, women in leadership and more, Pelosi described how she'd come to politics reluctantly, but had found her purpose in advocating for the well-being of the nation's children. As the mother of five, she was haunted by the statistic that one in five children in the United States was living in poverty, and decided to try to make a difference. She was elected to the House in 1987 and steadily rose through the ranks of her party's leadership, first becoming Speaker in 2007 and then returning to the position in 2019. Over the course of her career, she said, she'd learned the tough tactics of politics.
"When you're in the arena, you have to be ready to take a punch. You have to be ready to throw a punch," she said – then added with a smile, "For the children!"
In the same way, Pelosi said, the students in the room who were just beginning their legal careers should figure out what issues would fuel them to work to make a difference in the world.
"Environmental justice, social justice, economic justice, whatever it is," she said. "Know your why, have your vision, have your knowledge."
Jasmine Bolden, L'26, a first-year student from St. Paul, Minnesota, said she came away with a deeper appreciation of Pelosi's work and enjoyed the "concrete advice" she offered.
"She made everything feel possible, no matter who you are," Bolden said.
Pelosi's discussion about the Supreme Court also piqued Bolden's interest.
"She wasn't afraid to talk about the Supreme Court," Bolden said. "I think that's really important to hear, especially on a law school campus. The law needs room for criticism and the government needs room for criticism, and her discussion leads us to see we can make those changes and reflect on them."
Jacob Kopnick, L'27, a first-year evening student hailing from Janesville, Wisconsin, was one of the lucky few to have a question answered by Pelosi onstage.
"Being able to ask a question to one of the most powerful U.S. political figures in the past few decades is one of the reasons I came to Georgetown," said Kopnick, who asked about the Congressional leadership selection process. "It goes to show the school's proximity to many of the nation's leading political and legal minds and commitment to engaging with the country's most pressing questions."
Watch the full conversation: