Lt. Jordan Foley (L'21): Serving Those Who Served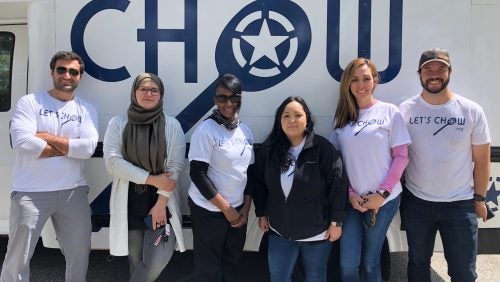 During his second year at Georgetown Law, Lt. Jordan Foley (L'21) received a call from a fellow service member about the suicide of a friend — a veteran whose start-up business had failed.
Although his plate was already full with responsibilities as a Global Law Scholar, an active duty Naval officer, a husband and a father to two young children, Foley knew he needed to take action. "I said to myself, 'I'm in law school, I have two kids, but I want to do something before I ever get a call like this again.'"
Long interested in the culinary arts, Foley filed official paperwork in January 2020 to establish a nonprofit, Chow Corp., designed to train veterans and military spouses for careers in the culinary business. "There are a lot of nonprofit organizations that are a mile wide and an inch deep, but nothing that is hyper-focused on the culinary industry. There's nothing out there that says, 'We will help you every step of the way.'"
Foley then recruited a five-member board of directors, led by Samuel Schraer (L'21), a classmate of Foley's in the Law Center's Social Enterprise and Nonprofit Clinic.
As he refined his business plan, Foley decided to pitch his concept in the Georgetown Entrepreneurship Challenge. Competing against 120 other students from across the university, he reached the finals in the graduate division. "I was like, oh man, I think we have something here."
'A Beautiful Thing'
Chow Corp. centers around a uniquely designed food truck training program. Individuals selected as Chow fellows operate their own food truck while learning the whole scope of the food service business, from ingredient sourcing to food safety regulations.
"Even if you want to open a brick-and-mortar restaurant someday, this is the perfect little microcosm of the culinary industry," Foley said. With low start-up costs, food trucks are a growth business nationwide, earning more than $1.2 billion in 2020.
Going against industry advice, Foley decided to have Chow fellows design their own menus — taking advantage of the diversity of food traditions represented by the first cohort. One fellow is from Iraq, the spouse of a U.S. Army translator; another is from Colombia. "Everyone in the industry said stick to one menu, but we said no thank you. We found that if we source smartly and market well, we're actually doing better than an average food truck."
Chow also offers self-paced digital training in culinary fundamentals, including cooking, baking, knife skills and equipment use, creating a constant pipeline of future fellows.
Foley gets the word out about Chow through a combination of events, advertising, visits to military bases and outreach to veteran transition programs. "One of our fellows found us through our coffee mugs," he said. That fellow, Rosa Kimble, was applying for a job at a Cyberbytes Café in Stafford, Virginia, when she spotted a Chow mug and asked the owner about the program.
"It was meant to be," said Kimble, a New Mexico native whose husband serves in the U.S. Air Force. Kimble, who earned degrees in the culinary arts and education, sees Chow as exactly the start she and other military spouses are looking for. "A lot of people say they like to cook. But they may not know their potential and where it can take them. Jordan is trying to make that dream come true for others, and it's a beautiful thing."
On a Mission
For Foley, among the many rewarding aspects of running Chow is the opportunity to use his creativity, something he missed in his six years serving as a line officer aboard the submarine USS Annapolis.
"There's a reason why we have these manuals and procedures in submarines — it's why we've never had a nuclear accident. Going off and being creative isn't really encouraged," he said.
When COVID-19 restrictions hit the culinary industry just two months after Chow's start up, Foley needed to call on all his creative resources to adapt. He went on to launch "Kitchen with a Mission" as an integral service component of Chow.
Through the program, Chow partners with other nonprofits to serve meals to underserved communities in Maryland, Chow's current home base. "It became a new way to get maximum hours of training during a really tough time," Foley said.
"Part of our whole system is community outreach. We realized that we're dealing with a demographic of people — veterans and military spouses — where service is so ingrained in their DNA that they need to have this as part of any training."
A Powerful Advocate
As he looks ahead to life after law school, Foley plans to continue overseeing the growth of Chow Corp. while serving as a Naval JAG officer. One goal is lobbying the Maryland General Assembly for a change in the food laws so that nonprofit food trucks are regulated in the same way as nonprofit brick-and-mortar kitchens.
Foley will draw on invaluable experience he gained as a student in the Law Center's Federal Legislation Clinic, advocating before Maryland's House of Delegates for enactment of the Maryland Driver Privacy Act. The law, which was passed by a supermajority in April 2021 after a pandemic-related delay, protects driver's license data from warrantless searches by the Immigration and Customs Enforcement agency.
"It's corny to say, but it was life-changing — it gave me all the tools I need to be a good citizen and effect change," Foley said, crediting the mentorship of Clinic Fellow Jolina Cuaresma and Alvaro Bedoya and Emily Tucker of Georgetown Law's Center on Privacy & Technology, a partner in the effort.
"I explained this highly technical computer system of policing data, and it really resonated with people," Foley said. "The house members said on the floor that they needed to make this emergency legislation. For me to be able to move that many politicians was incredibly important."
Eventually Foley hopes to expand Chow beyond Maryland and scale up to the national level. "We like to say it's as easy 1-2-3," he said, "one certified kitchen, two full-time employees and three vehicles. The overhead is low and the impact is high."
Above all, it's hearing the stories of veterans and military spouses that inspires Foley's dedication to Chow's mission. "So many people approach us and talk to us about personal failures, saying they had no support structure. They tell us, 'We're glad you guys are here. Keep up the good work.'"
Update: November 2021
Chow Corp was awarded $25,000 in the 2021 Georgetown Bark Tank pitch competition, sponsored by the Leonsis Family Entrepreneurship Prize. Eight startups founded by Georgetown University students or alumni took part in the event, and Chow Corp was one of two second-place winners. Congratulations to all the finalists!