Meet Anjali Bindra Patel, Georgetown Law's First Chief Diversity Officer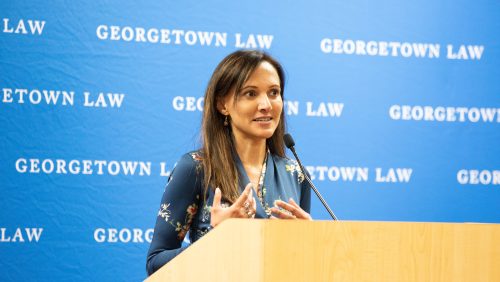 Last fall, Georgetown Law welcomed lawyer and workplace diversity expert Anjali Bindra Patel to lead the Office of Equity and Inclusion (OEI). First established in 2016, OEI champions initiatives to help build and support a Law Center community where everyone can thrive.
Before joining Georgetown Law, Patel was Global Director of Diversity, Equity and Inclusion at Winrock International, a nonprofit humanitarian organization. She previously had her own diversity and inclusion consulting firm. She holds a J.D. from Ohio State University College of Law and a B.A. in Business Management from Kent State University.
We spoke with Patel about her path to becoming Georgetown Law's first "Chief Diversity Officer" and about her approach to her new role.
How did you go from practicing law to becoming an expert on workplace diversity and inclusion?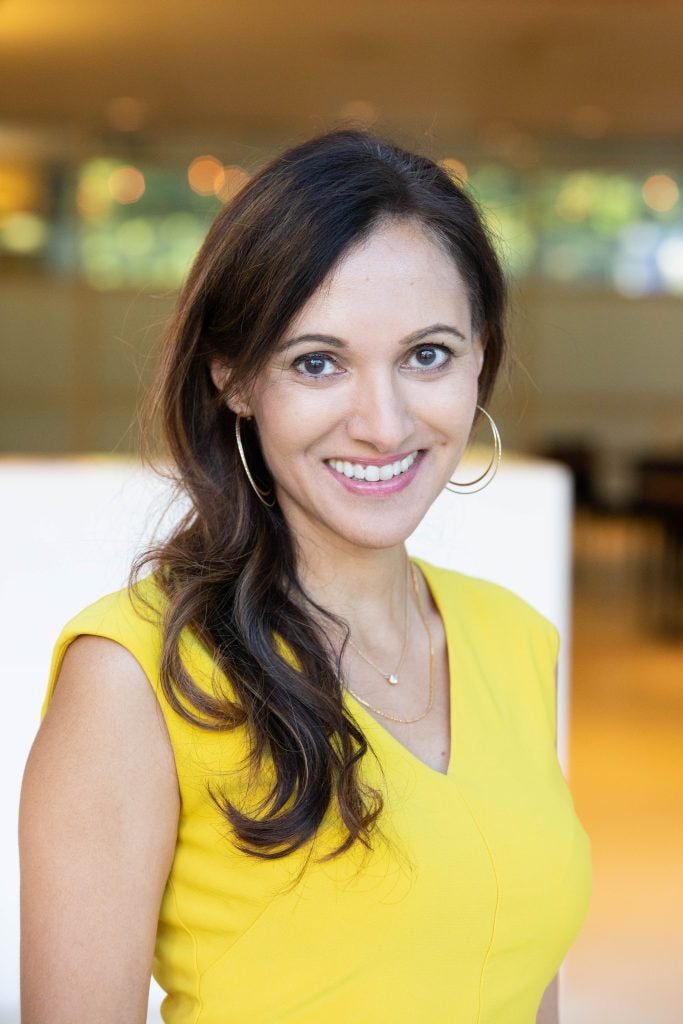 I grew up in a multicultural family, so having one foot in Indian culture and one in Western, you're always juggling the question of how you can respect one system of ideas and beliefs without disrespecting another.
The other answer is that I married into the military and had three kids in three years. Keeping up with the practice of law became challenging, because by the time I would get my law license somewhere, we were already moving to a different state. This was 16 years ago – there was no concept of flexibility in the workplace. And it disproportionately impacted women. I saw a lot of that in military communities. People with the most amazing credentials were not in the workforce. I became more and more interested in the intersection between law and diversity and inclusion and wanted to make a positive impact.
So I started blogging about it, and then law firms started contacting me, saying, "Hey, can you come in and talk to us? We're having retention issues, we're losing a lot of women attorneys. We're losing a lot of people of color." So that's how my consulting work began. It was pretty organic.
Now that you've been here for a few months, what can you say about changes coming to the Office of Equity and Inclusion?
To start, we want to stay on track with the strong ideas and initiatives in place. Georgetown Law already has very strong diversity-oriented recruitment and networking programs. Another big piece is inclusion. Diversity is easier to measure – you can make a spreadsheet and see where we were in 2010, then 2015, then here's where we are now. Inclusion is more about improving communication and making room for listening, so everybody feels included. It can be trickier to measure and track your progress, but certainly not impossible. To learn more about inclusion, we are working with the TH Easter Consulting Group on surveys for faculty, staff and students that will provide important input into our DEI [diversity, equity and inclusion] strategic planning process that began last September.
Second, we're hiring for two new positions: an administrative role and a counselor. They will be working with me to see how we can support student groups, increase communication and feedback with staff and offer new resources for inclusion and wellbeing.
We will also continue to amplify the incredible work of our students. Students are uniquely able to harness the power they hold in any academic institution. They can advocate for initiatives through the Student Bar Association, participate in diverse and inclusive recruitment events, volunteer in any number of social justice efforts and so on. I'm excited to work with student leaders on a number of DEI initiatives and efforts.
Finally, Georgetown Law has also committed to growing staff and faculty cultural competency around DEI. We have some great resources already available to support that and we have ideas for others, like a resource library that faculty can both contribute to and use themselves as they look into diversifying course materials and bringing in underrepresented perspectives.
In general, how would you answer the question of why organizations should focus on DEI?
To me, DEI efforts are like preventative care. There's a saying in our field: "DEI isn't like an appendectomy. It's hygiene that we work on each and every day." In a medical setting, annual checkups are recommended, and we are encouraged to address small problems before they become chronic issues. We work to fuel our minds and body with healthy options, right? DEI is much the same way. It's about building the culture we want with each inclusive step and each inclusive action, day after day.
And I don't know where that would be more important than it would be in a law school. By investing in DEI – by building up our OEI team, making the most of our strategic planning work and using the information we're gathering wisely – all of us here can learn to better represent our issues, our clients and our causes.
As a bonus, Anjali Patel answered a few additional questions submitted by readers and social media followers – find her responses at the Q&A tab of our Instagram account.