Modernizing International Environmental Law: Honoring Professor Edith Brown Weiss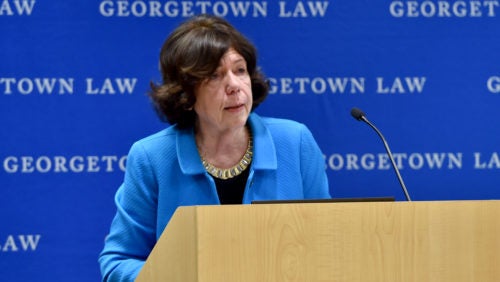 For 40 years, Edith Brown Weiss, the Francis Cabell Brown Professor of International Law, has taught students at Georgetown Law while working tirelessly as one of the chief voices in international environmental law.
She has been called upon to advise the most influential international organizations, from the United Nations to the World Bank, State Department, and the Vatican.
In recognition of her unparalleled contributions to the field and her impactful and passionate defense of a clean environment, the Georgetown Environmental Law Review hosted a symposium on Nov. 19 to recognize Brown Weiss's scholarship and legacy.
At the half-day symposium, "Modernizing International Environmental Law: Honoring the Work of Professor Edith Brown Weiss," speakers addressed her scholarship and achievements and spoke to her integrity, courage, and sense of justice. Attendees came from as far as Toronto, Boston, and Princeton and included Brown Weiss's husband of 50 years, her son, daughter-in-law and former students.
"We've been very fortunate to have her here on the faculty at Georgetown for more than four decades," said Associate Dean for Graduate and International Programs James Feinerman, who talked about Brown Weiss's career path. She began teaching civil engineering and politics at Princeton University and joined Georgetown Law in 1978. Feinerman said he owes his job to Brown Weiss; he stayed long beyond what was meant to be a one-year visit partly because of the "attractive force of Edie."
Brown Weiss served as chairperson of the World Bank's three-person Inspection Panel (which investigates complaints about World Bank operations) from 2003 to 2007, a vice presidential appointment and full-time position for which she took leave from Georgetown. She served as a judge on the International Monetary Fund's administrative tribunal for almost eight years and is a member of the United Nations Environment Programme's International Advisory Council on Environmental Justice. She previously served as associate general counsel for international activities at the U.S. Environmental Protection Agency and has received many awards, including the Elizabeth Haub Prize for Environmental Law given by the Free University of Brussels and the International Council of Environmental Law, and the Prominent Women in International Law Award from the American Society of International Law.
Global Environment Facility's Peter Lallas said that Brown Weiss's scholarship and writings helped create and develop the Inspection Panel at the World Bank, where he worked for and with her. He called the years that she chaired the panel the Golden Years.
"She showed us the power of fact-finding and taught us about following the facts, wherever they lead," Lallas said, noting that Brown Weiss was known for getting real responses and actions for affected people. "She led on some landmark cases that made a real difference for often highly vulnerable people."
During a panel on "Applying & Extending Intergenerational Equity," Kirk Talbott (L'86), a visiting scholar at the Environmental Law Institute, talked about being a night student at Georgetown Law when he first met and interned for Brown Weiss. He hadn't felt particularly inspired by his legal studies and shared this with her.
"She steered me immediately," Talbott said. Brown Weiss told him she had wanted to do ground testing of some of her climate pattern theories in The Sahel. Before he knew it, she had a stipend from the United Nations University, a plane ticket, letters of introduction, and clear instructions for a research trip. "She had seemingly effortlessly solved my dilemma," he said.
The symposium concluded with reflections from Brown Weiss on sustainable development in what she calls a kaleidoscopic world-characterized by rapid and often unforeseen changes (which shift the kaleidoscope's pattern) as a result of advances in technology, globalization and integration, fragmentation, and decentralization.
"However you define sustainable development, it is a public good," Brown Weiss said, "both globally and locally, because we all suffer if the earth roasts, if fresh water is unavailable, if soils become unproductive, if epidemics spread, and if storms spread havoc."
Brown Weiss, the faculty adviser to the Georgetown International Environmental Law Review, said we cannot reap the benefits of living sustainably unless we cooperate. She likened it to the hole in a ship we share. "The hole keeps getting bigger and bigger, and we're not able to agree to fix it, so we don't fix it, and the ship sinks with all of us on board," she said. "The youth today get it. The youth today, in my view, are a great hope."