New Georgetown Law-USAID Partnership Primes Students for International Development Law Practice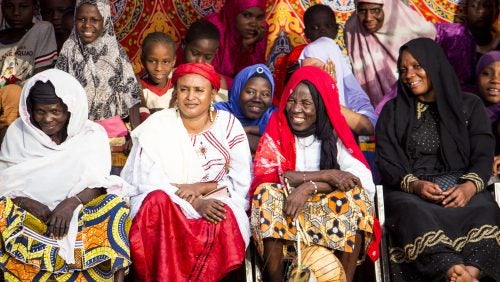 Lawyers play an essential role in the delivery of development and humanitarian aid to the world's most vulnerable populations, directly impacting millions of lives.
In recent months, for example, attorneys at the U.S. Agency for International Development (USAID) have been negotiating multiple agreements to purchase and provide critically needed medicines, oxygen supplies and vaccines to respond to surging COVID-19 cases worldwide.
To train future leaders in the field, Georgetown Law Center has launched the Law of International Development Initiative (LIDI), a public-private partnership between the USAID and the Law Center's O'Neill Institute for National & Global Health Law.
LIDI Director Susan Keller Pascocello (L'90), who spearheaded the initiative, serves dual roles as a member of the Senior Executive Service at USAID and as adjunct professor and distinguished development diplomat in residence at Georgetown Law.
"Because of the high visibility of humanitarian and other crises worldwide, more and more lawyers and law students were reaching out to me, asking how to use their legal degree to make an impact in international development," said Pascocello. "I've always felt that it was a natural focus area to have at law schools."
Hitting the Ground Running
LIDI, formally established in fall 2019, is among the few programs in the U.S. to focus exclusively on international development law and policy. It is unique in both its structure and its Washington, D.C., location — in close proximity to major actors in the global arena.
Designed as a hub for scholars, practitioners and policymakers to craft solutions to pressing international development issues, LIDI is further bolstered by Georgetown's university-wide preeminence in international studies.
Pascocello has already created links with the Walsh School of Foreign Service's Global Human Development Program and Institute for the Study of International Migration and hopes to build other cross-university linkages partnerships such as with the McDonough School of Business and McCourt School of Public Policy.
"Given the mounting pressures on the international aid sector, LIDI is at the right university at the right time," said Ambassador Mark Green, president and CEO of the Woodrow Wilson International Center for Scholars, who helped facilitate the launch of LIDI while serving as administrator of USAID.
"There is a critical need for lawyers who have a keen understanding of the complex legal structures around international development and can hit the ground running early in their careers," Green said. "I'm pleased to see LIDI has accomplished so much in a short period of time."
Path to Practice
From the start, Pascocello has focused on developing "path to practice" opportunities for students, and has closely mentored research assistants drawn from each J.D. class.
Working with the Law Center's Office of Graduate Careers, LIDI launched an innovative opportunity with Sidley Austin LLP, where students work directly with Sidley lawyers on its Emerging Markets Pro Bono Program and Trade for Development Initiative.
"Students can think through their career paths and how they would like to move forward," Pascocello said. "The opportunity also gives them a leg up as they're applying to work in the field."
LIDI's initial course offering, "International Development, Humanitarian Assistance and Global Health," was introduced in spring 2021. Co-taught by Pascocello and USAID colleagues Adjunct Professor Amitabh Khardori and guest lecturer Frank Walsh (L'07), the class covered 10 different types of practice areas in the international development and humanitarian assistance fields.
"I'm really interested in learning how a lawyer can be a convener between civil society, government and private parties," said Jessica Doumit (L'21), a student in the class. "It was refreshing to see more of an emphasis on broader social, political and human rights issues that are related to development, as opposed to strictly economic ones."
Protecting the Most Vulnerable
Building on work by USAID and other donor governments, multilateral development agencies, foundations and the private sector, LIDI has highlighted an especially urgent issue in the international development community — sexual misconduct by aid workers.
The problem has received global media attention over the last several years and recently with revelations about widespread sexual assaults by aid workers in the Democratic Republic of the Congo during the 2019 Ebola epidemic.
LIDI is part of an international employment accountability effort led by USAID and the Netherlands Ministry of Foreign Affairs to identify best practices to prevent sexual abuse, exploitation and harassment in the aid sector. In spring 2021, Pascocello published an article on the issue in the Brigham Young University Law Review as part of its "Human Dignity and the Law in Practice" Symposium.
Doumit and Saisha Nanduri (L'22) worked as research assistants for the article. Nanduri presented at the BYU symposium alongside Pascocello.
"What's really great about LIDI is that Susan as a director is so hands-on, and she wants her RAs to be as well," Nanduri said. "I'm someone who learns really well by doing. Being in a classroom is great, but especially having worked before law school, I was excited to start doing the work that an attorney does."
LOOKING AHEAD
Among Pascocello's primary goals for LIDI is developing a law and policy "lab" focused on sexual exploitation, abuse and harassment, similar to the O'Neill Institute's COVID-19 Law Lab.
"It will bring together a database of laws, policies and regulations that could help survivors and partners in the field get a better handle on the legal landscape in a specific country, and what the next steps might be," Pascocello said.
LIDI also plans to continue a speaker series it launched in April 2021 with the event "How Law and Policy Shape Global Humanitarian Assistance," expand relationships with the development community and law firms to create internships and other opportunities for students, and develop new specialized courses. This fall, Pascocello will teach "The International Health Law Infrastructure: Building Resilience from the COVID Crisis" with O'Neill Institute colleagues Katie Gottschalk and Katherine Ginsbach.
"With the Biden administration's focus on diplomacy and international development, and the significant impact of USAID Administrator Samantha Power's leadership as a human rights lawyer, I believe that the demand for legal expertise in the field will continue to grow," Pascocello said.
"It's an exciting time to be working and studying in this space."