Results Are In: 'Campaigning' Class a Win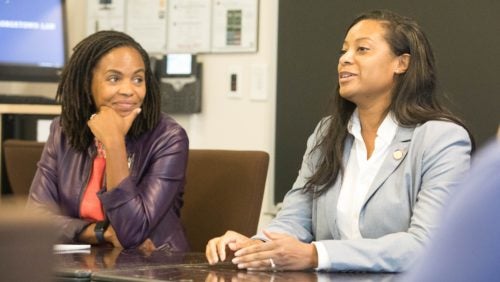 Nicqelle Godfrey would not take no for an answer.
Godfrey (L'20) was number 13 on the wait list for "Campaigning for Public Office," a nonpartisan simulation course offered for the first time in Fall 2018 at Georgetown Law. The course had a 20-student limit, but nearly 40 had signed up.
And so Godfrey began a campaign of her own, designed to influence a constituency of two: Professor Alicia Plerhoples and Adjunct Professor Zakiya Thomas, the developers and co-teachers of the new course.
"I bought the books, showed up for the first class, and just kept showing up," Godfrey said. "I begged them to let me enroll. I offered to audit the course, to be so quiet they wouldn't even know I was in the room. Anything, as long I could be there."
Finally, Plerhoples and Thomas added two more seats, and Godfrey — who had out-waited the rest of the wait list — officially joined the class.
It's a diverse group, Plerhoples said: mostly Democrats and independents, with some Republicans; more women than men; different ages and levels of campaign experience.
"I'm not going to ignore the elephant in the room," she said. "The Trump presidency has reinvigorated politics on all sides of the political spectrum."
Plerhoples credits Professor Jane Aiken (LL.M. '85), the former vice dean, with the idea for the course.
"I'm the faculty director for the American Constitution Society at the law school, and in September 2017 we had an event that featured several lawyers who had run for office," Plerhoples said. Afterward, Aiken "asked if I could 'find someone' to teach it as a class. But I wanted to teach at least part of it myself," she said.
Plerhoples soon enlisted Thomas as the "perfect" teaching partner. Now the executive director of the 105-year-old National Woman's Party, Thomas has led several successful campaigns, including those of Virginia Lt. Gov. Justin Fairfax and Sheriff Stacey Ann Kinkaid of Fairfax County, the first woman to hold that post.
"I have always considered myself an educator," Thomas said. "This is my way of giving back."
Plerhoples and Thomas worked out the curriculum together.
At the outset, students choose a public office for their simulated campaign. "Our only limit is that they can't choose to run for president," Plerhoples says.
The course then takes them through the "nitty gritty basics" of campaigning, with classes on developing a brand, building a base, and developing a five- to 10-year plan. There were sessions on ethics, fundraising, campaign finance and election laws, conducting opposition research, debating and more. And with the class starting on Wednesday mornings during the semester, there was time to talk about the 2018 elections — both before Tuesday, November 6, and the day afterwards.
Inspiration, not persuasion
The heart of the course is the stump speech: a two-minute summary of the candidate's background, beliefs and reasons for running. Four classes are devoted to developing it, and the finished version serves as the final exam.
"It's important to be mindful about why you are running," Thomas said. "If you can nail the stump speech, it helps you focus on what your campaign is about."
The first version is almost always "very wonky," Plerhoples said.
"Law students are so intelligent; they try to make a persuasive argument and they get so far into the weeds," she said. "We tell them, 'you're a politician now; you have to inspire emotion.' They need a theme, and they need to be the 'It' candidate for that theme."
Godfrey and classmate Ashley Lee (L'20), both said that their stump speeches fit that pattern.
A California native whose grandparents had a 24-acre vineyard, Godfrey chose a congressional seat and focused on water management, agriculture and roads as her key issues.
"My first version (of the stump speech) was a beautiful thing — I thought. Full of statistics," she said. "The professors told me, 'We don't want numbers, we want to know what the dirt in California feels like.'"
By the final version, she had polished and tightened it into "golden memories that resonate," she said; although, when pressed, she did question one piece of wisdom from the class.
"They thought that 'vineyard' sounded too bourgeois and that I should call it a 'farm where they grew grapes,'" she said. "I'm not sure how that would go over in California."
Lee, too, said her initial stump speech was "very intellectual. It said, 'I'm a smart person,' but it didn't say anything to help voters understand who I am."
Lee is also from California, but from the urban Bay Area. The child of a single, teen-aged mother, she was "very conservative in high school. I believed we were poor because my mother had made bad choices," she said. "I only watched Fox News and my favorite person was Sean Hannity."
She began seeking other viewpoints after Hannity's criticism of President Barack Obama "just didn't ring true" for her, she said.
Today — after college, a year in AmeriCorps and several years working as a paralegal — she considers herself a political independent in search of "reality-based" and nonpartisan solutions to systemic problems.
And her stump speech, she says, reflects who she is.
"I was raised poor and made it into the middle class during my working years. Because I have lived it, I can speak from experience," she said. "Somebody with my background needs to be in politics."
Not a clock-watcher
For Ty Pinkins (L'20), the main problem with his stump speech was the time limit.
Pinkins, 44, came to Georgetown Law after retiring from the U.S. Army. He had grown up poor in the Mississippi Delta; as a teenager, he had spent his summers chopping cotton by hand because he was too young to drive a tractor or other equipment. He made it to college but joined the service during his junior year, fighting in three wars and serving in 23 countries in 20 years. His last post was at the White House, on a communications detail for the second Obama administration and the dawn of the Trump presidency.
Along the way, Pinkins completed his degree, decided to enroll in law school, and started a nonprofit that builds civic awareness among underserved youth of the Delta. He hopes to represent the same area in Congress in a few years, bringing stronger, less partisan representation to his impoverished home town.
"I want to be a contradiction to the system," he said. "You don't have to 'follow the cow that's in front of you.'"
It was a "compelling" speech, both professors told him. The only criticism was that he had taken five minutes, not two.
"Even so, they said they didn't know where I could cut it," Pinkins said. "That made me proud."
Getting uncomfortable
Pinkins praised the class for giving him the opportunity to practice skills he knows he'll need — public performance and debate — in a candid forum, even though doing so took him out of his comfort zone.
Indeed, discomfort is one of the goals that Plerhoples and Thomas set for the class in general, and the debate sessions in particular.
"We want to get them to feel uncomfortable now so that they are comfortable later," during an actual campaign, Thomas said.
Discomfort also came highly recommended by Virginia Delegate Jennifer Carroll Foy, who was one of two speakers invited to the class. Carroll Foy won her seat in the November 2017 elections for state and local offices. Her district spans progressive Prince William County and far more conservative Stafford County.
Some advisors told her to ignore Stafford County because a black woman could not win there. Carroll Foy persisted with an old-fashioned canvassing campaign, found out which issues were most important to the voters, and revised her platform accordingly.
"Be uncomfortable; put yourself out there," Carroll Foy told the students. "Talk to all the people, even the ones in Confederate-flag T-shirts. If you are elected, they will all be your constituents."
'A great network'
The other guest speaker, Republican Ron Meyer, was elected to the Loudon County (Virginia) Board of Supervisors in November 2015, just four years out of college. His remarks focused on the need to build a base, establish common ground with potential adversaries and "create sensible, bipartisan policies," Lee said.
"I agreed with everything he said," Lee, the student, noted. "He opened my eyes to the board of supervisors as an option, or a pathway to higher office. Dianne Feinstein also started on the Board of Supervisors, you know."
Plerhoples said that if the course is offered again, she would like to invite more speakers, and possibly schedule them in the evening and invite more of the Georgetown Law community.
Otherwise, though, she is delighted by the way the course worked out — and "blown away" by the students. She expects to see them in office in the next five to 10 years, she said.
The students think so, too, and have been taking photos and collecting each other's contact information.
"I believe we are going to be political colleagues, and it's going to be a great network," Godfrey said. "We are going to help each other accomplish change."