Reunion Returns! Georgetown Law Alumni Gather to Celebrate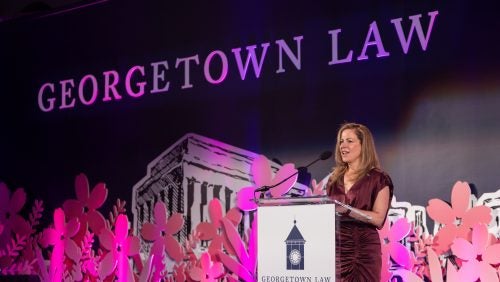 "This evening is a celebration of all of us!" said Miriam Vogel (L'01), chair of the Georgetown Law Alumni Board, as she greeted 558 fellow alumni and guests at the Spring 2022 Reunion Gala, held Saturday, April 9 at Union Station in Washington, D.C.
It was a super-sized gathering for all the Law Center graduates whose reunions had been postponed over the past two-plus years of the COVID-19 pandemic. And the mood was definitely celebratory all weekend long, as old friends reconnected, reminisced – and danced the night away.
Reunion weekend is usually held in the fall, and plans are underway to resume that schedule this October for graduating classes ending in the numbers 2 and 7. Meanwhile, for this special springtime reunion, Washington's famous cherry blossoms bedecked everything from name tags to the stage at the Saturday gala.
All the usual reunion highlights were in place, from the Friday night class parties to the Saturday family picnic to the Sunday Mass and brunch, and some 1,542 alumni and guests participated over the course of the three days. The weekend offered a few unique and new features as well.
REMEMBERING PAST LEADERS
On Friday afternoon, Dean William M. Treanor hosted a ceremony to dedicate the lawn between McDonough Hall and the Edward Bennett Williams Law Library to one of his predecessors, Paul Regis Dean (L'43, LLM'52, H'69), who served as Georgetown Law's dean from 1954 to 1969. As Treanor explained in his opening remarks, Dean is remembered as "the founding dean of the modern law school," having shepherded the process of moving the campus from a rundown building on E St. NW to its current location.
"Paul Dean also restructured the graduate program, improved the quality of the faculty and student body and expanded the variety of courses in criminal justice and poverty law," said Treanor. "Through these myriad contributions, and now through the naming of the Paul R. Dean Green, his legacy will have an enduring significance for all who walk our campus."
Sen. Patrick Leahy (L'64, H'94), the Lupo-Ricci Professor of Clinical Legal Studies Professor Wallace Mlyniec (L'70) and Dean's son John E. Dean (C'73, L'82) each shared their own tributes to the former dean. The audience included more than 20 members of the Dean family.
BRINGING ALUMNI AND STUDENTS TOGETHER
In the early evening on Friday, Georgetown Law held the first Alumni-Student Affinity Mixer. Leaders of more than a dozen different student organizations, from the Latin American Law Students Association and the Women of Color Collective to the Arab Law Students Association and Global Law Scholars, mingled with alumni and faculty, comparing notes on student life then and now. Treanor and the current president of the Georgetown Law Student Bar Association, Jade Baker, the first Black woman to hold that position, each spoke briefly about ongoing work to promote diversity, equity and inclusion across the law school community.
Former Senior Assistant Dean Everett Bellamy received a warm welcome from the alumni crowd as he, too, took the podium, talking about his decision to come back to Georgetown Law more than a decade into his retirement to serve as the interim Director of Equity and Inclusion.
"We want everyone to have a sense of belonging," said Bellamy, thanking Treanor and the entire school for committing to enlarging the staff of the Office of Equity and Inclusion and investing in other initiatives to support diversity.
HONORING OUTSTANDING ALUMNI
While, as Vogel said, the reunion was a celebration of all Georgetown Law graduates, it was also an opportunity to recognize the recipients of the 2020 and 2021 Alumni Awards. Dean Paul Regis Dean's memory was invoked yet again as Paul R. Dean Alumni Awards were presented to Elizabeth Abdoo (C'80, L'86), Denise Cade (L'90), Sarah Cogan (L'81), Edward Cohen (L'70), the Honorable Virginia Hernandez Covington (L'80), Michael Karam (F'72, L'76, L'81) and James Pinto (C'73, L'76). Robert F. Drinan S.J. Law Alumni Public Service Awards were presented to Justice Teri Jackson (L'80), Cassandra Sneed Ogden (L'81) and Donald Temple (L'81).
Treanor and Vogel closed out the official evening program by announcing the grand total of reunion giving: $16,135,720.02 from 2,226 donors. Class Reunion Cups were awarded to the classes of 1980 and 2001 for Generosity (most funds raised during the reunion year), to the classes of 1975 and 1971 for Legacy (highest percentage of classmates who have included a gift to Georgetown Law in their estate plans), to the classes of 1970 and 1976 for Loyalty (highest percentage of Loyalty Society members) and to the classes of 1975 and 1976 for Participation (highest percentage of classmates who made a gift of any size). The Attendance Cup winners were the classes of 2010 and 2016.
After a champagne toast, the celebration adjourned to Union Station's East Hall for dessert and dancing. For these alumni, reunion may have been delayed, but it was certainly not denied.