Street Law at 50: Building Civic Engagement Among Youth, in D.C. and Beyond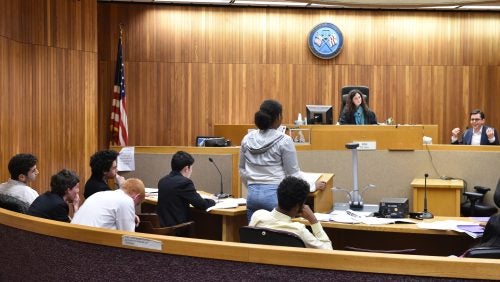 It started with an unusual idea from a few Georgetown Law students and professors in the early 1970s, and today has connected young people with law students around the world, introducing them to how legal systems work and opening new career paths. Street Law has come a long way in five decades.
Last December, Charisma Howell, L'11, director of Georgetown Law's Street Law Program, traveled to South Africa to give a speech to the Global Alliance for Justice Education in conjunction with Street Law's 50th anniversary. "I met one of the first students from South Africa, who was involved with Street Law when the country was still under apartheid. It created avenues for open dialogue between Black and white students. He's now working for the U.N., and he shared with me that the turn his career took was because of his experience with Street Law," she said.
For Howell, the conversation was a reminder of Street Law's worldwide impact. "It was so eye-opening to see how far this methodology has spread, from Pakistan to China to Brazil."
Street Law, launched at the Law Center in 1972, was founded on a simple concept: bringing law students into high school classrooms to teach the basics of the legal system.
Starting with a single class at Washington, D.C.'s Eastern High School, the Street Law model has evolved into an international program, adopted for use in law schools across the U.S. and in 45 countries. Among the program's alumni is Vice President Kamala Harris, who taught Street Law at Fremont High School while a student at University of California Law San Francisco.
The program's impact for Georgetown has also been profound. One of the first experiential learning courses at the Law Center, Street Law helped to set the foundation for Georgetown's national preeminence in clinical education.
Lifetime Lessons
Johnny Barnes, L'73, L'76, one of the student founders of Street Law, credits the vision of faculty members, including initial Street Law instructor Jason Newman and constitutional law professor John Kramer, for championing the program. "They fought for clinical instruction as a legitimate part of legal education."
Barnes himself is still using the lessons learned in his Street Law days. Fifty years since his own legal career began, he is still a practicing attorney, currently in private practice after several years as a Congressional staffer and a decade as Executive Director of the American Civil Liberties Union for the Nation's Capital.
"I believed 50 years ago, and I still believe, that the best way to learn the law is to put your hands on it," he said. He recalled an early case where his opposing counsel had excellent academic credentials but little "real life" experience.
"I won that case because of clinical education," Barnes said.
'Herculean Task'
Today, Georgetown's Street Law program places law students in public and charter high schools across the D.C. region, as well as in juvenile and adult detention facilities and drug and alcohol treatment centers. It's one of the Law Center's most in-demand clinics, with 15 to 20 students participating every semester, but also one of its most challenging, requiring students to develop their own curricula to reach learners of widely varying abilities.
"It's a very difficult course — you really have to be nimble," Howell said. "What we're asking our students to do is Herculean, but every single year they're up to the task."
"The biggest challenge is taking these lofty law school concepts, like the rules of evidence, and boiling them down for students with various levels of understanding," said Sean Jettner, L'23, who taught 11th graders — several of them non-English speakers — at Dunbar High School last spring.
As a central requirement of the course, Jettner was tasked with preparing his students to compete in a city-wide mock trial, arguing a case involving issues of sexual consent, based on a scenario set at a high school party.
"The most rewarding thing was seeing the students going from shy the first day to gaining that level of confidence at trial," said Jettner, currently a Spring Legal Fellow with the U.S. Department of Justice.
'A Tool to Help'
From the start, Street Law was designed to be pertinent to the lives of high school students living in the District. "I said to Jason [Newman], 'These students need to learn that the law can be a tool to help, rather than an instrument to hurt," Barnes said.
"We serve a majority of Black and brown students, so teaching them about the Fourth, Fifth and Sixth Amendments, how they can comport themselves in an interaction with police officers, is especially significant," Howell added.
Street Law faculty and students strive to create topics for coursework and cases that are directly relevant to high schoolers. Tarik Barrett, L'14, wrote a number of mock trial cases as a Street Law Teaching Fellow between 2018 and 2021, covering emerging issues like the effects of rhetoric in social media and the treatment of trans athletes under the D.C. Human Rights Act.
"The point of Street Law is to empower these students with the tools, resources and skills they need to become active citizens," said Barrett. "We want to create safe spaces for them to engage in meaningful conversations, so when they go out and have these conversations in real life, they know what they feel and how to articulate it."
'No Better Feeling'
Looking back a half century, Barnes said that he and his Street Law co-founders — the late Ed O'Brien, L'73 and David Wilmot, L'73 — could never have imagined that their initial efforts would grow into a global program.
"We simply wanted to do good," he said. "We stuck with it, even after we graduated, because we believed in it." Working with Newman, Barnes and O'Brien laid the groundwork for the broader national program, writing original course materials, securing grant funding and introducing Street Law into other law schools.
One key to Street Law's tremendous success is undoubtedly the transformative experience the program offers for both law students and high schoolers.
"There's so much overlap between the skills you need to have the best experience in Street Law and the skills you need to be a lawyer," said Barrett, now associate director in D.C.'s Office of the Mayor. "It's amazing how much the experience translates into real life."
Surveys show that the course also has a measurable effect for high school participants, who fill out surveys at the end of each session to share how much they think they learned during the semester. "Most of our classes see at least a two-point jump on a five-point scale — that's an incredible amount of growth in just a short amount of time," Howell said.
"Street Law has greatly impacted what I want to do in the future," said one recent student from Anacostia High School. "I want to go to college to study political science and hopefully go on to law school."
"It's truly a high school to law pipeline," Howell emphasized.
"The greatest joy is when somebody comes up to you and says, 'I took Street Law [in high school] and I'm now a lawyer,'" Barnes added. "There's no better feeling."