Meet the SBA Executive Board
Jade Baker, President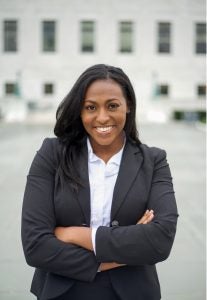 Jade Baker proudly hails from the great state of Texas. She graduated from the University of Virginia in 2019 with a major in Media Studies and a minor in Government. While at UVA, she was a four year athlete as a hammer thrower on the track and field team. Upon graduation, she immediately moved to DC to begin her time at GULC.
In addition to serving as President, Jade is a RISE Fellow, and a member of the Black Law Students Association. She also continues to pursue her love of sports through GULC Softball and membership in The Georgetown Law Sports, Entertainment, & Media Society.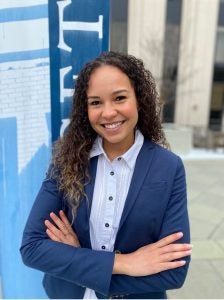 McCall Wells, Day Vice President
A Southern California native, McCall's passion for international human rights developed at a young age as a result of her proximity to the Mexican border. McCall's childhood curiosities eventually manifested in the pursuit of a degree in International Comparative Studies at Duke University. After graduating from Duke in 2016, McCall further explored her interests in international law as a Fulbright Scholar in Madrid and International Arbitration Legal Assistant in Paris. She comes to D.C. from Tucson, AZ where she spent the majority of the pandemic lockdown attending Zoom comedy events and watching Netflix documentaries with her parents. When McCall isn't carefully curating her professional image, you can find her telling jokes, trying out a new fitness program, or listening to an NPR podcast.
Diane Alexander, Evening Vice President
Diane is proud to serve as the SBA Vice President representing Georgetown's prestigious Evening Program, the top-ranked law school evening program in the U.S. By day, she works as Communications & Research Director at Democracy 21, a nonprofit focusing on campaign finance reform and good government advocacy; by night, she is a third-year evening student.
Diane was raised in New Jersey, and graduated from Tufts University in 2016 with a B.A. in Political Science and English. Prior to law school and her work at Democracy 21, Diane worked at Tisch College of Civic Life, where she built and managed a student voting initiative. In addition to serving on SBA, Diane is also the Lead Line Editor on the Georgetown Immigration Law Journal and the Co-President of the New Orleans Legal Alliance. In her spare time, Diane enjoys cooking, trying new restaurants, and terrible science fiction.
Suzanne Dabage De La Espriella,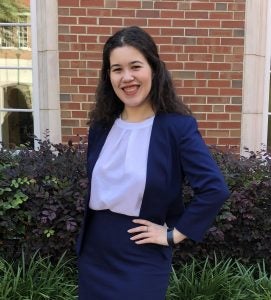 Treasurer
Suzanne Dabage De La Espriella has lived all over the country, but the place she calls home is Miami, FL. She graduated from the University of Florida with a degree in Business Administration in 2018 and a Master of International Business in 2019. As a 1L delegate, she quickly realized the significant impact students can have at GULC and how important it was to be a voice for students on important issues that surround their experiences.
In addition to serving as our first two-term SBA Treasurer, she is part of the Appellate Advocacy Division of Barristers' Council, a member of LALSA, a RISE fellow and mentor, and a research assistant. Outside of law school, Suzanne enjoys baking homemade cheesecake and brownies, spending time with friends, and exploring new coffee shops in DC.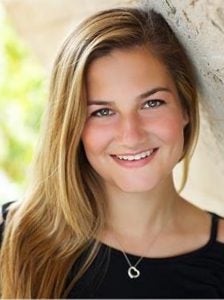 Angelika Kligos, Secretary
Angelika Kligos is from Philadelphia, PA. She graduated from Lehigh University with a degree in Bioengineering in 2017. Prior to starting law school, she worked at IBM in New York City as a consultant. At GULC, she served as a 1L delegate prior to serving as Secretary. Angelika is also a Research Assistant for the O'Neill Institute and assisted the Health Justice Alliance as a Capitol Hill Day pro bono member.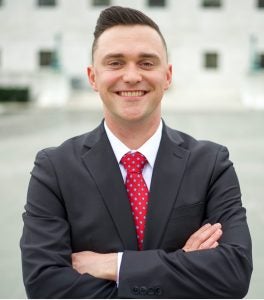 Christian Hatten, Attorney General
Christian hails from Austin, Texas. He is a proud Longhorn, having earned a degree in Radio-Television-Film from the University of Texas. After spending time working in Los Angeles and Chicago, Christian came to Georgetown, where he has focused his studies on administrative law and government regulation, particularly as it relates to telecommunications and space.
Christian has worked in two different bureaus of the Federal Communications Commission and competed on Georgetown's Manfred Lachs Space Law Moot Court Team. Before his appointment as Attorney General, he served the previous two years as a member of the SBA House of Delegates. Christian is also an actor and Board Member of the Georgetown Gilbert & Sullivan Society, an Executive Board member of the Space Law Society, and a Student Ambassador for the Office of Admissions. In his free time, Christian enjoys stargazing on clear nights, musical theatre, visiting museums, and reading as many books as he can.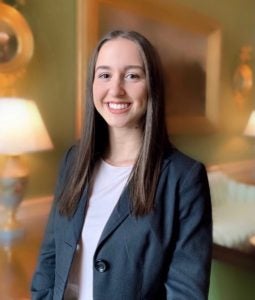 Mariaeugenia Gurdian, Chief of Staff
Mariaeugenia is a 2L and Global Law Scholar at GULC from Miami, Florida. She graduated summa cum laude from Florida International University in 2020 with a degree in political science and international relations and a concentration on Latin American & Caribbean Studies. Upon graduation, she immediately moved to DC to pursue her JD.
In addition to serving as the SBA Chief of Staff, Mariaeugenia is a RISE Fellow, member of LALSA, and the social media chair of the Global Law Scholars program. She also competes with the Appellate Advocacy Division of Barristers' Council. Outside of law school, Mariaeugenia enjoys painting portraits, playing piano, and baking sweets.