Meet the SBA Executive Board
Mariaeugenia Gurdian, President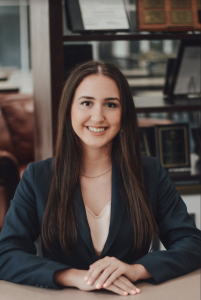 Mariaeugenia, a Miami native, is a 3L and Global Law Scholar at Georgetown. Prior to attending law school, Mariaeugenia graduated from Florida International University in 2020 with a bachelor's degree in Political Science and International Relations. Her focus was on Latin American and Caribbean studies, partly because of her Nicaraguan heritage.
In addition to proudly serving as SBA president, Mariaeugenia is an articles editor on The Georgetown Law Journal, a student board member on the Early Outreach Initiative, and competitor in the Philip C. Jessup International Law Moot Court Competition. She is also the former Latin American Law Students Association president and SBA chief of staff. Mariaeugenia loves getting involved and contributing to the Georgetown Law community any way she can. Outside of school, Mariaeugenia enjoys painting portraits, playing piano, and baking sweets.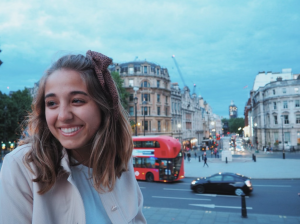 Stephanie Houghton, Day Vice President
Steph currently serves as our Day Vice President. She is a 2L originally from Connecticut. She attended Boston University for undergrad, where she majored in Biology in Economics. Steph is a Staff Editor on the Georgetown Journal of International Law and serves on the law campus' Student Health and Wellness committee. In her free time, Steph loves baking, reading on the mall, and trying new restaurants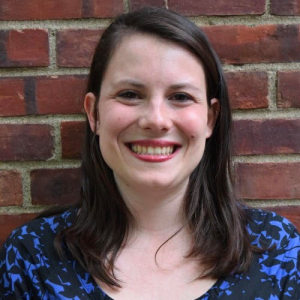 Madeline O'Brien, Evening Vice President
Madeline is proud to serve as the SBA Vice President representing Georgetown's prestigious Evening Program, the top-ranked law school evening program in the U.S. By day, she is a Research Fellow at the Center on Health Insurance Reforms, part of Georgetown's McCourt School of Public Policy. By night, Madeline is a third-year evening student.
Originally from New Jersey, Madeline graduated from George Washington University with a degree in Political Science, and also holds a Masters of Public Administration from the University of Pennsylvania. Prior to law school, Madeline worked in health policy and program management at the Children's Hospital of Philadelphia and at AARP. In addition to serving on SBA, Madeline is an Articles Editor for the Georgetown Journal of Legal Ethics. In her spare time, she enjoys trivia, exploring new neighborhoods, and searching for DC's best happy hour deal.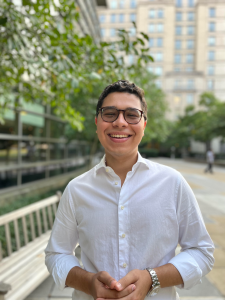 Marcos Peña, Vice President of Graduate Programs
Marcos is proud to serve as the SBA Vice President of Graduate Programs. He is a full-time student in the International Business & Economic Law LL.M. program.
Originally from the Dominican Republic, Marcos graduated from Universidad Iberoamericana with an LL.B. and a minor in Administrative Law, involving the areas of public procurement and contracting regulation, special administrative law and cybersecurity. Prior to graduate school, Marcos worked in the litigation department of a highly regarded law firm in Latin America. In addition to serving on SBA, Marcos is the Communications Coordinator of Georgetown International Arbitration Society. During weekends, he enjoys listening to music, attending social events, and dancing.
Santiago Gutierrez,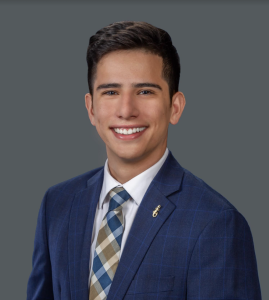 Treasurer
Santiago Gutierrez is from Deland, Florida. He graduated from the University of Florida with a degree in Economics and International Studies: Middle East focus in 2020. At GULC, Santiago served as a 2L delegate and Assistant Treasurer prior to serving as Treasurer.
In addition to serving as SBA treasurer, he works on behalf of Dean Andy as part of the Early Outreach program. He is also a member of LALSA, a RISE fellow, and participated in the Center for Applied Legal Studies (CALS) clinic. Outside of law school, Santiago enjoys reading, visiting D.C.'s many museums, and singing karaoke with friends.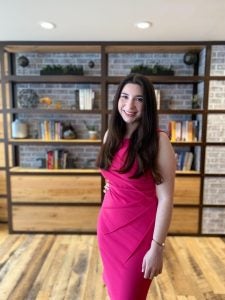 Victoria Koffsky, Secretary
Victoria is a 2L originally from Long Island, New York. Prior to law school, Victoria earned a BA in Public Policy from the University of Chicago and served in the Democratic National Committee as the Vice President of College Democrats of America. In addition to SBA, Victoria is on the executive board of OutLaw at GULC and is currently a research assistant for Professor Christy Lopez. During her 1L summer, Victoria interned with the Virginia Indigent Defense Commission at their Fairfax office. In her free time, Victoria can be found at trivia, watching women's soccer, and baking challah!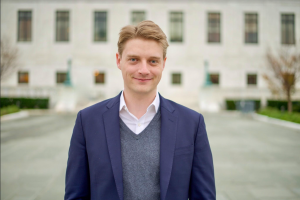 Cameron Koob, Attorney General
Cameron Koob currently serves as SBA Attorney General. He loves helping students achieve their goals on campus, and previously served as Co-Chair of the SBA Career Services Committee. He is Managing Editor of the Georgetown Law Technology Review, as well as a member of the Alternative Dispute Resolution (ADR) team. He is passionate about the intersection of technology, life sciences, and law. Prior to law school, Cameron worked in Democratic politics and at FASD United.
Madison Taylor, Chief of Staff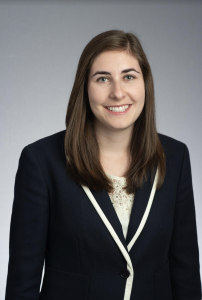 Madison Taylor was born and raised in Denver, CO. She graduated from Tufts University in 2018 with a degree in International Relations and History. At Tufts, Madison was a member of the Mock Trial Team and served as a Team Captain and Tournament Director for the program. After graduation, she stayed in the Boston area and worked as a paralegal for two years in a municipal and regulatory practice group. Madison joined the SBA as a 2L Transfer Delegate as a way to get involved with the GULC community and help build community for other transfer students.