Meet the SBA Executive Board
Olivia Hinerfeld, President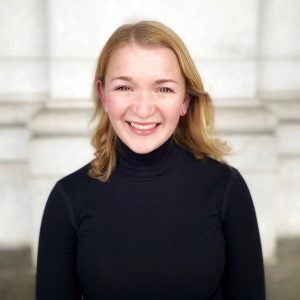 Olivia Hinerfeld comes to Washington, D.C. from Portland, Oregon. She is a proud Double Hoya, having graduated from the Georgetown University School of Foreign Service with a degree in International Politics in 2017. Before starting at GULC, she spent a year advising HR professionals on workplace harassment policies.
In addition to serving as President of the Student Bar Association, Olivia is an Executive Editor on the American Criminal Law Review and competes with the Trial Advocacy Division of Barristers' Council. She will work as a Summer Associate at Vinson & Elkins in its Washington, D.C. office this summer. Outside of law school, Olivia loves to play with Lincoln, her golden retriever, and to try new restaurants in the D.C. area.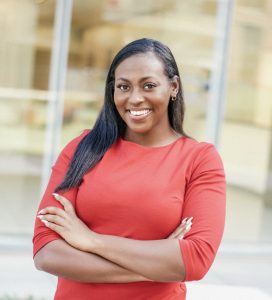 Jade Baker, Day Vice President
Jade Baker proudly hails from the great state of Texas. She graduated from the University of Virginia in 2019 with a major in Media Studies and a minor in Government. While at UVA, she was a four year athlete as a hammer thrower on the track and field team. Upon graduation, she immediately moved to DC to begin her time at GULC.
In addition to serving as Day Vice President, Jade is a RISE Fellow, and a member of the Black Law Students Association and the Women of Color Collective. She also continues to pursue her love of sports through GULC Softball and membership in The Georgetown Law Sports, Entertainment, & Media Society.
Nick Iacono,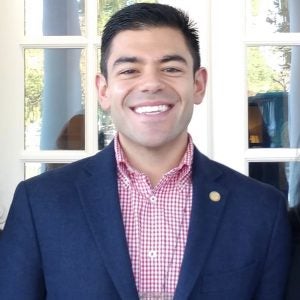 Evening Vice President
Nick is a third-year evening student and is proud to serve as the SBA Vice President representing Georgetown's prestigious Evening Program, the top-ranked law school evening program in the U.S. He currently works in the Law Center's advancement office as an Associate Director of the Law Annual Fund.
Nick is a native of Staten Island, NY and graduated magna cum laude from Georgetown University with a B.A. in government. Before law school, Nick held a number of positions in strategic communications, serving as the Director of Public Relations for the Archdiocese of New York's Catholic School System and Director of Communications for a U.S. Congressman. In addition to his work with the SBA, Nick is an editor with the Georgetown Journal of Law & Public Policy and a Bradley Fellow of the Georgetown Center for the Constitution. In his spare time, Nick enjoys running, cooking, and pursuing his lifelong dream of being a Jeopardy contestant.
Suzanne Dabage De La Espriella,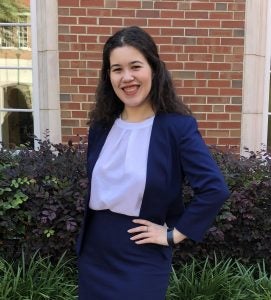 Treasurer
Suzanne Dabage De La Espriella has lived all over the country, but the place she calls home is Miami, FL. She graduated from the University of Florida with a degree in Business Administration in 2018 and a Master of International Business in 2019. As a 1L delegate, she quickly realized the significant impact students can have at GULC and how important it was to be a voice for students on important issues that surround their experiences.
In addition to serving as the SBA Treasurer, she is the Private Sector Employer Outreach Chair for LALSA and a fellow of the second RISE class. Outside of law school, Suzanne enjoys baking homemade cheesecake and brownies, spending time with friends, and exploring new coffee shops in DC.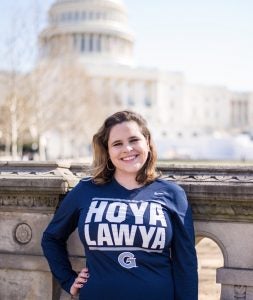 Madison Flowers, Secretary
Madison is a 2L and Business Law Scholar at Georgetown University Law Center, and she is thrilled to serve as the Secretary of SBA. As Secretary, she hopes to continue improving communication between SBA, the student body, and administration, and to revitalize tools including SBA's social media platforms, the SBA website, and the outline bank.
Madison is originally from New Canaan, CT, and graduated Magna Cum Laude from Wellesley College in 2017. Between college and law school, she served as the Lab Manager for the Computation and Cognitive Development Lab at Yale University. In addition to SBA, Madison competes with and is Finance Director of the Alternative Dispute Resolution Division of Barristers' Council, is the Treasurer and Events Coordinator of the Women's Legal Alliance, and is a member of the Georgetown Entertainment and Media Alliance. Outside of school, Madison can often be found with an iced latte, doing hot yoga, or walking around DC. Fun fact! Madison has two different colored eyes.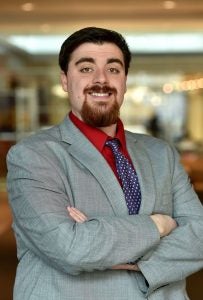 Luke Stegman, Attorney General
Luke was born and raised at the beautiful Jersey Shore. He attended Boston University, where he graduated with degrees in both Neuroscience and Ecology & Conservation Biology. He then attended Tufts University Cummings School of Veterinary Medicine, where he studied Conservation Medicine. Prior to attending Georgetown Law, Luke Stegman worked at Tufts University's Data Lab and the Massachusetts Audubon Society, where he worked primarily on wildlife conservation policy.
In addition to serving as SBA's Attorney General, Luke is a Blume Public Interest Law Scholar, the treasurer of the Environmental Law Society, and a Managing Editor for the American Criminal Law Review's Annual Survey of White Collar Crime. In his spare time, Luke enjoys writing fiction, visiting museums, and feeding birds.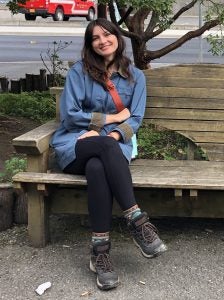 Caitlyn Cook, Chief of Staff
Caitlyn is honored to serve as the SBA Chief of Staff this year. She looks forward to supporting SBA's various initiatives to serve the academic, social, and wellness needs of the student body.
Caitlyn is originally from Maryland and graduated summa cum laude in 2016 from the University of South Carolina with a degree in English and Spanish and a concentration in education. Prior to law school, Caitlyn worked as a middle school Spanish teacher. At Georgetown, Caitlyn has served as a Law Fellow, a member of the Student Life and Wellness Student-Faculty Committee, and as a member of the Solicitations Committee for the Georgetown Law Technology Review.