ACLU President Challenges Law School Clinics to Push for Systemic Change and Racial Justice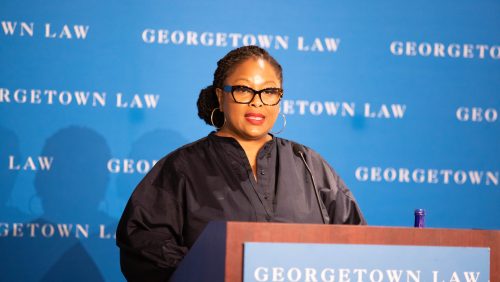 Some ninety professors, activists, students, lawyers and other stakeholders from across the country gathered at Georgetown Law March 3 for a day-long symposium titled "Promoting Justice: Advancing Racial Equity through Student Practice in Legal Clinics." Together, they considered the vital role law school clinics play in the legal system and the opportunities and challenges clinical educators and their students face in promoting racial justice.
The day started with a panel on "Clinicians as Abolitionists." Kristin Henning, Blume Professor of Law and Director of the Juvenile Justice Clinic and Initiative, led a discussion about how clinics can stay focused on creating a more equitable justice system while also serving the needs of their clients and facilitating debate among students who all have different understandings of systematic racism.
Deborah Archer, Associate Dean and Professor of Clinical Law at NYU and President of the ACLU, advanced that conversation in her keynote, challenging anti-racist clinicians to push for an end to the systems that keep America from achieving its ideals. She challenged them to stay responsive to meet a "creative and evolving" racism.
"What can clinical students do? Use their resources and civil rights laws to tear down the infrastructure and rebuild one with justice at its core," Archer said. "We must bridge the gap between the America that was promised and the America that is."
Professors and lawyers from 16 of Georgetown's 19 legal clinics joined visiting colleagues to discuss topics including "Racial Justice Lawyering in Court," "Challenging Racial Neutrality in Tech, IP and Entrepreneurship Clinics" and "Racial Justice and the Pedagogy of Racially-Conscious Lawyering."
"It was a great opportunity to have rich conversations about the racial justice work going on at Georgetown Law and to learn from and be inspired by colleagues at other institutions," said Alicia Plerhoples, Associate Dean for Clinics and Experiential Learning and Anne Fleming Research Professor. "Now I look forward to our discussions guiding us in our teaching and actions during the months ahead."
The event was hosted by Georgetown Law Clinics and the Georgetown University Racial Justice Institute.
Watch the keynote address by ACLU President Deborah Archer: