Election Day 2018: Preserving the Right to Vote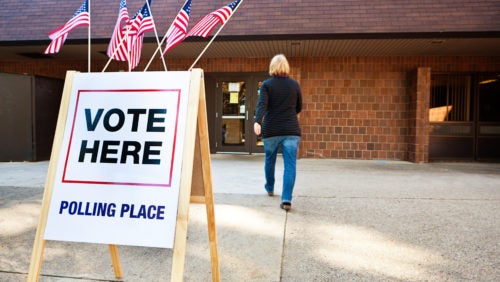 For Election Day 2018, we talked to the experts on the work that's being done at Georgetown Law with respect to voting rights, election integrity, campaign finance and more. Professor Aderson François of Georgetown Law's Voting Rights Institute; Visiting Professor Paul M. Smith, who argued last year's Wisconsin gerrymandering case in the Supreme Court; Joshua Geltzer, the founding executive director of Georgetown Law's Institute for Constitutional Accountability; and Professor Alicia Plerhoples, who teaches a new course on "Campaigning for Public Office" lent their thoughts on the issues.
'Whac-a-Mole' Litigation
Déjà vu envelops Professor Aderson François as he talks about Georgia's "exact match" law, but the feeling is far from supernatural. He truly has been here before.
François is director of the Voting Rights Institute (VRI) at Georgetown Law, one of many groups that challenged Georgia's exact-match law back in 2016. That lawsuit ended with a settlement, which should have ended the practice of throwing out voter-registration applications and absentee ballots over slight discrepancies between those documents and government-issued IDs.
Yet exact-match resurfaced for the 2018 midterm elections, leading to another lawsuit and, for now, an injunction that brings François little satisfaction.
"It is 'Whac-a-Mole' litigation," he said of attempts to counteract vote-suppressing measures like exact-match. "We sue; if we win, they do the same thing in a slightly different way, and we sue again," François said.
Not so long ago, things were different, he said. The Voting Rights Act authorized the Justice Department discretion to prevent many abusive measures, but the U.S. Supreme Court gutted those "preclearance" provisions in a 2013 case, in Shelby County v. Holder.
"After Shelby, litigation is our only option," he said. "We have to sue. We are swimming against the tide."
François is, at least, swimming in good company: he is one of many in the Georgetown Law community who are fighting to protect voting rights and election integrity.
Cecilia Aguilera (L'18) is tracking nearly 150 election-related lawsuits as the VRI Fellow at the Campaign Legal Center, a nonpartisan, nonprofit organization that partnered with the Law Center and the American Constitution Society to form VRI in 2015. She also works on cases involving redistricting and voting restrictions.
"The Supreme Court has said repeatedly that the right to vote 'is preservative of all other rights,' and that's really true," Aguilera said. "Creating solutions to problems like crime, health-care access, access to a good education; making people and communities feel like they're part of the process, and that the process is fair toward them: it all starts with a vote."
Plan B
Aguilera works with CLC Executive Director J. Gerald Hebert, an adjunct professor at Georgetown Law, who has helped Visiting Professor from Practice Paul M. Smith on several cases, including Gill v. Whitford — the Wisconsin gerrymandering case that Smith argued in the Supreme Court last term. The case is now on remand; an amended complaint was filed in September.
Smith is also representing Common Cause and the CLC as amici in support of Maryland's new campaign finance-disclosure law, the Online Electioneering Transparency and Accountability Act (OETA). The law, which took effect in May, updates the state's disclosure requirements to include certain online political ads. Under OETA, website operators that run the paid political ads must post and retain records that identify the source, costs, candidate or ballot issue, and information about the distribution of the ad.
The Washington Post, the Baltimore Sun and other media groups have filed suit in U.S. District Court in Greenbelt, Maryland, challenging OETA. They argue that it places an undue burden on their First Amendment rights.
Smith's brief, filed in September, argues otherwise. It opens with the Post's own motto: "Democracy Dies in Darkness."
"We couldn't resist," he said drily.
While litigation may be the best or only option for dealing with emergencies during an election season, Smith advocates a broader approach.
For example, while the gerrymandering litigation continues, Smith and Aguilera are working on what he calls "Plan B": helping jurisdictions to form independent commissions that can come up with fairer, more sensible redistricting maps.
"Lawyers have a huge role in protecting the vote…," he said. "Not just the 'seasonal' issues, but longer-term."
Cybersecurity and Voting Rights
That systemic view is shared by Visiting Professor Joshua Geltzer, founding executive director of Georgetown Law's Institute for Constitutional Advocacy and Protection (ICAP) and former senior director for counterterrorism at the National Security Council.
Launched in August 2017, ICAP "sees the intersection of cybersecurity and voting rights as a good area for constitutional-impact litigation," Geltzer said.
It participated in two lawsuits last year against the Presidential Advisory Commission on Election Integrity, better known as the Pence-Kobach Commission, which sought voter registration records for every U.S. voter. ICAP argued that the move would make the White House a target for hackers. The administration disbanded the commission in January, citing the "endless legal battles" against it.
ICAP is also concerned about security for the nation's first online census in 2020, "the backbone of every federal election for the next 10 years," Geltzer said.
Outside of his work with the institute, Geltzer is personally interested in the midterm elections "as a moment in which threats to voting can materialize, not just to data integrity but to 'discourse' integrity."
He has authored several recent articles on discourse integrity, suggesting how companies and the government should protect against election interference by outside actors who use the anonymity of and falsification of identity facilitated by social media to paint a false picture of candidates, or "to heighten discord, to pit Americans against each other, polarizing them," he said.
Campaigning for Public Office
The tenor and other challenges of the political arena today, including saturation with negative attack ads, haven't daunted the spirits of students in "Campaigning for Public Office," Professor Alicia Plerhoples said.
Plerhoples, director of the Social Enterprise & Nonprofit Law Clinic, developed the course and is co-teaching it this fall with Adjunct Professor Zakiya Thomas, a successful campaign manager.
"We examine all of those issues, and ask the students 'What inspires you? What don't you like?' The problem is, voter suppression can work. Negative campaigns can work," she said. "We tell our students, 'what you condone sets the tone.'"
By and large, she said, the students do not consider the tenor of politics a deterrent.
"Our students have seen all the nastiness, but they aren't turned off by it," Plerhoples said. "They just think, 'I can do better.' And I fully expect to see them do it."